THE United States Grains Council has welcomed the announcement last Friday that China had terminated its anti-dumping and countervailing duty cases on US origin sorghum and revoked preliminary duties on its import.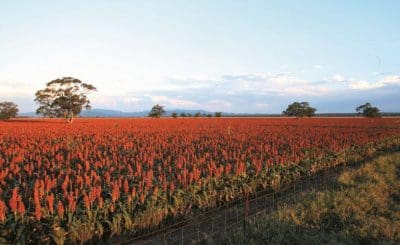 The Council said the move was an unexpected sign of goodwill ahead of trade talks and had not only led to increased prices for sorghum farmers nearing harvest but also allowed at least some shipments of US sorghum on the water to turn back to China.
The episode highlights the risk trade policy poses to the grains marketplace particularly, but not exclusively, as it relates to China.
"The re-opening of the sorghum market in China, with removal of the 178.6 per cent duties initially imposed, is undoubtedly good for sorghum farmers, and all grain market participants," US Grains Council president and CEO Tom Sleight said.
The shift in China's approach to sorghum followed significant efforts by the US sorghum industry to respond to the investigations China brought earlier this year.
The Chinese announcement indicated that a review of the evidence in the cases showed the duties would harm the Chinese feed industry and consumers, an argument made by the US sorghum industry in its extensive defence as part of the pending cases.
New markets opened
Urged by the industry and the Council, the White House, US Department of Agriculture and the Office of the US Trade Representative also intervened with the Chinese on sorghum's behalf.
The Council, working with USDA's Foreign Agricultural Service (FAS), rapidly ramped up marketing programs for US sorghum in countries with the potential for new purchases or purchases of the product for the first time.
A week since the Chinese announcement, there continues to be interest in US sorghum by customers who took another look after the duties announcement stranded up to 20 vessels on the water.
"We are confident that markets that already know US sorghum, like Japan, Mexico and Morocco, will continue to look at it, while others that haven't bought it frequently, like Saudi Arabia, countries in South America and more, will look at it now," Mr Sleight said.
"Sorghum has many attributes, and one upside of the issues with China could be that more buyers become aware of the product."
Mr Sleight said the diversification was important as there remained an outstanding threat of a 25pc tariff from China on sorghum, corn and other products, in retaliation for potential US tariffs.
He said US feed grains and their related products also faced a plethora of other concerns in China: US corn exports have been challenged by systemic issues with biotech trait approvals; US distiller's dried grains with solubles (DDGS) face duties from anti-dumping and countervailing duty investigations; and US ethanol is limited by a 45pc tariff.
The quick application and removal of preliminary duties on sorghum also has caused significant issues for grain traders who had sorghum en route as well as buyers of the grain in China.
Source: US Grains Council