CHINA's 2020/21 imports of cotton are forecast at a seven-year high, driven by the highest projected consumption in three years, robust State Reserve (SR) imports, and attractive prices for imported cotton relative to domestic supplies.
The latest 'Cotton: World Markets and Trade' report from the United States Department of Agriculture (USDA) says imports are expected to support China's record year-over-year rise in consumption.
China's 2020/21 consumption is expected to recover from the lowest level in 16 years to surpass the previous year by 7 million bales, accounting for half of the gain in global use.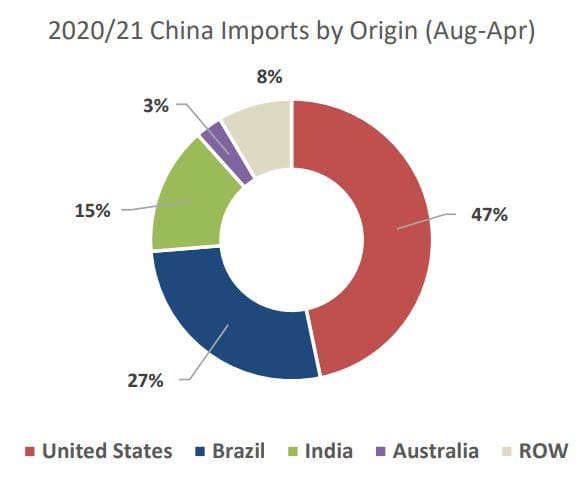 Currently, spinners' spot margins are roughly 30 per cent higher compared with the previous year due to robust demand for cotton yarn and significantly lower yarn stocks.
The highest SR imports in seven years are also supporting strong China demand.
Zero SR purchases of domestic cotton were reported for the December 2020 to March 2021 program and therefore recent imports are expected to further replenish SR supplies.
US cotton is suspected to account for most of SR imports in 2020/21 – instead of Brazil, the primary supplier in the previous two marketing years.
The preference for US cotton may have been partly spurred by the Phase One Agreement.
Favourable import prices have also played a role. China's widely used domestic price index (CC3128B) was 12 cents higher than a "landed" A-Index price (1pc in-quota duty plus 9pc VAT) in May 2021. This is more than 10 cents higher compared with the same period last year.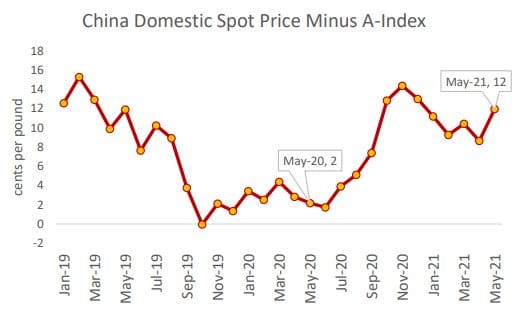 The stronger relative prices for China's domestic supplies have been driven by stronger agricultural prices in China (e.g. corn and wheat), quality issues with China's 2020/21 crop, and a weaker US dollar.
China's 2021/22 imports are forecast down from the previous year as State Reserve demand is projected to fall from the robust levels witnessed thus far in 2020/21. Nonetheless, 2021/22 imports are forecast at the second-highest level in eight years, helping to support larger consumption that is projected to be equivalent to one-third of global use.
Source: USDA