GRAIN use by Australian meatbirds is estimated to have fallen around 15 per cent in response to subdued demand for chicken meat during the COVID-19 lockdown period, but egg and dairy sales appears to have remained constant.
As COVID restrictions ease in all states of Australia, processors and wholesalers are expected to clear frozen stocks over coming months before chicken and duck meat demand returns to pre-COVID levels.
Behind beef feedlots, where grain use and numbers on feed have fallen because of improved pasture conditions in eastern Australia, meatbirds are Australia's biggest consumers of feedgrain.
Dairy sits in third place, and rankings are unlikely to change in the foreseeable future.
| | | | | | | | |
| --- | --- | --- | --- | --- | --- | --- | --- |
| | NSW | Vic | Qld | SA | WA | Tas | TOTAL |
| Meatbird | 1,185,000 | 597,000 | 629,000 | 623,000 | 198,000 | 29,000 | 3,261,000 |
| Layers | 312,000 | 274,000 | 281,000 | 35,000 | 81,000 | 15,000 | 998,000 |
| Pig | 291,000 | 298,000 | 382,000 | 415,000 | 237,000 | 9,500 | 1,632,500 |
| Dairy | 259,000 | 1,696,000 | 174,000 | 142,000 | 145,000 | 212,000 | 2,628,000 |
| Beef | 1,225,000 | 232,000 | 2,159,000 | 100,000 | 156,000 | 41,000 | 3,913,000 |
| Sheep | 80,000 | 56,000 | 16,200 | 37,600 | 118,000 | 1,000 | 308,800 |
| Horse | 168,000 | 112,000 | 113,000 | 24,000 | 19,300 | 6,700 | 443,000 |
| Aqua | 5,000 | 2,000 | 20,000 | 6,000 | 6,000 | 125,000 | 164,000 |
| Other | 40,000 | 57,000 | 23,000 | 10,000 | 15,000 | 45,000 | 190,000 |
| TOTAL | 3,565,000 | 3,324,000 | 3,797,200 | 1,392,600 | 975,300 | 484,200 | 13,538,300 |
Table 1: Tonnes of Australian feedgrain used by industry sector in 2017-18. Source: Stock Feed Manufacturers Council of Australia
Tough on chicken, duck
As the cheapest meat on the Australian market, chicken's rise in popularity in recent decades has seen it crib market share from red meat, and make it the anchor of a host of quick-service restaurants (QSR).
QSR, and the food-service sector generally, have taken a massive hit with COVID-19, and sources have told Grain Central that Australian chicken meat, of which only around 5 per cent is exported, has filled the supply chain.
It was a preferred item when the grocery market saw a surge in COVID-driven demand for food which could be frozen at home.
As expected, households are now consuming their stocks of frozen chicken and other foodstuffs now that eating out is once again on the menu as COVID restrictions are wound back.
Ingham's is Australia's biggest poultry producer, and said while it had been on track for 2H FY20 earnings to exceed 1H FY20 results, changes in volume and channel mix across its business caused by COVID made it premature to draw any conclusions as to the trading results of the nine weeks to 30 June.
In a business update issued 4 May, Ingham's Group Limited CEO and managing director Jim Leighton said out-of-home consumption of poultry products had been negatively impacted.
"In Australia COVID-19 restrictions created a temporary surge in retail sales in March and early April but as consumer behaviour normalised, store traffic has decreased and shopping behaviours altered," he said.
"Our major QSR customers have been resilient, but their operations are largely restricted to drive-through and home delivery.
"Customers supplying hospitality and tourism industries have significantly reduced purchases, which has led to weaker conditions in the food service and wholesale markets."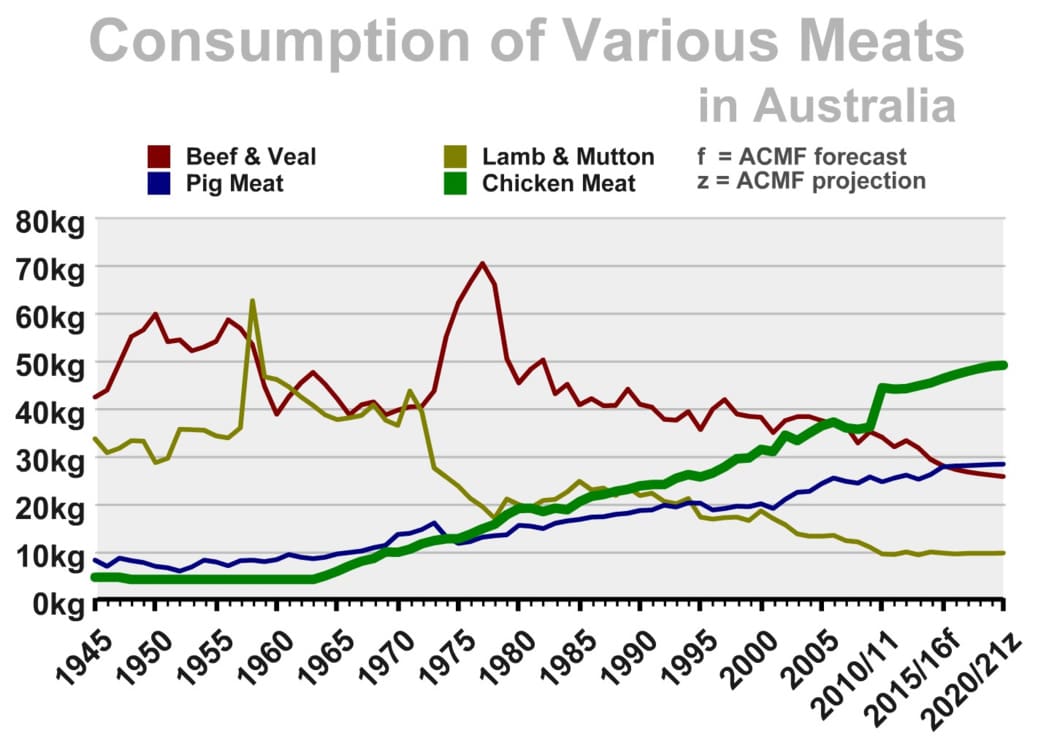 Graph 1: Per capita Australian meat consumption. Source: Australian Chicken Meat Federation
Brisbane-based Darwalla Milling feeds manager Gary Heidenreich said poultry consumption could be expected to return to normal in the near term, but grain use has definitely dipped since the grocery surge slowed in April.
"There was certainly some panic buying, and with very little happening with pubs and clubs, the products called upon in the past couple of months have changed," he said.
"A few weeks ago, there was talk about people placing less birds in production.
"It will come back to normal shortly, but we seem to be looking at 10pc minimum and 20pc maximum less food for now."
Luv-A-Duck at Nhill in Victoria's Wimmera is said to be Australia's biggest duck processor, and is a major supplier to the food-service industry.
The June edition of the National Poultry Newspaper reported Luv-A-Duck has reduced staff numbers in response to a sharp drop in demand caused by COVID-19.
Place for barley
The advent of enzymes which can be added to poultry rations has enabled barley to enter the mix alongside wheat.
Barley's discount to wheat has historically been around $40 per tonne, but has blown out to around $100/t, which means barley is at the maximum inclusion rate in many poultry rations.
That is believed to be up around 30pc, with wheat at a minimum 20pc, and protein meals and sorghum forming much of the balance.
"Our birds are growing beautifully with barley in their ration, and that's because of the enzymes," Mr Heidenreich said.
Eggs unbroken
As the cheapest form of protein available, egg demand appears to have held up well in the altered demand landscape.
Australian Eggs Limited managing director Rowan McMonnies said COVID-19 has been a game of "swings and roundabouts" for the egg industry.
"The initial shock of the closure of the hospitality segment, accounting for approximately 15pc of egg volume, was a major threat to industry but this was followed by panic buying of eggs through retail channels.
"Egg sales in supermarkets were up 10pc in March and April, and have stayed up overall, along with a substantial expansion in the retail category with cafes, liquor stores and even McDonald's retailing eggs."
Mr McMonnies said the reduction in retail demand from April to May has coincided with the limited reopening of cafes and restaurants, which has started the process of rebalancing egg supply between segments.
"Along with the challenges of moving eggs between segments on short notice, the industry has faced a huge business continuity challenge as egg farmers prepared their supply chains to withstand the possible loss of labour due to COVID-19."
In its 2017-18 annual report, Australian Eggs said Australians consumed an average of 245 eggs per year.
Australia exports a small percentage of its annual egg production, mainly to Pacific destinations including New Zealand, and to Hong Kong and Singapore.
Eggs are air-freighted, and the huge reduction in international services has seen this market dip.
Dairy steadies
Research consultant Dr Ray King said the dairy sector's use of grain in the past 10-15 years has been fairly steady at 1.6-1.7t per cow per year.
With a national herd now at 1.44 million cows, and usage at the high end per cow, that equates to 2.45Mt of all grain plus lupins and canola meal used by the dairy sector, or 2.2Mt of cereal grain.
"It's probably gone down a little because cow numbers have reduced, but it's often been reduced where there's been high grain use.
"We've had increases in cow numbers in Tasmania where their grain use is lower, and they might use only 1.2t per cow per year.
"In northern Victoria, southern NSW and south-east Queensland, there is higher grain use."
Dr King said wheat, barley and maize were all used in dairy diets, with maize at its slower digestion rate preferable for cows in early lactation.
He said the national cow herd appeared to have stabilised after drops in recent years caused by low milk and high input prices.
"The opening price for milk for the year has just come out, and most processors are paying $6 per kilogram for solids.
"The dairy farmer won't make a lot of money, but hopefully they'll be able to stay in the industry.
"With prices at that level, I'd hope they'll be no more contraction."
Grain Central: Get our free daily cropping news straight to your inbox – Click here