VALUES for faba beans are rising on the back of demand from graziers feeding sheep in parched areas of NSW, and stockfeed millers railing against rising cereal prices in a dry-affected market.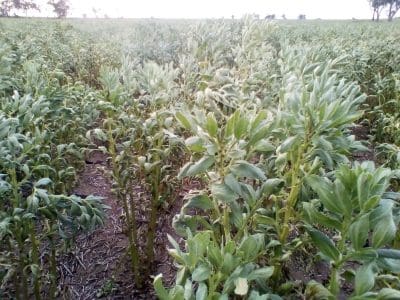 Independent broker, Ian Mallon, said fabas had been working their way into stockfeed markets for the past six months, but prices had kicked by $20-$30 per tonne in the past few months based on domestic demand alone.
Ex-farm values in central and northern NSW were now sitting at around $250-$260/t, up from around $230-$240/t in June and July, and $210-$220/t in January.
"That area from Dubbo to Coonamble to Mungindi to Goondiwindi is where they are going for drought feeding, and they are even getting up into southern Queensland, as far north of Dalby," Mr Mallon said.
"What's driving the market is totally domestic, and I have a feeling that there aren't a lot of them left out there."
Truckloads of lupins have also been making their way north to feed stock.
Agvantage broker, Steve Dalton, said fabas had been shifting around NSW and southern Queensland, with piggeries and poultry farms being key drivers of demand.
"It's not easy to move them in volume; a farmer might take 25-50t; consumers seem to be covered for now, and are looking at October-December coverage," Mr Dalton said.
End-users in Newcastle and up the NSW north coast were buying fabas from the Liverpool Plains, whereas stocks on the NSW central and northwest slopes and plains were generally heading north.
In Agvantage's report last week, prices were quoted at $255-$265/t ex-farm NSW plains, with demand seen as coming from Queensland's Darling Downs.
With hot temperatures and no rain forecast for Queensland and northern NSW over the coming week, and grain prices continuing to creep up, Mr Dalton said offers were hard to find.
"At the moment, production risk is on everyone's mind."
Faba beans from northern NSW have also been making their way into feedmills in Victoria, where consumers are having to pay more for feedgrain which has been meeting strong demand from the dry-induced Queensland and northern NSW market.
Export interest
Adelaide-based Centre State Exports grower services manager, Paul Lange, said the trade was banking on demand from Egypt for new-crop beans.
"We expect them to go that way again from this harvest, but much will depend on our quality and quantity; it will certainly be a smaller amount than from last harvest," he said.
Mr Lange said lupins at $230/t delivered were a more attractive option than faba beans for people drought-feeding stock in southern areas.
"Domestically, we haven't seen demand for faba beans because lupins have been so cheap; we've seen no demand for fabas going east."
More than 100,000t of current-crop Australian faba beans have been exported to Egypt in several bulk cargoes, but the bulk of the trade remains containerised.
"It has become a fairly illiquid market now; you've got to be selective about who you deal with, but there is business to be done."
Mr Lange said buyers in Egypt were watching the state of the European harvest for now with an eye to filling nearby orders, but were likely to swing attention back to Australian fabas by early 2018.
"The Aussie faba bean is close to what Egypt produces; quality in Europe could turn out to be questionable, so they'll be watching our crop size and conditions with interest."
Mr Lange said new-crop faba beans were quoted at around $260/t delivered Adelaide.
He said South Australia's crop was "a real mixed bag".
"Some rain in August and September is keeping the dream alive, but variability is huge across the state, within regions and even within paddocks."
Better options for feedlots
IAP cattle nutritionist, Rob Lawrence, said beef feedlots were interested in buying faba beans because of their lower price relative to cereals, but that should be weighed up against their significantly lower starch content.
"I've had some inquiry about them, but their energy values at 30-50 per cent lower than wheat or barley means you've got to feed a lot of it to get the same response as a cereal."
He said the protein content of fabas at around 25pc was excessive for cattle weighing more than about 300 kilograms.
"Only weaners or growers will benefit from higher protein."
Mr Lawrence said lotfeeders were looking at "any and every alternative under the sun" to avoid buying feedgrain in a rising market, but alternatives could introduce risk to the ration.
"A few of the byproducts getting around can offset the inclusion of grain, and that includes hominy meal which comes from corn processing."
He said waste or byproducts from the human food market like stale bread, cookie dough and biscuit meal should be added to rations with caution because additives or residual from cleaning products could have an impact on beef.
"Even things like mill offal might sound like good value but they're really just fibre, and unless your cattle have limited fibre, they're not going to be of much benefit."
Any and every alternative under the sun, it's critical that the feedlots do they do due diligence.
"If you're receiving inputs from outside a quality-assured supply chain, feedlots need to do their due diligence.
"This raises its ugly head every time there's a drought. Feedlots are better off sticking with the grain, even if it costs $100-$150/t more than they think they should be paying for it."
Grain Central: Get our free daily cropping news straight to your inbox – Click here