A RUN of public holidays and continuing dry conditions in much of the eastern Australian grainbelt have supported prices now that end-users have booked coverage for the next four weeks and volume traded has dropped to negligible levels.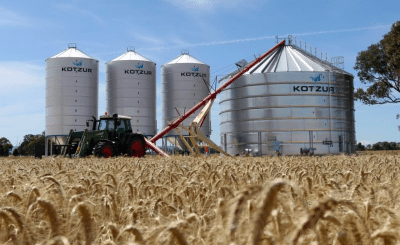 Trade sources have mixed ideas on price movements, but largely see sell-side pressure as confined to boat wheat and barley coming from South and Western Australia via Brisbane, and grower-owned sorghum on southern Queensland's Darling Downs.
At Narrabri, AgVantage Commodities broker Josh Brown said end-users have booked coverage well into May ahead of the run of public holidays.
It begins with Good Friday tomorrow, and includes Easter Monday and Anzac Day next week.
In Queensland, it extends to Labour Day on 6 May.
"The Downs feed market has a healthy supply of boat grain coming in, and the smaller lotfeeders are buying some boat wheat, and grain out of depots, and over the fence," Mr Brown said.
At Dalby, Horizon Commodities trading manager Aaron Jones said there was more selling than buying interest for sorghum for nearby delivery.
"It's all very quiet at the moment," Mr Jones said.
"There's a bit of late sorghum being harvested, and there is interest from sorghum buyers for deferred homes for July forward."
The prompt delivered-Downs sorghum market has been trading this week at around $345-$350 per tonne, in line with last week's values.
New-crop rally
Boat wheat and barley has continued to sell to end-users on the Downs in large volume, with wheat ex Port of Brisbane landing on the Downs at around $405/t prompt, which is as much as $5/t cheaper than last week.
In the boat market, barley's discount to wheat has narrowed and lifted its price to around $385-$390/t.
"When the spread was wider, feedlots started buying it, and some have switched from wheat to barley."
The new-crop wheat market for January-February 2020 delivery to the Downs has been trading at $360-$365/t, up $5-$10/t on last week, with barley at a $30/t discount.
While wheat and barley can be planted with confidence well into June, the disappointing-to-terrible season in northern NSW and southern Queensland last year has growers and traders feeling anxious.
"We're into the planting window now, and everyone's starting to get worried because we haven't got any rain coming on the forecast."
Little NSW selling
In NSW, most growers with sorghum to sell are in the midst of picking their cotton, which has left the Hunter Valley and adjacent feed markets to be serviced by boat grain arriving from interstate.
The sorghum market is bid at around $390/t Newcastle, and $345-$350/t on-farm on the Liverpool Plains, where the harvest has neared completion and yielded limited volume.
In the Riverina market, Kelly Grains trader Matt Kelly said the Easter and Anzac Day holidays had quietened activity.
"Generally, everyone's covered."
The Griffith market, which includes Baiada's Hanwood mill, has continued to source sorghum from the Liverpool Plains to the Queensland border.
The market has also been booking barley, currently seen as better value than wheat.
"Wheat is offered into Griffith at $385/t for May but there's a lack of real bids, and it's bid $382/t for July."
Mr Kelly said the bleak outlook for MIA water entitlements for growers was expected to limit new-crop volume.
"For the southern crop, 90 per cent of the irrigated area will be dryland because there's so little water."
Cottonseed climbs
Following another week of minimal cottonseed trade, prices reports for April and for deferred delivery were nominally up $5-10/t, in line with firmer prices of new crop commodities and feedstuffs this week.
Woodside Grain manager Hamish Steele-Park said while some gins in northern NSW and southern Queensland were operating, full-capacity production would occur after Easter.
"Cottonseed trade still has very low liquidity, and markets are hand to mouth."
Asking prices at gins in the MIA are $460/t, Namoi Valley gin spread $530/t and Gwydir Valley $535/t.
ASX update
The ASX WM east-coast new-crop January 2020 wheat contract traded 1423 lots from 11-17 April.
Its price has lifted $14.50/t since last Thursday, settling yesterday at $339.50/t when open interest sat at 7592 lots.
The current-crop WM May 2019 price lifted a little from the week's low of $360/t to a high of $361/t, and settled at $360.50/t, with open interest at 1422 lots.
ASX UB barley traded 50 lots over the week.
The January 2020 settlement price was $274/t on 11 April, and it rose $18/t to settle at 292 on April 17, when open interest was 87 lots.