WITH headers taking the first cuts into sorghum crops in northern New South Wales and in Queensland's Darling Downs region, market prices last week spiked and turned around again as quickly as they had risen.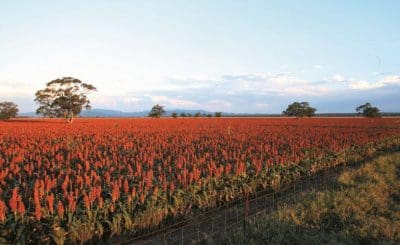 Traders said international factors such as the Australian dollar fluctuating between US80 cents and 78 cents in favour of the export market, and a bidding rally on the back of the Chinese Government investigating allegations of sorghum dumping from the US, could have put Australian sorghum momentarily within reach of China's buying ideas.
"We saw it jump last week about A$6-7/t when it reached the highs, and softened later in the week as the Aussie dollar lifted again," Narrabri-based AgVantage commodity broker, Josh Brown, said.
"It was an interesting week of trade in sorghum.  After competitive factors caused the price to rise earlier in the week, when it turned around, the delivered Downs price overnight went from $297/t down to $291/t.
Mr Brown said top port prices delivered Brisbane and Newcastle had been $315/t and $310/t, while delivered Narrabri and Tamworth were about $275 and $290/292.
Quality, yield tracking well
While it is early days for Australia's sorghum harvest, and while conditions during the growing season were variable, early indications of grain test weight and sorghum paddock yields are satisfactory.
"Yield and quality appear to be quite on point for the season," Mr Brown said.
"As you would expect, growers have the odd load of sorghum 2, but generally speaking the quality seems to be going around 70 to 80 per cent sorghum 1 grade so far.
"We will get a better picture of quality as the crop progresses and growers get into the thick of harvest."
"Though it's very early days, growers reporting yields around 3.5-4t per hectare around the Darling Downs, and similar early results around the Croppa Creek, North Star area.  The odd grower might have achieved 5t/ha.
Darling Downs-based Dalby Bio Refinery buyer, Brett Carsburg, said the facility would keep running solely on sorghum at this time, with plenty of new-crop being delivered from areas such as the Jimbour Plain, north-west of Dalby, and from north of Moree in NSW.
"Our sorghum test weights are averaging 77 kilograms per hectolitre, and last week's screenings tests were showing around 20 per cent of loads were going number 2 grade.
"The test weight has been going really well, with just a little bit coming in with higher screenings; this week we'll be able to tell better. Harvest has just started really. "
Grower incentive
Traders said few growers had made any more than minor forward sales in the months leading into the 2018 sorghum crop, preferring to manage their risk by waiting for a better picture of quality and some certainty about how much they would have available for sale.
While domestic stockfeed markets will include sorghum in the ration mix if it is priced competitively, last week's price spike could test the resilience of other buyers such as the spirit market in China.
Traders were non-committal whether any new business was written in China's favoured Australian red sorghum market on a low exchange rate last week, and said a tussle could develop between relatively high-priced domestic demand and China's premium baijiu market.
"The hot weather is forcing everyone's hand and it doesn't look like there's a change on the immediate horizon, so for it to stay domestically or go internationally, markets will be quite competitive,"  AgVantage's Mr Brown said.
"Growers are looking for a bit more of an incentive to persuade them to sell."