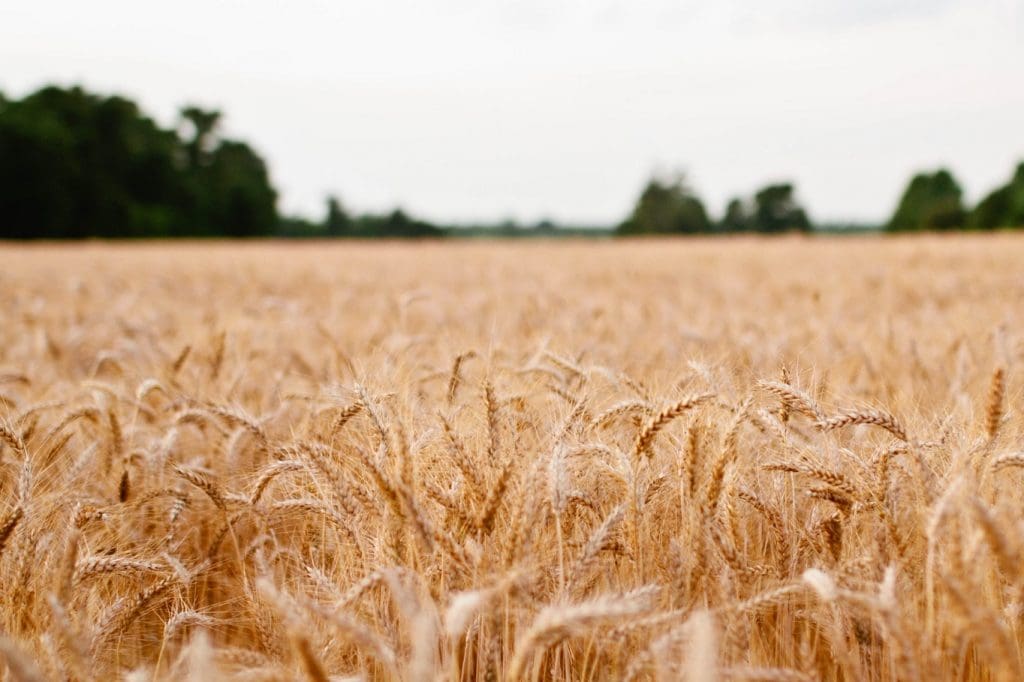 GLOBAL wheat production estimates have been lowered this month as smaller crops in Australia, Canada, the European Union, Russia, and Ukraine more than offset a larger United States crop, according to the USDA's World Agricultural Supply and Demand Estimates (WASDE) report released overnight.
At the same time, global trade is lowered, mainly on reduced imports for Indonesia and Vietnam.
Wheat exports are projected lower for Australia, Russia, and Ukraine, creating further opportunities for the EU and the US.
Russia's 2019/20 wheat production forecast was reduced this month by 3.8 million tons (Mt) to 74.2Mt due to drought, although it is still up from last year and would be the second-largest on record.
The estimate includes 55.0Mt of winter wheat and 19.2Mt of spring wheat, and excludes output from Crimea.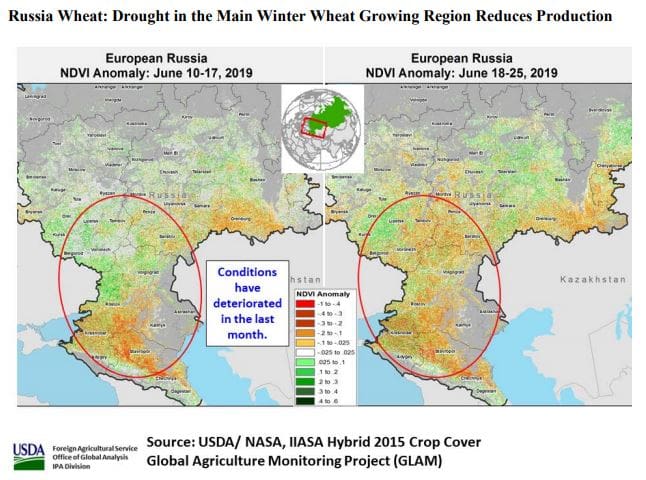 Russia's total wheat yield is estimated at 2.82t/hectare, down four per cent from last month but up 4pc from last year. The total area is estimated at 26.3 million hectares (Mha), down 1pc from last month.
Winter wheat is grown in European Russia (including the Southern, Central, Volga, and North Caucasus Districts) and typically accounts for about half of total wheat area and 70pc of production.
The month-to-month decrease for winter wheat yield is based on deteriorating crop conditions in the Southern, North Caucasus and Volga Districts.
Additionally, Russia's statistical agency, Rosstat, has revised down the harvested area due to reports of increased winterkill.
Harvest began in early July in Russia's southern production regions. Spring wheat planting in the major production zones (the Siberian, Ural, and Volga Districts) is complete and harvest will begin in late August.
In light of this month's production cut, the USDA has lowered Russian export predictions by 2.5Mt to 34.5Mt, representing a year-to-year reduction of 1.5Mt, which is attributable to tighter overall supplies.
Even with its exports down slightly, Russia is still forecast to be the world's leading exporter for the third straight year.
European Union
The next largest wheat supplier to Russia, the EU, is expected to benefit from reduced Russian competition and will likely garner greater market share in North Africa, Sub-Saharan Africa, and the Middle East.
The USDA expects the EU to export 27.0Mt, up slightly from last month and up 3.0Mt from the previous year.
EU wheat production is estimated at 151.3Mt, down 2.5Mt (2pc) from last month, but up 14.1Mt (10pc) from last year's poor harvest.
Extremely high temperatures in June, combined with a lack of rain in areas of central and northern Europe have been unfavourable for wheat development in the late grain-fill stage.
During June record high temperatures were set in many large producing countries, including France, Germany, Poland, and the Czech Republic.
Despite a production cut this month, EU wheat supplies are still projected up significantly from last year, which will support both greater exports and additional feed use.
The US is also expected to benefit from reduced Russian competition as US wheat exports (July-June trade year) are raised by 2.0Mt this month to 25.5Mt.
Ukraine
In Ukraine, wheat production for 2019/20 is forecast at 29.0Mt, down 3pc from last month and up 16pc from last year.
The harvested area in Ukraine is forecast at 7.0Mha, unchanged from last month and up 4pc from last year.
Ukrainian yield is forecast at 4.14t/ha, down 3pc from last month but up 11pc from last year. The month-to-month decrease in yield is attributed to hot and dry weather in the Steppe Zone, which accounts for about half of Ukraine's production.
All USDA crop production estimates for Ukraine include estimated output from Crimea.
Coarse grains
Global corn production for 2019/20 is forecast up with larger crops for Ukraine and the US, while trade is up slightly from last month driven by larger imports for Zimbabwe.
On the exporter side, higher exports for Ukraine offset a reduction for Brazil.
For 2018/19, global corn production is up this month driven primarily by a record crop for Argentina.
Global corn trade is up as larger exports for Argentina and Brazil more than offset a sharp cut for the US.
Oilseeds
Global oilseed production for 2018/19 is up by 1Mt this month to 602.4Mt.
Greater soybean production in Uruguay and cottonseed production in India more than offset lower production in South Africa cottonseed and soybeans and Uzbekistan cottonseed.
Global soybean exports are forecast slightly higher due to a 1Mt boost in Argentina and an 850,000t increase in Uruguay offset by a 1.3Mt reduction in Brazil.
Soybean imports are also slightly higher with a 300,000t increase for the EU.
Source: USDA