NEXT Sunday's general election in Argentina will have significant ramifications for grain growers in a country where government policy and currency fickleness dominate how farmers run their businesses.
Compared to Australia where farmers operate in a relatively stable political and economic environment, Argentinian growers farm under the pressure of political volatility, wild currency fluctuations and underlying uncertainty.
In a nation where inflation is running at 55 per cent, the peso has plunged and foreign debt has skyrocketed, this weekend's election will come down to a presidential race between the centre-right incumbent Mauricio Macri, who came to power four years ago, and the main opposition candidate, the centre-left Peronist Alberto Fernández.
Opinion polls point to Fernandez toppling Macri and the installation of a left-leaning government.
(Update 28/10/19: Argentina's Peronists swept back into power on Sunday, with centre-left Alberto Fernandez ousting conservative president Mauricio Macri.)
Government policy impact
Rabobank senior grains and oilseeds analyst, Cheryl Kalisch Gordon, who recently returned from leading a tour by Australian farmers to South America, said the governance of Argentina made a big difference to farming operations there.
"There is the day-to-day fluctuations of the currency and its implications for selling," she said.
"In August there was a 30 per cent devaluation overnight as a result of an election result. Such is the uncertainty of the future of the country, depending on whether the country stays with the current market-favouring government of Mauricio Macri or returns to a socialist government, which is a partnership between Alberto Fernandez and former president Cristina Fernandez.
"A return of the socialist government would mean the high possibility of them not committing to openness with the world, not committing to the repayment of debt globally. That, in itself, delivers the lack of faith in the currency. That is why we saw it drop overnight because they performed particularly well in the primary election held at that time."
Dr Kalisch Gordon said when it came to grain production, a socialist government in Argentina would view the export of grains not as an export earner but a "cash cow".
"They look to see if they can extract some more earnings with higher export taxes and also, when supplies go lower, reduce the volumetric licences that are available for export because they are very concerned about the inflation impacts on the local economy because, being a socialist government, they are concerned about food pricing for the population," she said.
Wheat a secondary crop
Dr Kalisch Gordon said while Australia saw Argentina as a growing competitor globally in terms of wheat, wheat was a secondary consideration for much of the country.
"Soybeans and corn are their main game. The real benefit for them from wheat is that it can be double cropped in most instances, especially in the Rosario area and the Buenos Aires provinces," she said.
"It is an opportunity to get a second crop when the prices are good. What that means is they are getting an expansion of area but not at the cost of lower production of soybeans and corn.
"So, the pricing relativities of those two are less important than when we make a choice in Australia between wheat and barley and canola. We are always in the same season as Argentina, but double cropping isn't really an opportunity for us except for small parts of southern Queensland."
Dr Kalisch Gordon said there were a couple of macro issues that would affect Argentina's export performance in grains if the government changed.
"If their peso continues to be low that enhances their export competitiveness. However, if that is then coupled with export tax escalation, plus any volumetric constraints, that will put downward pressure on their domestic price. Then people will go "Well, I'm not going to bother with that second crop". So, we won't have the increasing supply we have seen coming out of Argentina continuing."
Exportable wheat surplus
While the dominant force in Australian agriculture is the weather, it's not usually such a significant issue for farmers in Argentina, although this year an extended dry through the growing season has impacted the wheat crop.
"They hadn't had rain for 90 days and they were pretty concerned about that. They have had some rain since, but they are on the drier side of an average year in most areas," Dr Kalisch Gordon said.
"They have also had some frost and hail in the last month, so prospects for their wheat harvest have been downgraded. But they still look like producing record levels because plantings have been expanded this year.
"They will still have a fair volume of exportable surplus if the season continues to play out okay through to harvest in December/January."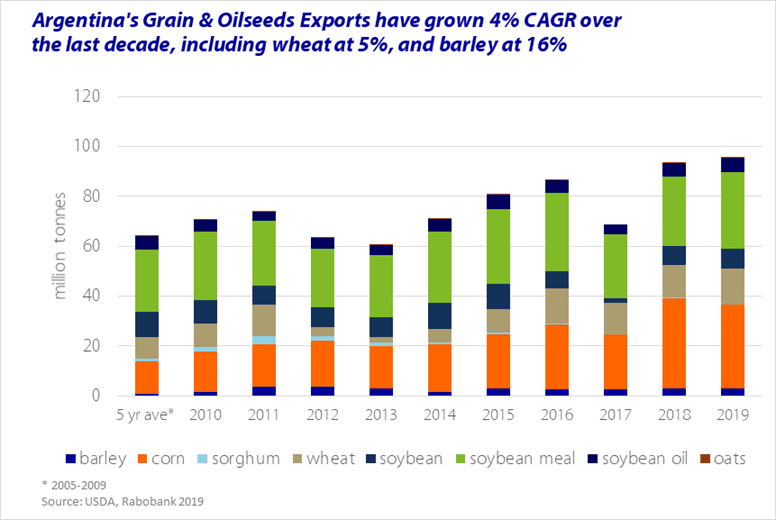 Uncertainty drives structural change
The high level of uncertainty in Argentina has led to a swing to larger farming enterprises and significant levels of land leasing. There is very little machinery ownership with most farming operations conducted under contracting arrangements.
Dr Kalisch Gordon said over the years of running Rabobank tours to Argentina she had seen significant structural changes by farmers adapting to the underlying uncertainty.
"A good example is that 20 years ago one of the large properties we visited was 80 per cent cattle. Today it is 80 per cent cropping. One of the key reasons for that change was that grains and oilseeds operate in much more of a (US) dollarised market than a peso-denominated economy. So, by transforming their operation to more grains they are trying to manage the currency risk associated with exposure to the peso," she said.
"We also saw farming operations that were very diversified and vertically integrated because of the uncertainty. If the government decides that the sector is a good source of income or revenue it might be hit, so (some farmers) sought to vertically integrate to see if they could produce a product that could be exported. They are trying to get closer to the export market and not be hit by a revenue grab.
"Such is their experience with the uncertainty that some people were quite worried about the election outcome, others were like "It's just business as usual for us.". I don't think they realise how much extra uncertainty and risk they are managing compared to other farmers around the world. They were taking it in their stride."
Dr Kalisch Gordon said there was strong support from the Argentinian government for local processing of grains which was particularly significant for corn and soybeans.
"With soybeans, they have had differential export treatment on beans compared to meal and oil and that has really established a strong soybean crushing sector. They have the largest capacity in the world," she said.
"On the corn side, the government has been very supportive of ethanol production which gives corn a domestic market which is then useful for setting baseline pricing."
Archaic infrastructure
Dr Kalisch Gordon said one of the greatest impediments to grain industry efficiency in Argentina was the parlous state of grain transport infrastructure and the unionisation of the aging truck fleet.
"Once the grain gets to port they have excess capacity. But getting it from farm to port is a real issue. Roads are a real challenge. Some of the Australian farmers on tour have probably never driven so slowly in their lives on some of the roads over there. That was when it was dry, so you can only imagine what happens in the wet," she said.
"There is also the unionisation of the truck fleet. Between having an old truck fleet and the unionisation of that fleet, there is a lot of delay and cost associated with getting grain to port. If they could deregulate their trucking sector and take away the unionised approach they would get a much quicker trip to port and turnaround. There would also be investment in their truck fleet."
Grain Central: Get our free daily cropping news straight to your inbox – Click here