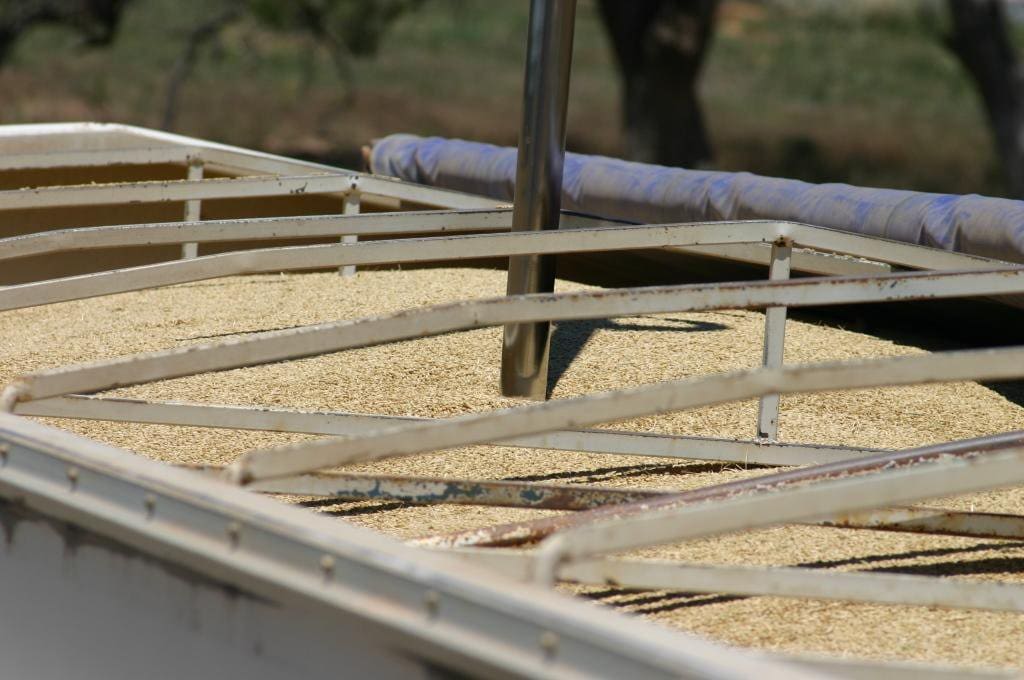 AUSTRALIA exported 504,162 tonnes of barley to China in April ahead of China's expected tariff announcement which has paused trade in the grain between the two countries.
The tonnage, up from 132,799t in March, also reflects the March dive in the Australian dollar which boosted the buying power of importers.
This is reflected in Australian barley shipments to all destinations, which in April totalled 680,275t, up 158 per cent from the 263,268t shipped in March.
Vietnam, with 27,978t, was the only bulk destination apart from China to take Australian barley in April, and in the feed market, Japan, with 56,653t, and Thailand, on 53,074t, were the second and third-biggest markets.
With China now out of the market for Australian barley for the foreseeable future, Vietnam and Japan appear to be the only bulk customers left for malting barley, while feed is expected to continue to flow to Japan, Thailand and United Arab Emirates customers.
Sorghum shipments remained negligible in April because drought in New South Wales and southern Queensland prevented an early crop from being planted.
In non-drought years, new-crop sorghum exports from Newcastle in NSW and Brisbane in Queensland normally lift shipment figures in March and April.
| | | | | | |
| --- | --- | --- | --- | --- | --- |
| Malting | Jan | Feb | Mar | Apr | Tonnes |
| China | 196959 | 165831 | 132799 | 174330 | 669918 |
| Japan | 6180 | 0 | 19000 | 10 | 25190 |
| Thailand | 1151 | 1246 | 0 | 1345 | 3741 |
| Vietnam | 46122 | 240 | 1579 | 27978 | 75918 |
| TOTAL | 250411 | 167316 | 153377 | 203663 | 774767 |
Table 1:  Australian malting barley exports for January-April 2020. Source: ABS
| | | | | | |
| --- | --- | --- | --- | --- | --- |
| Feed | Jan | Feb | Mar | Apr | Tonnes |
| Bahrain | 43 | 0 | 0 | 65 | 108 |
| China | 33000 | 0 | 0 | 329833 | 362833 |
| Hong Kong | 0 | 21 | 0 | 12 | 33 |
| Japan | 3300 | 94550 | 511 | 56653 | 155015 |
| Macau | 0 | 4 | 0 | 0 | 4 |
| Malaysia | 166 | 0 | 168 | 169 | 503 |
| New Caledonia | 0 | 0 | 422 | 500 | 922 |
| New Zealand | 0 | 0 | 0 | 0 | 0 |
| Pakistan | 0 | 330 | 0 | 0 | 330 |
| Papua New Guinea | 0 | 21 | 0 | 0 | 21 |
| Philippines | 456 | 583 | 588 | 841 | 2467 |
| Qatar | 0 | 0 | 24150 | 25036 | 49186 |
| Singapore | 1 | 2 | 3 | 3 | 8 |
| South Korea | 12693 | 293 | 603 | 312 | 13901 |
| Taiwan | 4651 | 3372 | 2781 | 2501 | 13305 |
| Thailand | 115751 | 54522 | 68243 | 53074 | 291591 |
| United Arab Emirates | 1035 | 21705 | 10451 | 5808 | 39000 |
| Vietnam | 3031 | 2906 | 1971 | 1806 | 9714 |
| TOTAL | 174127 | 178310 | 109891 | 476612 | 938940 |
Table 2: Australian feed barley exports for January-April 2020. Source: ABS
| | | | | | |
| --- | --- | --- | --- | --- | --- |
| Sorghum | Jan | Feb | Mar | Apr | Tonnes |
| Japan | 0 | 20 | 0 | 42 | 62 |
| Malaysia | 23 | 0 | 0 | 23 | 46 |
| Philippines | 264 | 192 | 0 | 0 | 456 |
| South Korea | 0 | 0 | 66 | 0 | 66 |
| Taiwan | 0 | 0 | 100 | 0 | 100 |
| Vietnam | 0 | 4 | 0 | 3 | 7 |
| TOTAL | 287 | 216 | 166 | 68 | 737 |
Table 3: Australian sorghum exports for January-April 2020. Source: ABS