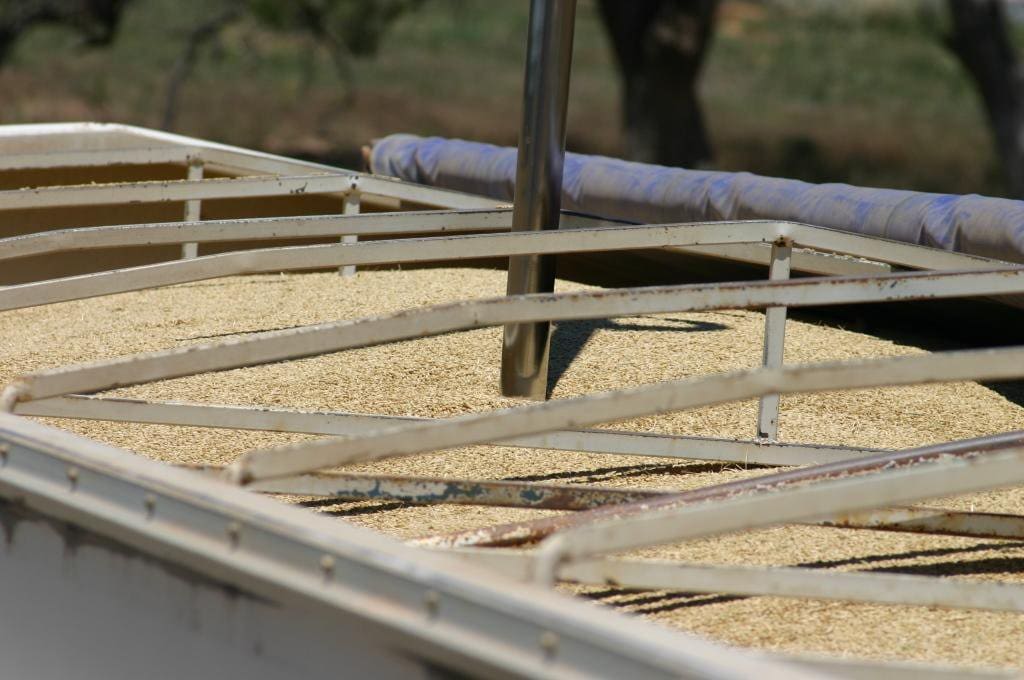 AUSTRALIA exported 208,792 tonnes of barley in June, down 22 per cent from 268,917t in May, according to the latest figures from the Australian Bureau of Statistics (ABS).
While malting exports in June at 26,894t were just 14pc of the 196,738t shipped in May, feed exports more than doubled to 181,898t, up from 72,179t in the previous month.
The drop in malting shows the impact of the tariff announcement by China, with June exports to what has traditionally been Australia's biggest overall barley market dropping to 3,502t in June from 190,345t in May, and feed exports dropping to zero from 44,077t.
The announcement prompted a sharp drop in Australian barley prices, which bought the grain some business ahead of new crop barley availability from European and Black Sea origins.
Australia's barley exports in June were the lowest monthly figures seen since November last year, and Market Check head of strategy Nick Crundall said this was not surprising.
"It reflects the tightening stocks situation in Australia as the exportable surplus for barley dwindles down as we approach the end of the season," Mr Crundall said.
"The smaller volumes also reflect a lack of Chinese demand, as the well-publicised tariffs put a stop to the large majority of exports to China.
"Japan stood up and took the biggest volume through June, followed by Thailand and Qatar, while some South East Asian countries mopped up some container volumes.
"Thailand remains a strong buyer of Aussie barley, having taken nearly the same amount this season so far than the previous two seasons combined."
Mr Crundall said July shipping stems indicate last month's export will likely decrease further as exports continue to wind down, and focus shifts to opportunities in the new-crop export months.
Australia's very small new-crop sorghum export program kicked into gear in June, with 7821t being shipped, up from just 890t in May, and sub 400t figures since January, to reflect the very small and late harvest in Queensland and northern New South Wales.
China was the major sorghum customer in June by far, taking 6867t of the containerised grain.
| | | | | | | | |
| --- | --- | --- | --- | --- | --- | --- | --- |
| MALTING | Jan | Feb | Mar | Apr | May | Jun | Tonnes |
| China | 196959 | 165831 | 132799 | 174330 | 190345 | 3502 | 863764 |
| Japan | 6180 | 0 | 19000 | 10 | 2845 | 21617 | 49652 |
| New Zealand | 0 | 0 | 0 | 0 | 0 | 244 | 244 |
| Thailand | 1151 | 1246 | 0 | 1345 | 2122 | 1032 | 6895 |
| Vietnam | 46122 | 240 | 1579 | 27978 | 1426 | 500 | 77843 |
| TOTAL | 250411 | 167316 | 153377 | 203663 | 196738 | 26894 | 998399 |
Table 1: Australian monthly malting barley exports for January to June 2020. Source: ABS
| | | | | | | | |
| --- | --- | --- | --- | --- | --- | --- | --- |
| FEED | Jan | Feb | Mar | Apr | May | Jun | Tonnes |
| Bahrain | 43 | 0 | 0 | 65 | 43 | 0 | 151 |
| China | 33000 | 0 | 0 | 329833 | 44077 | 0 | 406909 |
| Hong Kong | 0 | 21 | 0 | 12 | 0 | 12 | 45 |
| Japan | 3300 | 94550 | 511 | 56653 | 20600 | 53560 | 229175 |
| South Korea | 12693 | 293 | 603 | 312 | 715 | 813 | 15429 |
| Macau | 0 | 4 | 0 | 0 | 0 | 0 | 4 |
| Malaysia | 166 | 0 | 168 | 169 | 0 | 177 | 679 |
| Myanmar | 0 | 0 | 0 | 0 | 120 | 0 | 120 |
| New Caledonia | 0 | 0 | 422 | 0 | 300 | 0 | 721 |
| New Zealand | 0 | 0 | 0 | 0 | 0 | 0 | 0 |
| Pakistan | 0 | 330 | 0 | 0 | 0 | 0 | 330 |
| Papua New Guinea | 0 | 21 | 0 | 0 | 64 | 0 | 85 |
| Philippines | 456 | 583 | 588 | 841 | 431 | 789 | 3687 |
| Qatar | 0 | 0 | 24150 | 25036 | 0 | 52500 | 101686 |
| Singapore | 1 | 2 | 3 | 3 | 2 | 3 | 13 |
| Sri Lanka | 0 | 0 | 0 | 0 | 0 | 1482 | 1482 |
| Taiwan | 4651 | 3372 | 2781 | 2501 | 3168 | 2086 | 18559 |
| Thailand | 115751 | 54522 | 68243 | 53074 | 0 | 66000 | 357591 |
| UAE | 1035 | 21705 | 10451 | 5808 | 784 | 475 | 40259 |
| Vietnam | 3031 | 2906 | 1971 | 1806 | 1875 | 4002 | 15592 |
| TOTAL | 174127 | 178310 | 109891 | 476112 | 72179 | 181898 | 1192518 |
Table 2: Australian monthly feed barley exports for January to June 2020. Source: ABS
| | | | | | | | |
| --- | --- | --- | --- | --- | --- | --- | --- |
| SORGHUM | Jan | Feb | Mar | Apr | May | Jun | Tonnes |
| China | 0 | 0 | 0 | 0 | 0 | 6867 | 6867 |
| Japan | 0 | 20 | 0 | 42 | 43 | 43 | 148 |
| Malaysia | 23 | 0 | 0 | 23 | 0 | 0 | 46 |
| Philippines | 264 | 192 | 0 | 300 | 599 | 269 | 1625 |
| South Korea | 0 | 0 | 66 | 0 | 0 | 0 | 66 |
| Taiwan | 0 | 0 | 100 | 0 | 249 | 642 | 991 |
| Vietnam | 0 | 4 | 0 | 1 | 0 | 0 | 5 |
| TOTAL | 287 | 216 | 166 | 366 | 890 | 7821 | 9746 |
Table 3: Australian monthly sorghum exports for January to June 2020. Source: ABS
Grain Central: Get our free daily cropping news straight to your inbox – Click here