AUSTRALIA exported 554,503 tonnes of canola in April, up 38 per cent from the March figure of 401,614t, according to the latest data from the Australian Bureau of Statistics (ABS).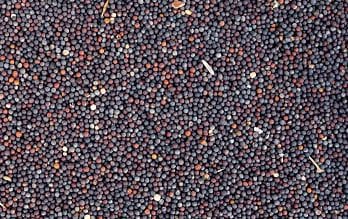 This lifts Australia's February-April canola shipments to 1.46 million tonnes (Mt), with Germany on 617,158t and Belgium on 495,845t the two biggest customers for the period.
Reappearing on the destination list for Australia in April was the United Arab Emirates, which Australian Oilseeds Federation (AOF) chief executive officer, Nick Goddard, was at times Australia's second-largest bulk market behind Europe.
"It's an important market for us. It has large feedlots which use the canola meal, and the crushers there can export the oil," Mr Goddard said.
Australia's domestic oilseed crushers have also been active on last year's crop, selling canola meal into the drought and regular stockfeed market, and exporting more oil to China.
"Canola and rapeseed prices have remained pretty firm, even though soybeans prices are deflated because of trade and other issues."
Mr Goddard said Australia's canola shipments might have peaked in April, but were likely to continue in volume over coming months, with crushers in Europe showing some concern about local production.
"Some of the European crop is suffering from hot and dry weather, which will pull back their yields, and the ongoing demand for seed for their crush will be supportive."
| | | | | |
| --- | --- | --- | --- | --- |
| | Feb | Mar | Apr | Tonnes |
| Argentina | 0 | 0 | 1 | 1 |
| Bangladesh | 0 | 6010 | 6183 | 12193 |
| Belgium | 245540 | 78589 | 171716 | 495845 |
| Canada | 0 | 24 | 73 | 97 |
| China | 0 | 0 | 600 | 600 |
| France | 31461 | 65374 | 0 | 96835 |
| Germany | 191260 | 178586 | 247312 | 617158 |
| Indonesia | 211 | 0 | 108 | 319 |
| Japan | 1132 | 2243 | 29525 | 32900 |
| Kenya | 3 | 0 | 0 | 3 |
| Korea | 0 | 801 | 0 | 801 |
| Kuwait | 19 | 0 | 0 | 19 |
| Malaysia | 515 | 1492 | 2955 | 4962 |
| Nepal | 4647 | 6091 | 6666 | 17404 |
| Netherlands | 0 | 60000 | 0 | 60000 |
| New Zealand | 497 | 1319 | 1343 | 3159 |
| Portugal | 30000 | 0 | 0 | 30000 |
| Singapore | 0 | 0 | 311 | 311 |
| South Africa | 180 | 44 | 0 | 224 |
| UAE | 0 | 46 | 87500 | 87546 |
| USA | 0 | 1 | 0 | 1 |
| Vietnam | 0 | 994 | 210 | 1204 |
| Tonnes | 505465 | 401614 | 554503 | 1461582 |
Grain Central: Get our free daily cropping news straight to your inbox – Click here