PRE-RAMADAN buying from Bangladesh has kicked Australian chickpea exports to a monthly high for 2018 of 119,428 tonnes, an increase of 116 per cent from the February shipment figure of 55,253t, according to Australian Bureau of Statistics export data.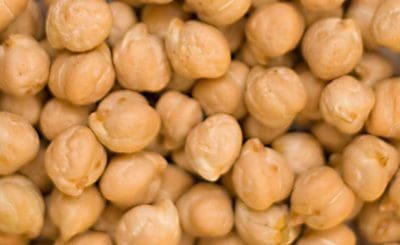 Two bulk cargoes out of Queensland accounted for most of the 87,460t which sailed for Bangladesh in March, up from 25,790t in February, and well ahead of the next-biggest March destination, Pakistan, at 12,034t, down 774t from its February figure.
COFCO pulse trader, Rob Brealey, said the March tonnage to Bangladesh was in line with expectations.
"Bangladesh does most of its buying pre-Ramadan, so chickpeas can be roasted like a nut and eaten as a delicacy or snack food after dark during the festival," he said.
Mr Brealey said he believed there was "a very low probability" of India relaxing its chickpea import regulations this year, and Pakistan, where split chickpeas are used for making dahl, would now be Australia's key market.
"The main market from here forward is Pakistan for the next 4-6 months.
"All of that is circumvented if we don't have a crop in the first place. It needs to rain."
Traders have quoted chickpeas at or just below $600/t for prompt delivery to Darling Downs packers, and said a lack of general planting rain to date in Australia's key production areas in Queensland and northern New South Wales had growers hopeful of further price rises.
"In my view, 200,000-300,000t is still sitting out in the country, and I'd argue that 40-50pc of that is already sold into export markets," Mr Brealey said.
One 10,000t cargo which shipped from the Queensland port of Mackay to Bangladesh last month is believed to have wound up Australia's 2018 bulk shipment program.
This has switched the spotlight back to the containerised market for chana dahl and whole chickpeas.
Table 1: Data released by the Australian Bureau of Statistics showing Australian chickpea export data for March 2018, with revised February 2018 figures and January 2018 figures.
| | | | | |
| --- | --- | --- | --- | --- |
| | Jan | Feb | Mar | Total tonnes |
| Afghanistan | 121 | 0 | 0 | 121 |
| Bangladesh | 19035 | 25790 | 87460 | 132285 |
| Canada | 527 | 750 | 1359 | 2636 |
| Egypt | 377 | 1172 | 516 | 2065 |
| Germany | 47 | 24 | 0 | 71 |
| India | 675 | 0 | 0 | 675 |
| Iran | 1989 | 969 | 932 | 3890 |
| Israel | 0 | 529 | 25 | 554 |
| Italy | 169 | 146 | 125 | 440 |
| Japan | 24 | 0 | 21 | 45 |
| Jordan | 939 | 325 | 363 | 1627 |
| Korea | 0 | 42 | 0 | 42 |
| Lebanon | 0 | 138 | 24 | 162 |
| Malaysia | 98 | 245 | 288 | 631 |
| Mauritius | 170 | 122 | 100 | 392 |
| Nepal | 1699 | 360 | 0 | 2059 |
| Netherlands | 48 | 48 | 0 | 96 |
| New Zealand | 7 | 46 | 93 | 146 |
| Oman | 68 | 0 | 0 | 68 |
| Pakistan | 24792 | 12808 | 12034 | 49634 |
| Papua New Guinea | 1 | 5580 | 7030 | 12611 |
| Portugal | 0 | 46 | 500 | 546 |
| Saudi Arabia | 126 | 950 | 1276 | 2352 |
| Singapore | 25 | 24 | 24 | 73 |
| South Africa | 73 | 48 | 48 | 169 |
| Spain | 0 | 25 | 100 | 125 |
| Sri Lanka | 48 | 126 | 0 | 174 |
| Taiwan | 0 | 0 | 18 | 18 |
| Thailand | 26 | 7 | 3 | 36 |
| Turkey | 1000 | 0 | 465 | 1465 |
| UAE | 4016 | 2044 | 4243 | 10303 |
| United Kingdom | 1811 | 1309 | 1509 | 4629 |
| USA | 278 | 1511 | 822 | 2611 |
| Yemen | 0 | 69 | 50 | 119 |
| TONNES | 58189 | 55253 | 119428 |  232870 |
Grain Central: Get our free daily cropping news straight to your inbox – Click here