AUSTRALIA'S January chickpea exports at 62,781 tonnes dropped 7 per cent from the revised December total of 67,407t, according to data released by the Australian Bureau of Statistics.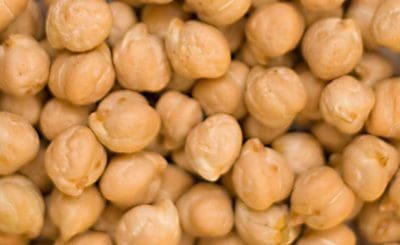 The drop reflects the impact of the tariff imposed by India in December, which saw January sales to that market total 675t, down from 20,999t in December and 185,672t in November.
While India is Australia's biggest chickpea customer, Bangladesh and Pakistan are significant secondary markets. Both destinations increased their tonnage in January from December.
Tertiary markets buying unprocessed chickpeas and chana dahl have taken on increased significance in the absence of bulk demand from India.
"India is not going to buy for another six to eight months, and Australian chickpeas are looking for new markets like Afghanistan, Iran and Turkey," Graintrend director, Sanjiv Dubey, said.
Australia's 2017 chickpea harvest has been estimated at 800,000-900,000t.
Mr Dubey said he believed half had already been exported, some further tonnage had been forward sold, and a further 100,000-200,000t still needed to be priced.
"Whatever issues are associated with sanctions or risk, exporters are looking to alternative markets because Pakistan and Bangladesh can only buy so much."
NOTE: This story replaces a previous version which incorrectly stated UK Dec imports at 14,170t.
…………………………..
Table 1: Data released by the Australian Bureau of Statistics showing Australian chickpea export data for January 2018, and revised November and December 2017 figures.
| | | | | |
| --- | --- | --- | --- | --- |
| Destination | Nov | Dec | Jan | Total tonnes |
| Afghanistan | 0 | 0 | 121 | 121 |
| Bahrain | 0 | 24 | 0 | 24 |
| Bangladesh | 12173 | 19935 | 21540 | 53648 |
| Bhutan | 0 | 40 | 0 | 40 |
| Canada | 652 | 401 | 549 | 1602 |
| Egypt | 481 | 834 | 377 | 1692 |
| Germany | 23 | 0 | 47 | 70 |
| India | 185672 | 20999 | 675 | 207346 |
| Iran | 4651 | 3113 | 1989 | 9753 |
| Israel | 25 | 25 | 0 | 50 |
| Italy | 49 | 297 | 169 | 515 |
| Japan | 24 | 34 | 24 | 82 |
| Jordan | 0 | 0 | 939 | 939 |
| Malaysia | 73 | 121 | 98 | 292 |
| Mauritius | 75 | 120 | 170 | 365 |
| Nepal | 3123 | 3859 | 2061 | 9043 |
| Netherlands | 0 | 0 | 48 | 48 |
| New Zealand | 98 | 0 | 29 | 127 |
| Oman | 0 | 0 | 68 | 68 |
| Pakistan | 10354 | 4154 | 26318 | 40826 |
| Papua New Guinea | 0 | 1 | 1 | 2 |
| Portugal | 25 | 0 | 0 | 25 |
| Qatar | 24 | 120 | 0 | 144 |
| Saudi Arabia | 0 | 878 | 126 | 1004 |
| Singapore | 95 | 24 | 25 | 144 |
| South Africa | 163 | 74 | 73 | 310 |
| Sri Lanka | 317 | 173 | 174 | 664 |
| Sweden | 23 | 0 | 0 | 23 |
| Thailand | 25 | 1 | 26 | 52 |
| Turkey | 0 | 0 | 1000 | 1000 |
| UAE | 6449 | 9964 | 4016 | 20429 |
| UK | 1068 | 1417 | 1810 | 4295 |
| US | 184 | 799 | 308 | 1291 |
| TOTAL | 225846 | 67407 | 62781 | 356034 |
Grain Central: Get our free daily cropping news straight to your inbox – Click here