NATIONAL grain farmer representative body, GrainGrowers, will work to enhance export opportunities for Australia's quality grains, pulses and oilseeds and improve business relationships through consultations with high-ranking government officials and customers as part of Australia Business Week in India this week.
GrainGrowers' trade and economics manager Luke Mathews is currently in India as part of the Austrade delegation, along with Australian exporters, industry leaders and key Australian Government officials.
"India's growing import demand for grains, oilseeds and pulses will no doubt benefit the Australian industry for many years to come," Mr Mathews said.
"Total Indian grain consumption has averaged 232.1 million tonnes (Mt) over the past five years, and has grown at an average rate of 3.8Mt per annum over the past decade.
"India has remained largely self-sufficient in grain production in the past five years with production averaging 240.5Mt per year. However, increasing rates of domestic demand growth driven by increasing population and changing diets – combined with slowing rates of production growth – will result in India emerging as a key import market for grains, oilseeds and pulses in the future.
"The development of a more intensive livestock industry in coming years is also expected to increase India's need for imports."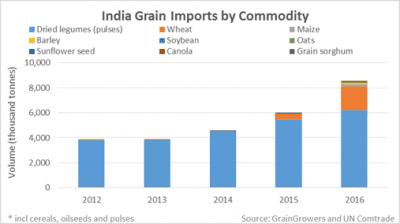 Turning to pulses, Mr Mathews said Indian import demand had helped shape both global and Australian markets.
"India is responsible for roughly 25 per cent of global pulse production, but also 30 per cent of global pulse trade demand with imports of more than 6Mt in 2016. India takes around 80 per cent of Australian chickpea exports, and has largely been responsible for the recent growth in the Australian pulse industry," he said.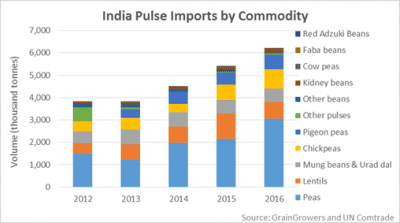 Mr Mathews said India also currently imported around 14Mt of vegetable oils, although the imports are currently dominated by palm oil.
"Future growth in protein meal demand will raise the likelihood of additional imports of 'whole' oilseeds, such as Australian canola, in order to satisfy both vegetable oil and protein meal demand," he said.
"Indian demand growth is now also shaping the wheat import market.
"Historically, India has been a sporadic importer of wheat due to local seasonally-induced production shortages. However, India is now shaping up as a structural net-importer of wheat.
"After exporting wheat for much of the past decade, over the past two seasons India has imported nearly 10Mt of wheat. Australia has emerged as a significant beneficiary of India's wheat import demand.
"Australian wheat exports to India reached 920 thousand tonnes in 2016, and have surged to more than 1.7Mt in the first six months of 2017, including a monthly record of 874,000t in January 2017.
"Virtually all of Australian wheat exports are bulk. However, competition for India's wheat consumer is intense, particularly from low-cost Black Sea (particularly Ukrainian) exporters."
Mr Mathews said India's grain and food industry was subject to a high degree of policy intervention, with partly-opposing objectives of:
maintaining farmer incomes; and
maintaining food security and affordable grain supplies to low-income households.
"Minimum producer support prices, input subsidies, public distribution systems, import tariffs, changing import conditions and other technical barriers to trade blur true market signals in the Indian grain market," Mr Mathews said.
…………………………………..
Supporting efforts to improve understanding of Indian market dynamics, GrainGrowers has released a report on the growing importance of the Indian market for the Australian grains industry.
Source: GrainGrowers