THE CBH Group has successfully launched its new Direct to Vessel service with high demand from growers wanting to take part.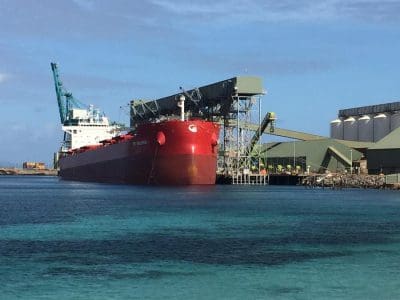 The service involves growers nominating a specified grain type and grade to a vessel as opportunities become available.
They are then required to deliver grain to port within the 14 days prior to the exporter's vessel arriving at port.
Under the scheme growers are eligible for a $3.80 receival fee rebate.
Since nominations for the service opened in October, more than 110 growers across the Geraldton and Esperance zones in Western Australia have taken part in delivering and nominating to CBH Marketing and Trading through Direct to Vessel opportunities.
CBH general manager of marketing and trading, Jason Craig, said there had been an extremely positive response from growers to the new initiative.
"The enthusiasm for the new service, which was only introduced this year, has resulted in three vessels reaching capacity before the closing date," Mr Craig said.
"This service allows growers and marketers to maximise the returns for their grain, which is proving to be a popular opportunity as we get into harvest.
"We are now looking at our shipping schedules for opportunities in other port zones, which will be communicated to growers as soon as these become available."
CBH general manager of operations, David Capper, said the Direct to Vessel service demonstrated benefits which could come from the efficient use of the supply chain.
"This service offers a 24 per cent saving on standard supply chain costs which only comes through collaboration," Mr Capper said.
"The Direct to Vessel product was designed to both encourage more harvest shipping by exporters and reward growers who sell, deliver and nominate their grain to facilitate the loading of those vessels.
"Competitiveness is increasingly important and rewarding growers for supplying direct to a vessel is just one way in which we're able to lower supply chain costs."
Source: CBH