A PATCHY start for Australia's 2019 winter crop has seen grain prices trend upwards over May, and at levels consistently above bids.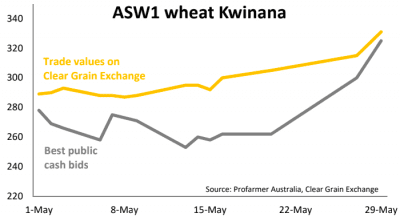 This goes against the softening of prices normally seen in May, when the bulk of Australia's wheat is planted, and reflects the market's apprehension about about a lack of planting rain in some key growing areas in New South Wales and Western Australia.
Values tracked on electronic trading platforms like the Australian Securities Exchange (ASX) have marked mid-May as the time when bids reversed their downtrend tied to a softening in global values.
The ASX eastern Australian January 2020 wheat contract fell 13.5 per cent (pc) from mid-April to mid-May, then scrambled 21.5pc higher over the remainder of May.
Clear Grain Exchange (CGX) manager Nathan Cattle said published bids climbed more slowly than traded prices over the second half of May.
"Public bids have rallied through May but still do not appear to reflect actual trade values," he said.
"In some cases, trades have been as high as over $30/t above, particularly earlier in the month when public bids did not reflect where trades were actually occurring.
"Depending on grade and location, we are still seeing trades over $20/t above public bids, although the price discrepancy for some grades and locations is less now that it was during a large part of May."
Analysts had cited inland pricing affected by drought-driven grain flows as altering normal price parities set in normal export-focused years by world pricing.
"The flow of grain to domestic homes in eastern Australia rather than the natural flow towards port is also potentially making it difficult for growers to get an accurate read on what their grain is worth," Mr Cattle said.
News last month that Manildra Group was bringing Canadian wheat into Port Kembla for industrial use at its Shoalhaven Starches plant does not appear to have depressed grain prices.
The value trend since the mid-May permit was granted by the Department of Agriculture and Water Resources may have led market perception to affirm the necessity of a significant wheat import program to augment east-coast consumer supplies.