THE Russian wheat crop is getting larger with updated estimates indicating another record harvest this season.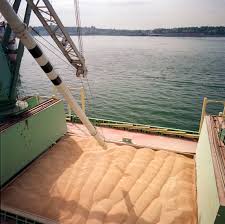 The US Department of Agriculture's (USDA) recently increased its estimate of the size of the Russian crop by one million tonnes (Mt).
The USDA estimates total Russian wheat production will reach 82Mt this season, up 9.5Mt on last year's record harvest.
When including other grains, Russia expects a record-high grain harvest this year of around 130Mt, which Russian President Vladimir Putin said was achieved despite unfavourable weather conditions.
This compares to CBH Group's updated crop estimate for Western Australia of 11 to 12Mt which was increased from 9.5 to 10Mt thanks to good weather conditions through August and September.
CBH's marketing team recently travelled to southern Russia to Krasnador, a powerhouse agricultural region which when combined with Ukraine form the emerging Black Sea grain contingent.
Ports and terminals
The team visited some of the ports and farms to gain insights into how the region's harvest is going and the infrastructure's capabilities.
It's clear a big crop is expected with the Russian government updating its estimate that 42Mt will be exported, up from last year's 33.1Mt.
The biggest bottleneck is the transport into the ports and the ports' ability to store and load vessels.
It has been identified that 45Mt of export capability is required but only 33Mt is available.
The market will continue to monitor closely the export progress made and the logistics capability of the region.
With a record year expected, there is plenty of pressure on ports and terminals. As a result, each port and terminal is playing to its strengths and limiting grain type options.
Corporate farm
The team also visited a corporate farm in north east of Krasnodar which stretched over 7500 hectares and employed 70 people.
The crop program consisted of 2500ha of wheat, 800ha soybean, a 400ha trial of linseeds and the rest for corn. Corn and soybeans were the main crops for rotation in the region.
Average crop yields in the region are 5.5 tonnes for each hectare of wheat, 7.5t/ha for corn and 2.2t/ha for soybeans.
However, wheat yield could be as high as 6t/ha this season, which compares to the combined Russian average at 3.1t/ha.
The Black Sea region is looking to keep a competitive edge in the global market by supply pressure.
Export supply in this region has nearly doubled in the past four years, supported by higher yields on fertile land and is largely responsible for the growth in global stocks.
As a result, local Russian companies are rushing to invest into the expansion on export terminals and local farming.
Source: CBH