SAUDI ARABIA will import about 900,000 tonnes of barley in last-half March and April through its first feed barley tender for the year.
Awarded on Monday, it sets an average price of US$224.45 per tonne c and f, around 4 per cent higher than the previous tender conducted late 2019.
The tender includes 11 cargoes totalling 660,000t to be discharged at Red Sea ports, and four cargoes totalling 240,000t bound for the port of Dammam in the Arabian Gulf.
Saudi Arabia Grains Organization (SAGO) said of the 19 of the 25 companies invited to bid in the tender, nine were selected.
SAGO said the completion of the first tender of imported barley for this year comes within the framework of meeting local demand and maintaining strategic reserves.
The organisation's total purchases for 2019 reached 5.3 million tonnes.
Companies successful at the tender were Agrorodeo, Cargill, Casillo, Cerealcom, Holbud, LLC Tradehouse, Lecureur, Louis Dreyfus and Soufflet.
Two suppliers will supply eight cargoes between them, and seven companies won one cargo each.
Suppliers can ship from optional origins including include Australia, the Black Sea region, the EU, South America and the US, but excluding Canada.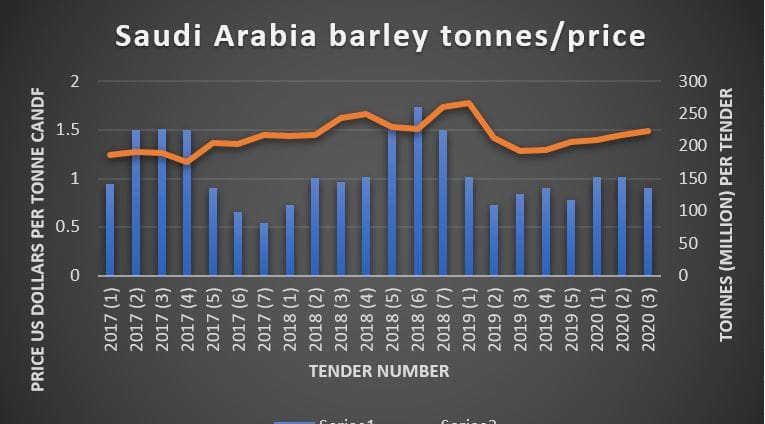 Source: Saudi Arabia Grains Organization
Grain Central: Get our free daily cropping news straight to your inbox – Click here