AFTER an interrupted start to the harvest delivery period in Western Australia, warm and dry weather conditions finally allowed for consistent harvesting days this week, pushing total grain receivals towards 5 million tonnes.
Receival volumes increased daily following the most recent rain event, and more than 430,000 tonnes delivered on Thursday resulted in our largest receival day so far this season.
CBH Group chief operations officer Ben Macnamara said he expected daily tonnages to continue to increase this week with good harvesting conditions set to continue.
"We're expecting daily receival volumes to significantly surpass what we've seen so far this harvest," Mr Macnamara said.
"It's a relief for many growers, who have been prevented from progressing through the bulk of their harvest programs due to unfavourable weather conditions.
"It's also pleasing to hear reports of boosted yield expectations across most zones and commodities, and so far, minimal quality issues as a result of November rainfall," he said.
"We'll continue to monitor this as increased grain volumes are delivered into the network."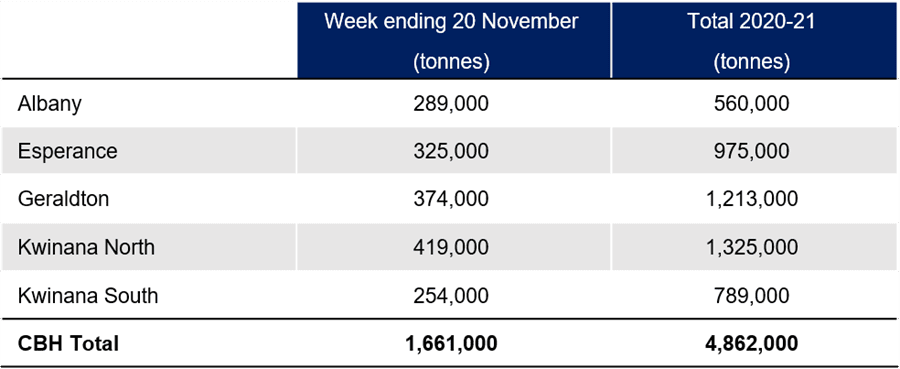 Wheat steady
This week, grower prices have continued to move sideways between $330-$340 per tonne free in store (FIS) Kwinana for APW.
At these levels, there is limited grower selling, as growers look towards the next level of $350/t FIS Kwinana.
Growers are also focused on harvesting canola, barley and lupins, and selling directly off the harvester.
CBH Group is therefore not expecting additional selling until growers move into their wheat crops.
International demand remains, with interest from Africa, the Middle East and parts of Asia during the week.
Barley, canola firm
The barley market firmed this week to $270/t FIS Kwinana, as the trade covered its Saudi Arabia Grains Organization (SAGO) tender requirements, and responded to additional interest from Asian and Middle Eastern buyers.
Grower selling has been reasonable at this level, with growers selling as they deliver.
Interest in Australian feed barley looks to continue in the near term as it priced competitively against a number of alternative feed ingredients.
The canola market was very strong last week, with prices rallying to $665/t FIS Kwinana, the highest level since March, and grower selling has been relatively strong as a result.
A very strong oilseed complex internationally has seen canola values in Australia follow as markets look to cover their requirements.
Questions remain over what European demand will be like as we move into the first quarter of 2021.
Following is a summary of conditions by zone:
Geraldton
After three rain-interrupted weeks, harvest in the Geraldton zone is in full swing following several consecutive warm and dry days.
The zone's largest receival day so far this season was last Tuesday, with more than 80,000 tonnes delivered.
Canola deliveries have slowed down, and intake has exceeded CBH Group's canola receival expectation.
Lupin receivals are flowing in and wheat deliveries have increased.
At this stage quality is holding up well. Wheat quality has improved, with about 55 per cent of wheat delivered sitting in the ASW1 range for proteins.
Kwinana North
Growers in the zone received 10-30 millimetres of rain on 14-15 November, which slowed deliveries for several days.
Harvest activity has since recommenced and accelerated.
The zone's two largest days for the season were Wednesday and Thursday last week, with receivals exceeding 105,000 tonnes on each day.
Wheat and barley have made up the majority of receivals.
Growers are reporting yields are 10-20 per cent higher than expected across all crop types.
Quality is holding up well at this stage, but falling numbers tests will be carried out as a precaution on wheat deliveries over this week.
Favourable harvesting conditions are expected this week.
Kwinana South
Receival volumes in Kwinana South have jumped significantly following an improvement in harvest weather.
The zone's largest receival day for the season was Thursday, with more than 80,000t delivered across the zone.
Early indications are that quality is holding up and looking slightly better than expected in some areas.
Grower reports on yields also indicating that tonnages are better than expected across the board.
Favourable weather should allow for harvest activity to further increase this week.
Albany
Receivals increased over last week, with all sites across the zone open and receiving grain.
Thursday was the zone's largest receival day for the season so far, with more than 75,000t delivered.
Barley has made up the bulk of receivals, with more wheat now starting to come in, and about 40pc of barley making malt grade.
As of Friday, rain at harvest time was yet to impact quality, but close monitoring has continued as more grain comes into the system.
Yields have been better than expected.
As the weather warms up this week, receivals are expected to increase across all commodity types.
Esperance​
The Esperance Zone had more rain interruptions last week, but receivals jumped towards the end of the week as harvest conditions improved.
Sites across the zone are in full swing, with long hours and close to full staffing.
Growers are moving from canola and barley to wheat, and Shark Lake has opened to help with daily receival pressure at Esperance and the increase in wheat tonnages.
Receivals within the zone are now exceeding 80,000t per day.
Quality is fine at this point, with a range of proteins received to date.
Yields are generally much better than growers expected.
The forecast appears favourable for this week, which will see harvest progress significantly over that time.
Source: CBH Group