WESTERN Australian bulk handler CBH Group received 2.4 million tonnes (Mt) of grain in the week to Friday to lift its receivals for the harvest to date past 12.7Mt.
Chief operations officer Ben Macnamara said while some growers, particularly in the Geraldton and Esperance zones, had finished harvest, several receival sites continued to take large volumes of grain.
"We had five sites break daily receivals records this week, including Ballidu, Merredin, Wickepin, Cranbrook and Borden," Mr Macnamara said.
"They join eight other sites that have achieved record daily volumes this season."
Mr Macnamara said these records had been made possible by CBH's investment into expanding and enhancing some sites within its network, and grower investment in equipment to increase their harvest capacity.
"As the pace of harvest increases, we will continue investing in our network to ensure we can provide an efficient service to growers when they need it most."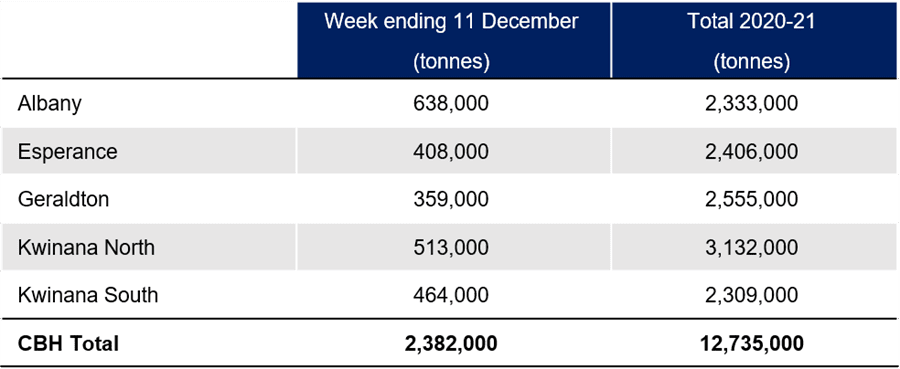 Prices steady, softer
The wheat market began softer at the start of last week, with grower prices falling to $302 per tonne free in store (FIS) Kwinana for APW1.
Prices lifted strongly at the end of the week to $312/t FIS on the back of unconfirmed reports that a Russian export tax will be implemented on wheat early next year.
These reports have ignited interest for Australian wheat from end users who are looking to cover demand for the first half of 2021, and see Australian wheat as the most competitively priced.
Barley prices went sideways last week, with grower prices in $250-$255/t FIS Kwinana.
Grower selling has somewhat dried up as growers look for higher values, but with a stronger Australian dollar and a larger-than-anticipated crop, the market remains at a standstill.
Buyers for Asia and the Middle East are still looking to extend their coverage of barley for shipment in the first half of next year.
A stronger wheat market may encourage some feed end users to seek barley as an alternative in specific feed rations.
Grower selling of canola is now slowing as the majority of growers have delivered and sold a large portion of their crop at historically good prices in Australian dollar terms.
Last week's market drifted lower by around $10/t to $626/t FIS Kwinana.
Internationally the market remains quiet, with European demand uncertainty as a result of COVID-19 weighing on biodiesel demand.
Activity by zone:
Geraldton
Deliveries have started to taper off in the Geraldton Zone, and wheat made up the bulk of its deliveries in the past week, with some lupins and canola still also coming in.
Quality remains mostly very good, despite some disruptions due to thunderstorms.
Some sites will close in the lead-up to Christmas as receival volumes drop.
Kwinana North
Receivals in this zone remain high,with two sites breaking their daily receivals record in the week to Friday.
Ballidu set a new daily intake record on Wednesday of 6922t, while Merredin hit a new high of 15,325t on Monday.
Small volumes of sprouted grain have come into the system in the Regans Ford area, and the quality issue is being closely monitored.
Quality across the rest of the zone remains good.
Heat-related harvest bans on Wednesday and Thursday slowed deliveries, and storms on the forecast may slow deliveries into this week.
Site turnaround times are tracking well.
​Kwinana South

Most grain coming into sites across the Kwinana South are now wheat.
The Wickepin site broke its daily receivals record on 4 December with 5812t delivered.
Growers in the zone benefited from consistent harvesting conditions until late last week, when rain disrupted activity in some parts.
Quality of grain delivered remains good, and this will be closely monitored following recent rain.
Some growers in the north of the zone are at the end of harvest, and opening hours at some smaller sites will reduce as receivals volumes drop.
Site cycle times remain good across the zone.
Albany
Fine weather across the zone over last week saw barley make up almost half of the zone's receivals, with wheat making up about 30 per cent.
The Borden site broke its daily receivals record last Monday with 13,150t delivered, and Cranbrook followed suit on Tuesday with 20,314t delivered.
Quality remains good, with about 40pc of barley making malt grade, and about 80pc of oat deliveries grading as OAT1.
The majority of wheat has made ASW grade.
Wet weather and thunderstorms on Thursday slowed harvest and deliveries into this week.
Several sites are starting to fill, and grain is being outloaded to create more space for receivals.
Esperance​
Some rain hit the Esperance zone last week, but deliveries were not impacted.
Wheat is making up the bulk of receivals, and significant volumes of grain delivered last week came from on-farm storage.
This is expected to continue into this week as growers finish their harvest programs.
Quality remains good.
Site opening times will be reviewed as receival volumes drop.
Source: CBH Group