HARVEST deliveries to Western Australia's CBH Group have now passed the likely halfway point, with 2.9 million tonnes (Mt) received in the week to Friday to lift the total to date to 7.8Mt.
Despite hot weather causing some harvest bans, the 10 days to Friday saw more than 4.4Mt delivered.
Chief operations officer Ben Macnamara said the period had been extremely busy across all zones.
"This led to our largest ever receivals day on Monday 23 November, when 528,678t was delivered into 112 sites across our network," Mr Macnamara said.
"This record was broken despite none of our individual zones breaking daily receivals records, demonstrating the widespread nature of the ideal harvesting conditions across the grainbelt.
Mr Macnamara said since the end of poor weather which slowed the start of harvest, growers have been working around the clock to get their crops off while the conditions are right.
"Growers continue to report higher-than-expected yields and minimal quality impacts as a result of late-season rain, which is a welcome outcome as we approach the second half of the harvest period."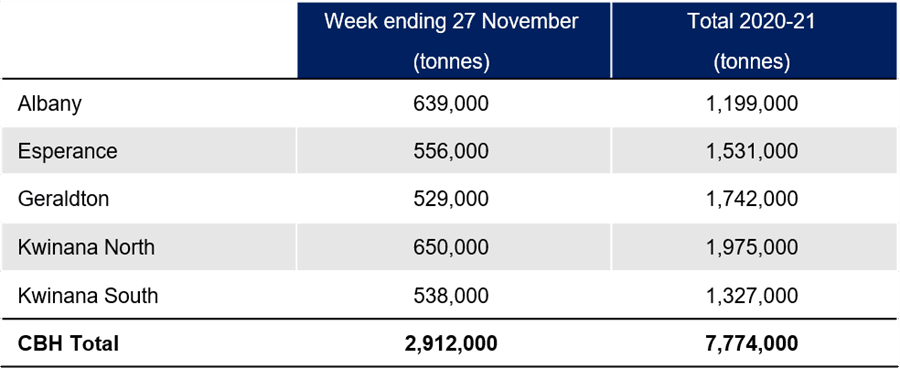 Prices ease
Wheat prices to growers fell by around $10 per tonne last week, with APW1 finishing on Friday at $327/t free in store (FIS) Kwinana. The drop was due to the stronger Australian dollar and the majority of the trade having covered earlier harvest shipping requirements.
Demand for Australian wheat remains relatively strong, but port capacity in the first quarter will remain an issue across Australia.
A large proportion of this demand has been from Africa, as Australian wheat competes strongly against Black Sea wheat.
On feed barley, interest from the Middle East and Asia is continuing.
A stronger Australian dollar and a larger-than-anticipated crop is seeing feed barley prices ease, with grower prices falling $5-$6/t to $264 FIS Kwinana.
On malting, local interest for specific varieties continues, but export demand remains relatively quiet.
Spartacus prices rose to $276/t FIS Kwinana by the end of last week.
Canola bids to grower fell by around $15/t to $650/t FIS Kwinana in the week to Friday on the back of the trade covering the majority of early sales with strong grower selling over the previous 10 days.
This market has been driven by the shorts in the trade which pushed values above export parity. At this stage, concerns over the ongoing European COVID-19 impact on biodiesel demand will likely see prices drift lower until there is a clearer sign on future demand.
Following is a summary of conditions by zone:
Geraldton
Consistent warm weather led to a busy week at all sites across the zone, with the highest weekly receivals volumes yet.
The largest receival day so far this season was last Monday, with more than 89,000t received.
Similarly to last week, quality has been outstanding, with some higher proteins starting to come through and a trend from ASW to APW evident.
Some growers are finishing harvest and by the end of this week, the Geraldton zone will likely be more than 85 per cent through its harvest and looking towards the finish line.
Kwinana North
Good weather conditions have allowed for long harvesting days, with the exception of Tuesday, when most growers within the zone stopped due to a heat-related harvest ban.
The Kwinana North zone had its largest day of the season on Monday, when more than 128,000t was delivered.
Most growers are now harvesting wheat, which has so far been of good quality with no falling number issues as yet. However, some growers are dealing with high screenings.
Site turnaround times are improving as most growers are now harvesting wheat.
​Kwinana South

Ongoing warm conditions have allowed for several days of high receival volumes.
Harvest bans in place on Tuesday and Thursday caused some interruptions to the flow of harvest.
To date 1.3 million tonnes received, of which 538,000 tonnes were delivered in the past week.
Largest receivals day for the season was on Monday, with more than 105,000 tonnes delivered across the zone.
Quality and yield has continued to perform very well across the zone.
Albany
Albany zone received its greatest volumes so far this harvest last week, with the only interruption to deliveries coming from a harvest ban on Tuesday.
Thursday was the zone's largest receival day for the season, with more than 113,000t delivered.
Quality has been holding up, with about 40pc of barley making malt grade, and 80pc of oats grading as OAT1.
Canola oil content has varied across the zone.
Yields continue to be better than expected as growers start to move into cereals.
Esperance
Despite harvest bans and some drizzle, Monday was the zone's biggest receivals day for the season so far, with more than 93,000t delivered.
Lake Varley took a daily record on Monday, with 6113t received.
Yields continue to be well above expectations.
Estimates for canola receivals have been surpassed and this is likely to occur with wheat and barley receivals.
Source: CBH Group