THE world indicator price forecast for wheat of US$182/tonne in 2016/17 is set to be the lowest in 10 years, reflecting an abundance of world wheat supplies, according to ABARES' December quarter Agricultural Commodities Report.
The expected US$182/t price average for this season represents a 14 per cent drop from the 2015/16 price of US$211/t.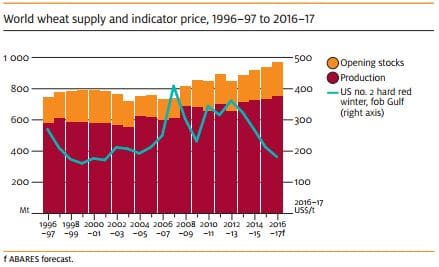 The price slump coincides with record global wheat supplies and a forecast for global production to increase 2pc to a record 750 million tonnes in 2016/17, with record yields expected to offset a reduction in planted area.
Global wheat production is forecast to outpace global consumption in 2016/17, with closing world wheat stocks forecast to increase by 6pc to a record 235MT.
Australian wheat production is predicted to increase by more than a third to a record 32.6 million tonnes in 2016/17, with Australian wheat exports forecast to increase by 42pc to 22 million tonnes, the second-largest export volume on record after 2011/12.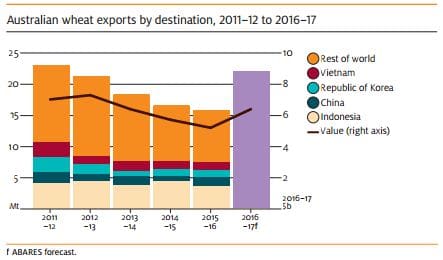 The quantity of wheat traded around the world is forecast to be 166MT in 2016/17, largely unchanged from the 2015/16 record.
An abundance of low protein wheat has put downward pressure on feed wheat prices. The lower prices are expected to drive global feed wheat use to the second-highest on record.
World coarse grain indicator prices are forecast to be lower in 2016/17, reflecting record world production that is forecast to increase by 6pc to 1323MT.
The world indicator price for barley is forecast to average 9pc lower at US$158/t.
World barley production is likely to fall by 3pc in 2016/17 to 144MT, while barley consumption is forecast to remain fairly flat at 146MT.
In Australia, barley production is forecast to increase by 24pc to a record 10.6MT.
However, Australian grain sorghum production is forecast to fall by 29pc to 1.4MT with the area planted falling by 31pc, reflecting higher expected returns from cotton.
The world oilseed indicator price is forecast to rise by 5pc to average US$390/t, with the canola indicator price up 2pc to US$425/t.
Australian canola production is on track to lift by 22pc to around 3.6MT, the third-highest on record.
The 'ABARES Agricultural Commodities Report, December Quarter 2016' can be found at: http://data.daff.gov.au/data/warehouse/agcomd9abcc004/agcomd9abcc20161213_e6rJc/AgCommodities201612_v1.0.0.pdf