LEIGH Creek Energy (LCK), a future key supplier of urea to the Australian agriculture sector, today has awarded two engineering, procurement, construction and management (EPCM) contracts for the Stage 1 commercial development of the $2.6 billion Leigh Creek Energy Project (LCEP) in South Australia.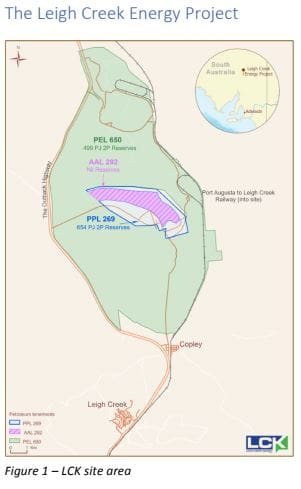 One of the largest infrastructure projects of its type in Australia, the project, which is located 550 kilometres north of Adelaide and 350km from the northern parts of the SA grainbelt, aims to initially produce 1.0 million tonnes (Mt) per annum of urea.
It will provide long term growth and employment opportunities to the communities of the northern Flinders Ranges and South Australia.
The project contains 1153 petajoules of 2P gas reserves plus 301.2Mt of indicated and inferred coal resources.
LCEP commercial stages
The two commercial stages of the LCEP, which comprise both upstream (underground ISG In Situ Gasification operations) and downstream (above ground urea manufacturing) components, will be developed in parallel.
Stage 1 Commercial Development is a closed system power supply from a series of ISG wells (upstream) sufficient to power a 5MW gas fired power plant (downstream).
InGauge Energy will manage drilling services for the development of the initial gasification wells to provide feedstock syngas for the 5MW power plant.
Stage 2 Commercial Development comprises large scale gas drilling and production, plus construction of a 1Mt/annum urea production facility. LCK recently completed a Pre-Feasibility Study (PFS) on the urea production option, which highlighted the robust economics for development of the project, which will provide fertiliser to domestic Australian and export markets.
Prudential Process Consulting will manage the selection, engineering, construction and commissioning of the 5MW gas fired power plant.
Construction will start this year, followed by operations commencing in late 2023 and sales in 2024.
LCK's managing director, Phil Staveley, said the awarding of the contracts for Stage 1 development of the LCEP was another exciting milestone for the company following the awarding of its Petroleum Production Licence on 25 November 2020.
"While our recently completed in-situ gasification (ISG) and urea production Pre-Feasibility Study highlighted the strong economic returns and strategic rationale for the development of a urea production facility at the LCEP, these contracts start to bring it to life," he said.
"Once the larger urea project is developed the, 5MW power plant will be used in the ISG process. With this LCK moves closer to becoming a significant supplier of low-cost, domestically-produced urea providing additional security to a critical product for the Australian agricultural sector."
Sources: ASX
Leigh Creek Energy: https://www.lcke.com.au/