GRAINCORP Limited expects to receive a production payment from White Rock Insurance (SAC) Ltd of around $57.9 million in its current financial year ending 30 September.
The payment will be delivered as part of the 10-year Crop Production Contract (CPC) announced in June last year by GrainCorp, eastern Australia's biggest bulk handler and major Australian and international trader.
The contract has come into effect this financial year to help GrainCorp manage risk associated with the volatility of eastern Australian winter grain production, and to help smooth GrainCorp's cash flows across harvests.
In his address to GrainCorp's annual general meeting today, GrainCorp chief executive officer Mark Palmquist said the CPC was one of three significant steps taken by the company's board ahead of the demerger of GrainCorp's malt division.
"The value of the Crop Production Contract is evident in a year like this; and it will be important over the longer term in helping to smooth GrainCorp's cash flows through the cycle," Mr Palmquist said.
He said the other major steps taken ahead of the demerger were to ensure its grain and oils divisions, or "New GrainCorp", started as an independent company with a minimal core debt of $82 million, and for it to retain 10 per cent in United Malt post demerger.
"This holding is purely to provide additional balance sheet resources and financing flexibility."
Transshipment of 2Mt plus
Mr Palmquist said the severity of the drought led to large grain deficits across much of Queensland and New South Wales.
"In response to this lack of supply, we reversed our port supply chains and trans-shipped over two million tonnes of grain from other states to satisfy eastern Australian demand.
"Improving the utilisation of our ports, whether it is through the importation of commodities, or the export of non-grain products like woodchips, is important for our business.
Mr Palmquist said new rail contracts have taken effect in FY20, and will provide greater flexibility to manage transportation costs through the crop cycle, particularly in light of increased transshipment requirements and drought.
Sites receive 3.7Mt
GrainCorp's financial year starts on 1 October, and Mr Palmquist said receivals into its network to date total about 3.7 million tonnes.
"That is primarily coming out of Victoria and southern New South Wales."
"We expect minimal grain exports again this year.
"However, we will see further importation of grains coming from Western Australia and Victoria, as well as a flow of grain south to north on the eastern seaboard.
"We are continuing to diversify origination from Canada and Ukraine, which has been a benefit for our international customers while also allowing us to strengthen our relationships with them.
Crush margins improve
Mr Palmquist said GrainCorp has seen "a good improvement in crush margins" from FY19, and this was expected to continue through FY20.
"Having a bigger canola supply obviously helps; but we have also seen an improvement in oil and meal values, which have both been beneficial.
"On the canola side, we have seen slightly stronger national production this year compared to last year, which has been beneficial for oilseed crushers and refiners."
Solid malt demand seen
Continued growth in the US craft-beer market, albeit at a rate of 4pc which is down on previous years, is seen as beneficial for GrainCorp's malting operations.
"Some US states are under-penetrated with respect to craft-beer production and this offers good growth opportunities for our malt business.
"Craft beer is also starting to grow strongly in emerging markets like Latin America and Asia – representing a further opportunity for our malt business in different geographies."
Mr Palmquist said the high-value Scotch whisky industry was experiencing continued good consumer demand.
"Single-malt whiskys in particular, a product category we concentrate on, are showing the majority of growth in this area."
Mr Palmquist said "a good portion" of GrainCorp's malt production sat under long-term agreements, which demonstrated solid demand from its larger customers.
About the CPC
Subject to the completion of GrainCorp's submission to White Rock Insurance, a subsidiary of Aon plc, 90 per cent of the total gross payment is expected to be received next month.
The announcement of the first payment comes in the wake of national commodity forecaster ABARES this week releasing its revised 2019/20 total winter-crop production estimate of 11.4 million tonnes (Mt) in its latest periodic Australian crop report.
The balance will be paid in the second half of FY20 and will be subject to a final calculation based on the updated June 2020 ABARES' total winter crop production estimate.
The contract is focused on production in eastern states — New South Wales, Queensland and Victoria — alone, and is non-weighted.
Under its terms, a fixed payment of $15/t is made to GrainCorp for each tonne of actual eastern-states winter-crop production if it is less than 15.3Mt, and subject to an annual maximum of $80M.
Above an agreed upper production threshold of 19.3Mt, GrainCorp pays the production payment, subject to an annual maximum of $70M.
All payments are subject to an aggregate net limit of production payments to either GrainCorp or the counterparty of $270M over the 10-year term.
Excluding the production payments, the total pre-tax annual cost of the Crop Production Contract to GrainCorp is expected to be less than $10M, including associated financing costs.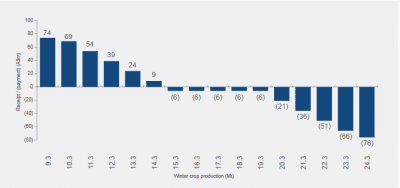 Indicative GrainCorp receipts in millions of Australian dollars under the CPC based on the size of the Australian winter crop in million tonnes. Source: GrainCorp Demerger Booklet
Source: GrainCorp