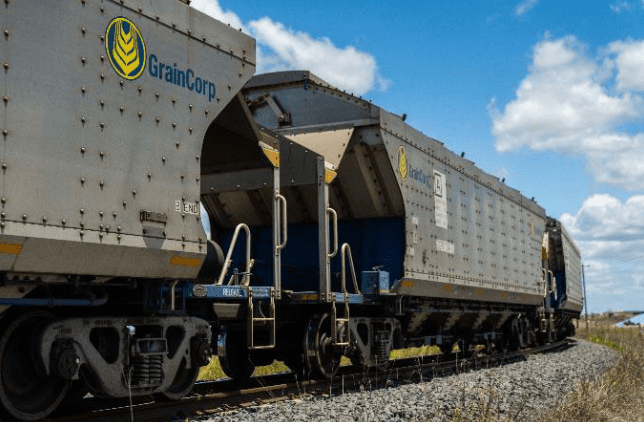 GRAINCORP today announced 1H23 earnings of $383 million and lifted its forecast for FY23 to $500-$560M, as well as revealing plans to increase its Australian crush capacity.
For the six months to 31 March 2023, eastern Australia's largest bulk handler by far announced a net profit after tax of $200M, with total grain handled at 34.8 million tonnes (Mt), down from 38Mt handled in 1H22.
GrainCorp is also Australasia's largest oilseed crusher and exporter of tallow and used cooking oil, and has revealed plans to increase its crush capacity beyond the current 500,000t per annum.
Mum on crush location
GrainCorp chief executive officer and managing director Robert Spurway said GrainCorp's oilseed crush volume in 1H23 of 256,000t exceeded the 1H22 figure of 232,000t to reflect increased efficiency rather than capacity.
Following the third bumper harvest for eastern Australia, Mr Spurway said GrainCorp's strong balance sheet has allowed the company to investigate an increase in crush capacity to supply three healthy markets.
"There's strong demand for feed, food and fuels," Mr Spurway said in an online presentation.
"Ultimately, it's an opportunity for GrainCorp to play a long-term part in Australia's renewable energy."
"We're looking forward to keeping you updated in the next few months."
GrainCorp's largest crushing plant is in Numurkah in Victoria, and its second plant is located at Pinjarra in Western Australia.
"If you look at the position with our Numurkah site, that's a scale site; certainly there are some benefits of scale in this type of activity."
However, Mr Spurway did not identify Numurkah as the site for increased capacity, or whether it would come in the form of expansion or a greenfield development.
"It's an end-to-end study, making sure we're considering all those factors."
Australia exports most of the canola it grows unprocessed, and Mr Spurway said crushing enables oil for fuel or food, and meal, to gain additional value in export and domestic markets.
"The crushing process improves the value of the oilseed because you're dealing with the individual components.
"Crush plant capacity would be very closely related to our agri-energy strategy."
GrainCorp has previously identified agri-energy as one its targeted growth opportunities, along with: alternative protein; digital and agtech; animal nutrition, and grower services.
"It's been an outstanding half for our processing business, in particular our oilseeds division," GrainCorp chief financial officer Ian Morrison said in the presentation.
Earnings from processing in 1H23 at $103M set a record, and were up 47 percent from $70M in 1H22.
"We also saw excellent crush margins continue in oilseeds," Mr Morrison said.
"Overall our balance sheet is in a very strong position and that provides us with significant flexibility."
Earnings guidance improves
Mr Spurway described GrainCorp's financial performance in 1H23 as "outstanding", with FY23 earnings guidance revised up to $500-$560M from $470-$530M forecast in October.
This compares with the FY22 earnings before interest, depreciation and amortisation result of $702M.
Total EBITDA of $383M in 1H23 is down from $427M in 1H22.
On the agribusiness front, grain carry-in of 4.9Mt to FY23, as well as an increase in bulk materials volume, helped to improve utilisation of port assets, but adverse weather did not.
"Margins this year were partially impacted by the delayed and wet harvest," Mr Morrison said.
In international business, optional-origin sales and execution out of WA benefited the agribusiness division, with contracted grain sales in 1H23 of 5.4Mt, 400,000t below those of 1H22.
From the east coast, contracted grain sales in 1H23 totalled 3.3Mt, down from 3.7Mt in 1H22, while international sales including WA were steady at 2.1Mt, with the GrainsConnect terminal performing well but not at capacity as volumes reflect the tail end of Canada's drought.
"We are still seeing strong demand for Australian grain and oilseeds," Mr Spurway said.
"Many growers are in the middle of… planting, and we're obviously wishing them well for a strong and productive cropping season ahead."
Mr Morrison said improving farming practices were continually lifting yields, and GrainCorp's idea of the size of the average crop.
"Recent years have shown how much larger large years are compared with the historical."
Grain Central: Get our free news straight to your inbox – Click here