EASTERN states bulk-handler GrainCorp has reported an underlying net profit after tax (NPAT) of $55 million for the half-year ended 31 March 2020, to make a turnaround from the $48M net loss recorded in 1H19.
Its statutory NPAT for 1H20 was $388M, which compares with a $59M loss in 1H19.
This reflects major changes to the company's portfolio, including the sale of the Australian Bulk Liquid Terminals business, and the demerger of United Malt.
Underlying earnings before interest, tax, depreciation and amortisation (EBITDA) was $183 million, up massively from the 1H19 result of $27M.
Brighter outlook
While the summer crop now being harvested is small as a result of drought in Queensland and New South Wales, GrainCorp is planning for higher grain exports in 2H20.
It is also expecting lower grain transshipments to east-coast ports as domestic demand tapers with improved crop production prospects.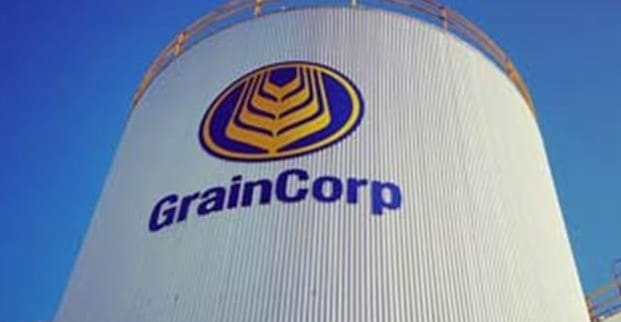 Oilseed crush margins are expected to remain favourable in 2H20 due to prevailing canola oil and meal values.
Favourable soil-moisture levels across large parts of eastern Australia have supported widespread planting for the FY21 crop.
GrainCorp is already preparing sites and staff for the 2020 winter-crop harvest with maintenance operations, equipment relocation between sites, large-scale procurement of tarpaulins, and extensive recruitment and training.
GrainCorp was well placed after the demerger of United Malt, with an improved result from continuing operations and strong balance sheet with zero core debt.
"Each of our business segments was up substantially on the prior corresponding period, reflecting GrainCorp's new operating model and the steps we have taken to manage crop variability and maximise our assets," GrainCorp managing director and chief executive officer Robert Spurway said.
"Market conditions have improved considerably, with widespread rainfall across much of eastern Australia providing optimism for a much larger crop later this year.
"While COVID-19 presents challenges, we are pleased that food and agriculture has been classified an essential service and we have shown resilience through the ongoing crisis by continuing to deliver for our customers.
"GrainCorp is playing a critical role supporting the food and grain supply chain, while protecting the health and wellbeing of our people and our communities.
| | | |
| --- | --- | --- |
| Year-to-date Mt | HY20 | HY19 |
| Total grain sales | 4.6 | 3.9 |
| EC grain receivals | 3.8 | 2.3 |
| EC grain exports | 0.6 | 0.2 |
| Grain transshipments | 0.9 | 1.1 |
| EC non-grain handled | 1.1 | 1.5 |
Group chief financial officer Alistair Bell said GrainCorp's agribusiness segment performed well, despite the third consecutive year of drought in eastern Australia.
"With deficits in eastern Australia, we continued to transship grain from interstate to meet domestic demand.
"Agribusiness benefited from its new more flexible rail contracts and the first year of the Crop Production Contract, which included a $45M net gain.
"In addition, there was no repeat of the negative impact from last year's disrupted grain trade flows and the Feeds, Fats & Oils businesses performed well with strong demand."
"It was pleasing to see the significant turnaround in processing, a result of improved oilseed crush margins and greater plant efficiency."
During the period, GrainCorp revised its capital structure to ensure minimal core debt.
GrainCorp's 10 per cent minority interest in United Malt was valued at $112 million at 31 March 2020, providing additional balance sheet resources and financial flexibility.
GrainCorp maintained a "disciplined approach" to capital management with total capex of $11M in 1H20.
FY20 capex is forecast at $35-$45M, and includes preparation for next season's harvest.
In offshore activity, GrainCorp said the Fraser Grain Terminal project in Vancouver, Canada, is under construction, and expected to open in January-March 2021.
Grain Central: Get our free daily cropping news straight to your inbox – Click here