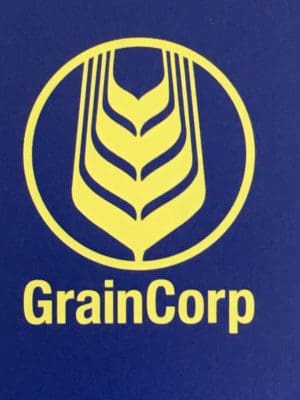 EASTERN state bulk handler GrainCorp Limited has today released its profit results for the financial year ended 30 September, 2017, which includes an underlying net profit after tax (NPAT) of $142 million, up from $53m in its 2015-16 result.
In his address to shareholders, GrainCorp chairman, Graham Bradley, said the results reflect higher grain volumes from the 2016 harvest which moved through the company's logistics infrastructure to follow three years of below-average receivals in eastern Australia.
GrainCorp's underlying earnings before interest, tax, depreciation and amortisation (EBITDA) for the reporting period were $390m, up 52 per cent from $256m in the previous year.
Export drop likely
The company also outlined FY18 earnings expectations guidance, with NPAT seen in the $50-70m range on grain receivals of about 5.8 million tonnes (Mt), compared with FY17 earnings from 15Mt received.
GrainCorp general manager, Mark Palmquist, said exports in the current year were likely to be well down on the 2016-17 result.
He said reduced grain stocks across the eastern seaboard meant a large portion of the crop would remain in Australia, either on-farm or secured by domestic customers.
"There is particularly strong demand for grain in some northern regions due to the persistent dry conditions," Mr Palmquist said.
"The combination of these factors is currently limiting export opportunities and as a result, we expect FY18 exports to be 60-75pc lower than last year."
GrainCorp has cited sorghum receivals, including direct-to-port intake and port elevations, the impact of global crush margins on Australian edible oils, new-season grain trading opportunities, currency movements, and barley and oilseed procurement, as being among the variables which would impact FY18 earnings.
Upgrades in action
Expenditure in 2016-17 has included an upgrade of two of its Victorian facilities, an oilseeds operation at Numurkah, and a foods manufacturing plant in West Footscray.
In the US, GrainCorp commissioned an expanded malting capacity at Pocatello in Idaho, and the company said it had also invested in enhancing grain-supply infrastructure in NSW, Queensland and Victoria.
"Our major capital expenditure program is now coming to completion, and we expect needing lower capex to support our business in FY 2018 and, in the absence of new project initiatives in FY 2019," Mr Bradley said.
GrainCorp reports its malt division has continued to perform strongly, and will benefit from the contribution from the Pocatello upgrade and expansion.
"The restructure and cost reduction initiated in our oils business last year are on track to deliver its targets for the current year and we continue to identify and pursue further opportunities."
Source: GrainCorp