A NEW collaboration between eight innovative Australian agribusiness companies, called The Farming Team, has been launched at Xerocon Melbourne.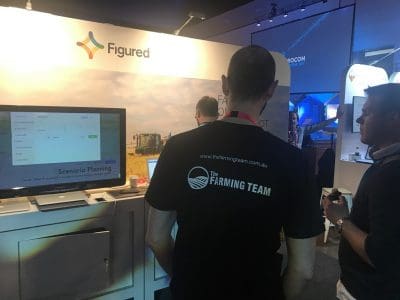 The group aims to educate the nation's farmers about best practice cloud applications to help run their farming businesses.
Along with facilitating the setup and training of farmers using an integrated ecosystem of apps, The Farming Team also connects farmers with professional service providers who can provide ongoing support for these systems, along with business advisory, agronomy and agri-banking services.
The Farming Team partners are Xero (accounting software), Figured (farm management accounting software), Agworld (crop production software), AgriWebb (livestock management software), MarketCheck (grain marketing platform), TrueCrop (direct distributor of crop protection products), Agmarket (online marketplace for farm machinery and equipment) and Commonwealth Bank of Australia (CommBank).
Figured Limited Australia general manager James Black said a key driver of the new collaboration was to give farmers access to, and ongoing support for, a range of integrated business apps, which they might not otherwise be able to access in their local area.
"Even when farmers are looking for new apps to help them make better business decisions, they do not necessarily know how to begin, have access to training or ongoing support," he said.
"The Farming Team hopes to solve this problem by bringing it all together in the one service."
Farmers can use The Farming Team website www.thefarmingteam.com.au or @farmingteamaus to submit their details and request a set-up and training session on any of the cloud applications relevant to their farming businesses.
The Farming Team partners will get them established, integrate their systems where needed and provide training.
Farmers can also request a connection to a professional services provider in bookkeeping, tax and compliance, business advisory, succession planning or agri-banking services.
"The goal of this collaborative effort is to change the Australian farmer's mindset from focussing purely on production and yield, to focussing on long term sustainable profitability," Mr Black said.
"By achieving this, The Farming Team hopes it will have a long term positive impact on Australian agriculture."
Xero Australia national partner director Rob Stone said the $60 billion agricultural industry was one of Australia's most important sectors and it was vital to equip farmers with the tools and training they needed to be successful.
"We're keen to provide support and education to farmers about the best ways to harness cloud software and modern technology," he said.
"This collaborative ecosystem approach from leading software providers and financial institutions is a unique opportunity to help our agricultural businesses grow and one we are proud to be a part of as champions for small business."
Source: The Farming Team