AGRICULTURAL exports through the Port of Brisbane will not benefit from the construction of the Melbourne to Brisbane Inland Rail Corridor until a dedicated freight line through Brisbane's south-eastern suburbs is built.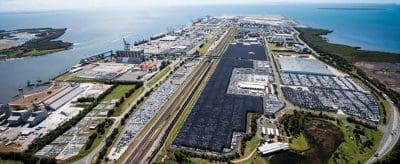 That's the opinion of Port of Brisbane chief operating officer, Peter Keyte, who gave an address to the Australian Mungbean Association annual general meeting in Toowoomba yesterday.
"It's like building a pipeline and putting a cork in the end of it," he said.
Mr Keyte said the problem for freight coming from the west was its inability to get across metropolitan Brisbane in the city's commuting periods — four hours each in the morning and afternoon.
He said this had contributed to rail having lost to road most of its share of containerised freight coming to port, with the rail component having fallen from 13 per cent in 2003 to 2pc in 2017.
"On a global scale, that's atrocious, and it's also unsustainable," he said.
"We are heading to destination zero on freight-on-rail if we are not careful."
Mr Keyte said since 2003, the weekly number of Port of Brisbane rail paths had fallen from 324 to 125, but the coal component at 87 had not changed.
"The reason these paths have declined is more passenger trains," he said.
"A dedicated freight line with double track would give us up to potentially 1000 freight paths a week available; you will future proof for the next 50 years.
"We've even considered running our own trains if we have to."
Road, channel upgrades
Mr Keyte said an upgrade to Port Drive was now under construction, and would give trucks travelling from Toowoomba to the Port a 150 kilometre run without traffic lights.
Efforts to make the sea channel more reliably navigable at a shallower draft than was previously considered acceptable have also paid off.
"What we don't have is a decent rail connection; it's an atrocious rail connection."
He said the current Inland Rail proposal only went as far as proposing a Public Private Partnership to address the Queensland sections, and did not include the need for a dedicated line to port. That meant an alignment or a funding model had not yet been identified.
"It's 10 years away; we can't wait 10 years."
Height issue
Mr Keyte said the economics of Inland Rail into Brisbane would work if trains could deliver double-stacked containers.
However, height restrictions in heritage-listed tunnels east of Toowoomba prevent even high cube containers, which are 300mm taller than conventional units, from being railed to port at present.
Mr Keyte said another stumbling block was the overhead electric wires on the Brisbane suburban rail network, which would prevent the transit of double-stacked containers.
He said he hoped the building of a dedicated freight line from Acacia Ridge to the port would become a priority after the next Queensland state election, which was due in coming months, and was focusing on the approved Cross River Rail project which would benefit Brisbane commuters.
He said the futures of the now-operating Bromelton intermodal terminal near Beaudesert, and the InterlinkSQ terminal being built on the western edge of Toowoomba, were clouded in the short term by the lack of a dedicated freight line through Brisbane to the port.
"We are trying to get the State Government to align with the Federal Government to do the corridor assessment; private enterprise can consider funding models to build the line."
Coal no enemy
Mr Keyte said the symbiotic relationship agriculture had with coal could not be overestimated if private funding was needed to fund the dedicated freight line.
"We're doing about 7Mt of coal per annum, and 1Mt of agricultural produce."
Mr Keyte said while agricultural produce, including cotton and meat as well as grains and pulses, had the most potential for growth in exports out of Brisbane, they also incurred the highest risk because of climate variability and the impact it had on production.
"If we took away coal and doubled agriculture, agriculture wouldn't pay for it; I'm sorry, folks."
So far, Inland Rail's plans include looking at the building of a tunnel through the Great Dividing Range, which would cut considerable time off the current rail journey from the Darling Downs to the outskirts of Brisbane.
However, Mr Keyte said such a tunnel would only be feeding rail paths into a bottleneck created by the sharing of the rail system with commuter services.
About the Port of Brisbane:
Does 94pc of Queensland's container trade;
Containers form around one third of its business, and a record 1.2 million were handled in 2016/17;
Of all its containerised exports, 55pc comes from within a 150km radius of Toowoomba;
Brisbane and Sydney have proven capability to accommodate 8500TEU (twenty-foot equivalent units) container vessels, and Melbourne is working to solve some navigational hurdles.