STRONG price outlooks for meat and milk are providing some positives for Australia's largest stockfeed miller, Ridley Corporation Limited, in the second half of its financial year ending 30 June.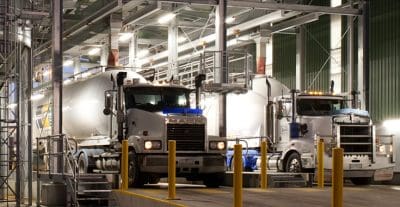 In his address given at the company's annual general meeting in Melbourne yesterday, Ridley chief executive officer and managing director Quinton Hildebrand singled out beef-cattle demand as one of the company's stronger markets.
"Sales to beef customers are positive, as high prices continue to reward feedlotting, and supplementary feeding is required in drought-affected regions," Mr Hildebrand said.
In the poultry and pig sector, broiler volumes were flat in Q1 2020, but Mr Hildebrand said they were expected to improve for the remainder of the year in line with long-term growth projections.
Mr Hildebrand said sales to layer and pig customers had increased as the company secured additional business, and the pork industry rebuilt sow numbers based on the outlook for higher pork prices.
Sheep feed demand is below FY19's high, but is still tracking above historical volumes.
As expected, dairy sales in the July-September quarter have been lower year on year.
"However, in areas where reasonable rainfall has sustained the herd, we expect a positive response to the strong milk-price outlook."
In aquafeed, Ridley's new extrusion plant opened in July in Westbury, Tasmania.
Volume sales to salmon producers remains below expectations, and Mr Hildebrand said the Westbury plant was focused on delivering top-quality feed and strong trial performance ahead of contract tender opportunities in FY21.
"While lower water temperatures have delayed the start of the domestic prawn-growing season, total production output and consequently feed volume predictions remain unchanged."
Changes in rendering
High red meat-processing volumes have continued to elevate raw material volumes for the July-September quarter.
"This is not expected to be sustainable for the full year, with a decline in slaughter rates anticipated in the second half of FY20."
The segregation of ovine meals has delivered attractive returns to date, but softer export demand is anticipated in the back half of FY20.
Poultry meal sales and pricing are expected to remain steady for the remainder of the year.
Packaged product volumes are down year on year, as the FY19 pass-through of raw-material price increases continues to impact demand.
Mr Hildebrand said Ridley was looking for ways to grow its market penetration through the distributor consolidation under way in the rural sector.
"We expect supplements demand to be below the drought-induced volumes of last year, albeit above historical averages.
Staff cuts
Following a review of Ridley's operations and organisational structures, its board has approved an internal restructure plan which will see "a significant reduction in staffing levels" throughout the company.
The cuts were announced on 11 November, and are being implemented this month.
"The new structure will remove a number of layers in certain parts of the organisation, will provide clear lines of accountability, and will facilitate a more proactive relationship with our customers.
Ridley chair Gary Weiss said the company had given Mr Hildebrand the responsibility of focusing Ridley on its domestic growth plans, leveraging its new facilities, and accelerating commercialisation of its Novacq aquafeed franchise internationally.
Ridley said the construction of its new feedmill at Wellsford near Bendigo in Central Victoria was progressing well and remains on target for completion by June 2020.
The Wellsford mill will have an annual capacity of 350,000 tonnes of poultry and pig feed.
Once commissioned, Ridley will rationalise its existing mill capacity in the region.
This announcement follows the closure of Ridley's Murray Bridge feedmill in South Australia.
Source: Ridley