GRAINGROWERS Ltd chairman John Eastburn launched the The State of the Australian Grains Industry 2016 report at the conclusion to GRDC Growers Day program at the Australian Grains Industry Conference 2016 (AGIC) in Melbourne last month.
Mr Eastburn ceremoniously cut the ribbon describing the state of the grains industry as healthy.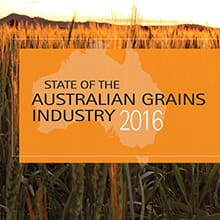 The report is like a handbook – 77 pages of facts, containing a few pages on each topic important to Australia's broadacre community and providing a stocktake of how the cropping sector is tracking compared with 2011 when the first edition was published.
It analyses the post-deregulation world in which Australian farm businesses operate, it describes the critical nature of exports and the importance of research and keeping trade channels open.
Every facet, from the science of agronomy to the business of taking crop to market and the politics of Australian and foreign governments' trade relations, is described in brief.
Click the link to download the report here.