NATIONAL grain farmers representative organisation, GrainGrowers, has welcomed the ratification yesterday of the Comprehensive and Progressive Agreement for Trans-Pacific Partnership (TPP-11) which will come into force on 30 December 2018.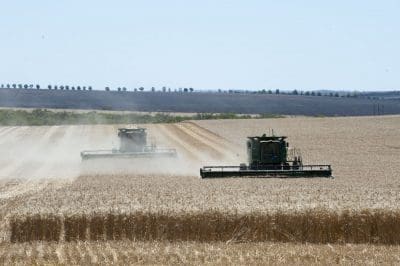 TPP-11 legislation passed through the Australian Parliament earlier this month, and Australia's ratification – along with that of the five remaining other countries of Japan, Singapore, New Zealand, Canada and Mexico – now means the agreement will be live before the end of the year.
GrainGrowers trade and economics manager Luke Mathews said the ratification of TPP-11 and its entry into force in 2018 was the successful culmination of 10 years of official negotiations.
"Negotiations for the original TPP started way back in 2008," Mr Mathews said.
"That's before the Global Financial Crisis (GFC) struck and at a time when George W Bush was the American President and Kevin Rudd was the Australian Prime Minister. In that same year, the West Coast Eagles finished the 2008 season just one position off the bottom of the AFL ladder."
Mr Mathews said the patience and persistence of negotiators and politicians of all stripes had been worth it.
"Bilateral and regional preferential trade agreements such as the TPP-11 are critical in improving export opportunities and in boosting farm gate prices for the Australian grain growers," he said.
"TPP-11 will give Australian grain farmers a good reason to smile, at a time when drought conditions have played havoc for many, by ensuring improved market access and better grain prices once more favourable seasonal conditions return."
Mr Mathews said TPP-11 members were important partners of the Australian grains industry.
"The average value of Australian grain exports to TPP-11 members is A$1.6 billion, contributing some 15-20 per cent of all Australian grains exports," he said.
"For the grains industry, the largest benefits from TPP-11 are improved market access into the important Japanese wheat, barley and canola market.
"In 2016/2017, Australian grains exports to Japan were valued at more than $750 million, led by barley $325M, wheat $304M, and canola $84M."
Mr Mathews said that in addition to the market access outcomes, the TPP-11 would play an important role in encouraging mutual recognition of standards and reducing non-tariff barriers in the region.
"Australian grain farmers grow about 49 million tonnes of grains, oilseeds and pulses each year, which at the farm gate alone is worth $14.6 billion. This production generates more than 170,000 jobs across rural, regional and metropolitan Australia," he said.
"More than 70 per cent of this grain production is typically sold offshore, generating $12.2 billion each year, and accounting for more than a quarter of all Australian agricultural export earnings.
"It is vitally important that free trade and market access remains a key focus of the Australian parliament."
Source: GrainGrowers