CANOLA growers gearing up for a surge in plantings this winter cropping season have been forced to dip into their stocks of farm-retained, open pollinated varieties to make up for a shortfall in seed supplies of commercial hybrid lines.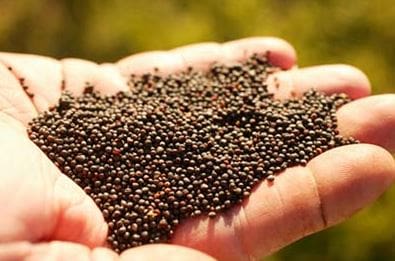 The nationwide shortage of hybrid seed has seen farmers and suppliers scrambling to source alternative lines to ensure they can take full advantage of the opportunity to plant canola at a time when cereal prices are in the doldrums.
Australian Oilseeds Federation executive director, Nick Goddard, said flooding in September last year in the key canola seed production areas of eastern Australia washed out many of the crops that companies were banking on to supply hybrid seed for the coming season.
"It is a double-edged sword. We had all that rain last year that was great, but it also produced floods in central and southern NSW that washed out a lot of the seed production crops," he said.
"The seed companies realised the implications, so they rapidly went ahead and did some additional seed production in Tasmania during the summer for some varieties.
"They were able to replenish some of their lost seed supplies, but at the end of the day it is not where we would like it to be, particularly given the opportunity canola is in at the moment versus cereals."
In Western Australia where canola plantings are expected to rocket past last year's record planting of 1.2 million hectares, Grain Industry Association of Western Australia (GIWA) oilseeds council chair, Michael Lamond, said all hybrid seed had sold out before Christmas.
….while there was a seed shortage most farmers were able to get seed, but not necessarily the ones they wanted.
"Most of the hybrids grown in WA are Roundup Ready hybrids, along with some TT (triazine tolerant) hybrids and RT (Roundup Ready and TT) hybrids which are a smaller percentage of the market," he said.
"The (projected) increase in plantings has been made up of the open pollinated TT varieties. It is a different game in that it is easier to grow and seed production is more widespread. There are generally reserves for that. There was new seed available but I think most of it has sold out now.
"The upshot of it all is that while there was a seed shortage most farmers were able to get seed, but not necessarily the ones they wanted. They had to compromise on technology and varieties."
Mr Lamond said despite the challenges, there would still be an increase in canola plantings in WA this year, based on what analysts already knew from seed cleaner activity and chemical sales.
"We are saying between 10 and 20 per cent on last year. It will depend on when the rains come. If it is an early rain it will definitely be 20pc. As it gets later, it will still be 10 to 20pc. It will be a huge crop no matter what because of the depressed cereal prices. There will be a fair bit of substitution from cereals to canola," he said.
Grain Central: Get our free daily cropping news straight to your inbox – Click here
Mr Goddard said there would also be a big planting of canola in the eastern states this year, although a long, hot, dry summer had reduced subsoil moisture levels in many areas.
"At the end of last year it looked like it was going to be a huge season because there was so much subsoil moisture, but then we had a scorching summer," he said.
"A bit of rain last week might have topped things up a bit. But the long term outlook is looking dry and, if that is the case, that might temper planting intentions.
"While there are quite a few positives ticking the boxes for canola, on the down side is the potential of a dry start, or more importantly a dry season."
Mr Goddard warned growers who would be using retained seed to practise good seed hygiene and sound agronomy to reduce the risk of introducing disease.
One of the main risks is spreading sclerotinia stem rot through grower-retained seed.
Mr Goddard said stringent seed cleaning and grading to remove sclerotinia was critical.
Farmers should also avoid tight rotations with other sclerotinia host crops, such as lupin or chickpea, and consider winter cereals for break crops on high-risk paddocks.
Foliar fungicides are the only post-emergent sclerotinia management option and need to be applied at the correct timing to achieve maximum benefit.