WESTERN Australian bulk handler on Thursday broke its standing receival record of 21.3 million tonnes set last harvest, the co-operative announced in its latest weekly Harvest Report released today.
"With many growers still harvesting, especially in the Albany and Esperance zones, the final harvest total for CBH is expected to be higher still," CBH Group chief operations officer Mick Daw said.
"I would especially like to thank everyone – from the frontline employees to the ports and offices across WA – for the part you've played in us being able to reach this record,"
"I know that individuals and teams have gone to extraordinary efforts to keep grain moving and deliver tonnes to our customers throughout the year.
Mr Daw extended his congratulations to the transporters, contractors and regional communities that support the grain growers of WA.
As the end of harvest nears, further sites and services will be closing across the CBH network.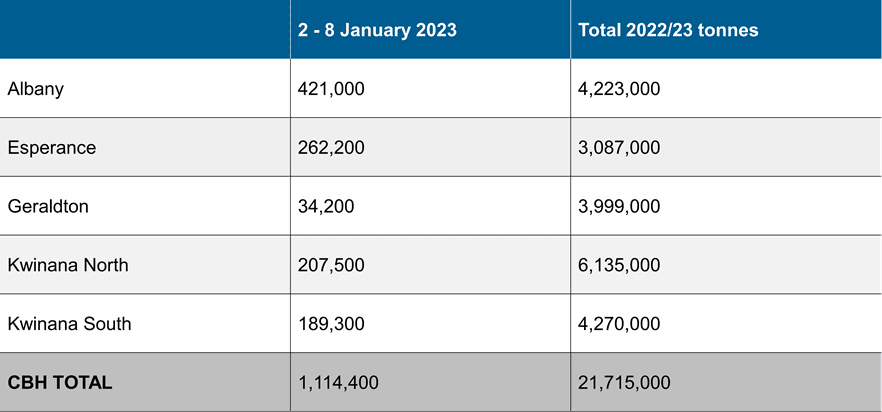 * Tonnes stated are accurate as of Monday morning, 9 January 2023
Albany Zone
At least another 400,000-500,000t is expected in the Albany Zone, including grain stored on farm which will be delivered over the next few weeks.
All commodities are being delivered, with the majority being wheat, followed by barley, and even some canola still being received.
Grain quality has been good.
Some sites are full and closed for the season, while outloading continues at some sites to allow for more space for receivals.
Some sites are operating with reduced grids due to storages being full.
Daily receival records have been broken at:
Broomehill 10,188t;
Chilinup 2832;
Cranbrook 23,027t and the largest daily receival for an inland site;
Dumbleyung 7733t;
Gairdner 10,769t;
Hyden 8556t;
Lake Grace 9435t;
Nyabing 8101t;
Wellstead 3474t.
Multiple sites across the zone are heading for new all-time receival records, and are still receiving grain, with the average zone cycle time at 40 minutes.
Esperance Zone
Harvest is progressing well in the Esperance Zone with some fine weather finally hitting the zone.
While growers in the Lakes region are starting to wind up, growers along the coastal regions are still managing their way through what has been a challenging harvest, and it will be well into February before final loads received.
All commodities are still being received in the zone, with wheat now the dominant delivery.
All sites are open except for Lake Varley, Lake King and Mt Madden, and  cycle times in the zone are slightly higher than normal due to accumulations at the port.
Geraldton Zone
Harvest has all but wrapped up in the Geraldton Zone with only 5000t trickling in per day.
Current receivals at 4Mt have surpassed the previous total receival record of 3.9Mt set last year.
Only Mingenew, Carnamah and the Geraldton Port Terminal remain open.
Season site receival records have been broken at:
Arrino 113,088t;
Narngulu 350,177;
Latham 62,443t;
Marchagee 69,009t;
Carnamah and Mingenew have also broken their seasonal site records, and are still receiving.
Daily receival records have been broken at: Arrino; Binnu; Canna; Coorow; Latham; Marchagee; Morawa; Narngulu, Northampton; Perenjori, and Yuna.
Kwinana North Zone
Another 150,000t is expected to be delivered in this zone this harvest.
Most of the grain being received is wheat, with small amounts of barley and lupins also being delivered.
Grain quality is still good, consistent throughout this harvest.
Kwinana North still has 19 sites open across the zone, but this will be reduced to about eight major sites by the end of next week.
Average zone cycle time is steady at 39.8 minutes.
Kwinana North Zone has broken 16 site seasonal records and 22 daily records, as well as its zone receivals record.
Kwinana South Zone
The Kwinana South Zone has now received approximately 95 per cent of expected volumes, with a further 300,000t expected to be delivered in the next two weeks.
Harvesting conditions are generally good, with only a few harvest bans coming into effect this past week.
Wheat is still the dominant commodity being delivered, followed by barley, and small quantities of oats, lupins and canola are still being delivered.
Average zone cycle times are tracking well at 39.4 minutes.
A total of eight sites have now broken their all-time receival record in the Kwinana South Zone, and the zone's receivals record of 4.3Mt is expected to be broken in the week commencing today.
Source: CBH Group