WINTER crop harvest is all but completed in Central Queensland (CQ) where yields have been above average and grain quality levels have been "reasonable".
Avoiding the worst of the eastern seaboard drought, CQ growers haven't had a surplus of rain, but the rain they did get fell at the right times.
Spackman Iker Ag Consulting director, Graham Spackman, Emerald, said most growers stripped crops that exceeded yield expectations.
"For most people the yields were really good. We didn't get a lot of in-crop rain, but we got enough rain at the right time to make a really big difference," he said.
"Most people grew above average yields in their wheat and chickpeas. But there was quite a lot of variation. There was frost in some places."
Mr Spackman said there were reasonable quantities of both cereals and chickpeas grown in CQ this year.
"Last year it was a much lower yielding year and we didn't have much wheat because we couldn't get it planted. But this year we were able to get a fair bit of wheat and barley in, as well as chickpeas," he said.
Mr Spackman said one thing that was different this year was that there was a lot of hay being cut, particularly the baling of stubble and straw.
"There was some frosted barley and wheat that was baled, but the majority of the hay being made is taking advantage of the high stubble loads," he said.
"There is more hay around in the Highlands at the moment than I have ever seen before. A lot has already been sold, but a fair bit of it is still sitting in the paddocks."
Mr Spackman said CQ was very dry at the moment, so virtually no summer crop had been planted to date.
"We won't get any summer dryland crops in the ground until we get some decent rain. There is not a lot of fallow country. We will need a fair bit of rain to get that country wet," he said.
"There is some cotton in, but the cotton area is substantially down because we just haven't got enough water."
CQ shores up Qld production
In its crop report for September, ABARES said seasonal conditions in Queensland's southern cropping regions were hotter and drier than average and soil moisture levels were below average, but average winter rainfall had fallen north of Emerald in CQ.
ABARES predicted that overall winter crop production in Queensland would be 732,000 tonnes, driven by the higher yields in parts of CQ.
The forecast is 60 per cent lower than the 10-year average to 2018–19 of 1.8 million tonnes.
Overall wheat production for the state this season was expected to be around 460,000t; barley 72,000t; and chickpeas 170,000t.
The area planted to chickpeas in Queensland is estimated to have fallen by 15pc to 170,000 hectares this year.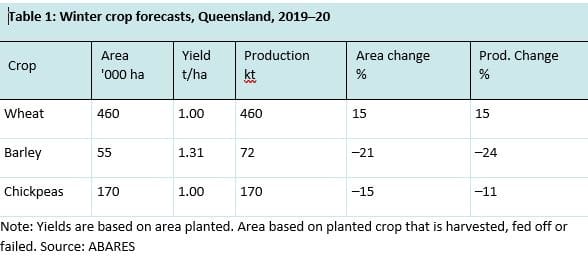 Grain Central: Get our free daily cropping news straight to your inbox – Click here