STATE and national agricultural organisations in Farm Safety Week 2022 are helping to spread targeted messages about how to reduce injuries and fatalities in a workplace which is often a home too.
The week kicked off yesterday, and Farmsafe Australia's campaign for the week is entitled Recipe for Averting Disaster.
It is focusing on intangible risks and hazards which include fatigue, complacency, the blurred line between the home and work environment, labour shortages and the aging workforce as issues that combine to make Australian farms one of the most dangerous work environments.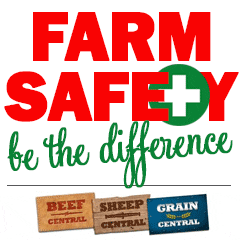 The annual Farmsafe Australia Safer Farms Report has been released today, and shows 12 fewer farmers died on Australian farms in 2021 compared with 2019 and 2020.
The report stresses that while this is a significant step forward, 46 farmer deaths in 2021 is a tragedy.
"That's why it's so important that we continue to innovate and improve our technologies and raise awareness of farm safety, so that we can reduce the number of accidents on our farms," Department of Agriculture, Fisheries and Forestry deputy secretary Rosemary Deininger said.
"We want to ensure that farm-safe behaviours are instilled into current farmers and the next generation of farmers to further reduce the risk of injuries and accidents."
"Our farmers are some of the best in the world due to their hard work and dedication.
"Working as hard as they do, their own wellbeing is not always made a priority.
The report details the progress on the National Farm Safety Education Fund Strategy following the allocation of a further $1.6 million into projects under the Next Generation of Farmers and Industry Endorsed Training and Continued Learning pillars.
Cookbook flavours message
A Farmsafe Australia cookbook is being released under this year's Farm Safety Week theme to celebrate Australian farmers, and share paddock-to-plate stories as well as family recipes, and the solutions they are employing on their farms to address WHS challenges.
It includes input from Farmsafe Australia chair and Tasmanian grazier Felicity Richards.
"Recreation is never really separate from work because our recreation is so often tied up in the workplace," Ms Richards states in the book.
"It just means we need to stay alert to the environment all the time."
"When I grew up on my farm my parents rarely had any conversations around farm safety. Instead,
they focused on teaching by example," Ms Richard said in a FarmSafe Australia statement.
"While I learnt many invaluable lessons from my parents' on–the–job style of learning, I plan on having
more explicit safety conversations with my children as they become older".
WA launches inquiry
Last month, Western Australia's WorkSafe Commissioner Darren Kavanagh announced an inquiry into the agricultural industry after the twelfth work-related death in 12 months in the sector occurred on June 21.
The incident claimed the life of a 24-year-old male, who suffered a head injury when moving a bogged vehicle with a tractor when the towing equipment he was using failed near Lake King in the Great Southern region.
"The statistics for the agricultural industry are not acceptable, and it is deeply concerning that the number of fatalities in the industry continues to increase," Mr Kavanagh said.
"As the regulator, I have advised the Minister of my intention to use my powers under the Work Health and Safety Act 2020 to conduct an inquiry into the industry, beginning with examining the tragic deaths of agricultural workers and family members over the past five years.
"The culture in the agriculture industry seems to allow fatal incidents to occur at significantly higher rates than any other industry, with farm production appearing to be put before the safety of families and workers."
"The inquiry will aim to establish how to make changes in safety in the industry, and a report will be generated with recommendations on investigations and enforcement for consideration by the State Government.
Resources from GrainGrowers
GrainGrowers has chosen Farm Safety Week 2022 to launch a new program that provides farm-safety resources and learning opportunities for growers across Australia.
GrainGrowers said agriculture was one of three industries where 68 per cent of workplace fatalities occurred, and it was working to support growers to help ensure everyone goes home safely at the end of the day.
"Farms are unique workplaces, and we need practical, farm-ready solutions to improve our approach to farm safety in Australia," GrainGrowers CEO David McKeon said.
"Improving farm safety has positive flow-on impacts for productivity, farm families and our broader regional communities.
"For many of our growers, the farm is also home, and we know keeping their families and workers safe is important to our farmers."
Over half the fatalities in agriculture involve a piece of machinery or equipment, namely quad bikes, tractors, and side-by-side vehicles.
"GrainGrowers farm safety resources have a focus on machinery, recognising these risk factors."
They include checklists growers and farm workers can use to make sure they have appropriate risk-management plans in place.
The resources have been developed in partnership with industry specialists House Paddock Training, Ben White and Josh Giumelli, and are part of the National Farm Safety Education Fund.
States lend support
State-based producer organisations are lending support to farm-safety messages this week, with Queensland's AgForce holding a Farm Safety Luncheon in Roma on Thursday to help spread the word.
The event will feature guest speaker Julie McDonald of McDonald Holdings, who will give a personal account of her own experience and the importance of having farm safety measures in place.
The Victorian Farmers Federation's Making Our Farm Families Safer campaign has been launched this week to coincide with Farm Safety Week.
GPA sheds light on mental health
Grain Producers Australia (GPA) is encouraging those in the farming industry to check in on their mates and ask how they are going, and the state of safety in their own farming businesses in Farm Safety Week 2022.
"GPA understands the broader responsibilities we have representing Australia's grain producers and we take these responsibilities very seriously," GPA chair and WA grower Barry Large said.
"That's why we've committed to real action with farm safety and mental health awareness programs that make a genuine difference for not only our members but all farmers and our communities.
"Farm Safety Week is an opportunity to remind everyone about the importance of these areas to the vitality of our own businesses and our personal lives.
GPA Training is today hosting a webinar to help with farm safety preparedness, and it includes a panel discussion with representatives from Safework NSW, Workplace Health and Safety Queensland and the Victorian Farmers Federation (VFF).
GPA southern director and South Australian grower Mark Schilling said GPA Training provided programs such as a grain-site delivery induction that help improve standards and practices,.
"GPA Training is designed by farmers and industry professionals, for use by farmers – that's why it's practical and efficient to use, including for our workers," Mr Schilling said.
"If we're going to be proactive and change statistics that don't reflect well on our industry – such as farmers comprising 2.2pc of Australia's workforce but accounting for 13pc of injuries at work – we need to get serious and embrace GPA Training as an industry solution."
Mr Large said GPA's Farmer Mates Mental Health initiative will see inaugural ambassador and Australian cricketing legend Brad Hogg attend a number of field days throughout Australia next month, with dates as follows:
August 3: Mallee Machinery Field Days, Speed, with Victorian Farmers Federation Making Our Farms Safer Team;
August 9: Eyre Peninsula Field Days, Cleve, with Grain Producers SA.
August 12: Mingenew Midwest Export with WAFarmers;
August 17: AgQuip Gunnedah with NSW Farmers.
Source: AgForce, DAFF, Farmsafe Australia, GPA, GrainGrowers, WA Government