CONTRACT harvesting charges need to rise to reflect the real cost of the service at a time when an exponential hike in costs threatens the viability of operators, according to Australian Custom Harvesters NSW representative, Rod Gribble.
Harvesting rice in the Riverina this week, Mr Gribble said the costs of owning and operating harvesting businesses had escalated over recent years while the remuneration rate for contractors had failed to keep pace.
"Quite frankly, there are plenty of organisations who recognise this, including grower organisations who recognise it is not sustainable. It is a very fluid situation at the moment," he said.
"For instance, insurance has gone up anywhere from 20 to 80 per cent in the past year. And all the capital costs of machinery have risen."
Mr Gribble said for a Class 8 harvester set up with RTK guidance, a 12-metre front, compliant trailer and yield monitoring capabilities "you won't get any change out of $700,000".
"If you want a canola front, there's another $45,000. If you need a 180 CFM compressor that's $16,000 to $20,000. If you need a service truck with all the tools, that's $40,000. You can't use the service truck as an escort vehicle, so another escort vehicle is another $40,000. Then you have to pay the people who work for you."
This is all in a changing farming environment where the window of harvesting opportunity has narrowed, due in part to new varieties and growers sowing earlier.
Mr Gribble said the contract harvesting industry had undergone dramatic change in recent years and would continue to change.
"It will be more of a business based on the value of the service, for both parties. The client has to get the value of the service as well as the contractor receiving value from the client. It has to be a two-way street, otherwise it doesn't work," he said.
"Growers recognise they need the contracting industry to survive at a profitable level, so there will have to be a meeting of the minds somewhere along the line.
The client has to get the value of the service as well as the contractor receiving value from the client.
"The growers don't have an easy industry either. It is high cost, high risk. But there still needs to be an appreciation of what each side can bring to a business arrangement. As long as it works for both, that's fine. It is just a matter of communication and people being fair dinkum with each other."
Mr Gribble said while the contracting industry didn't set prices, it could advise its members what the real and total costs were, then let them make up their own minds about how much they wanted to charge and what the profit level would be.
"A good base rate that has been around for a long time is basing your costs on your capital costs times 0.1 per cent of capital value. If you have a $700,000 machine, $700/hour is the cost, depending on how many hours of operation you do," he said.
"Nowadays a contractor tries to do about 400 paying hours a year. Sometimes they do, sometimes it is not achievable.
"If you are buying a $700,000 machine and you are doing less than the 400 hours and are not getting $700/hour for it, you are chewing into equity because the depreciated sale value of the machine is probably going to be 50pc of what you paid for it today, and a new one is probably going to increase about 50pc.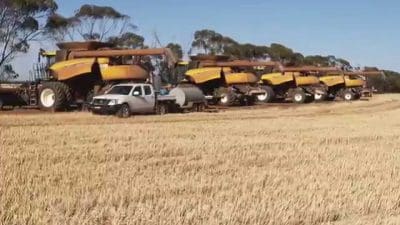 "So, somewhere along the line it has to be accounted for and paid for. That doesn't matter whether it is a contractor's machine or a grower's machine, they will all pay for it in the long run. No free lunches."
Mr Gribble said contractors were increasingly being asked by growers to provide yield mapping and data collection, but it was an area where some in the industry were slow to come to terms with the process.
"It is a service that needs to be accounted for and paid for. But it has to be done properly. There is a host of reasons of how it should be done and why it isn't being done. There are possibly issues with some people not understanding how it should be done and what is required," he said.
Grain Central: Get our free daily cropping news straight to your inbox – Click here