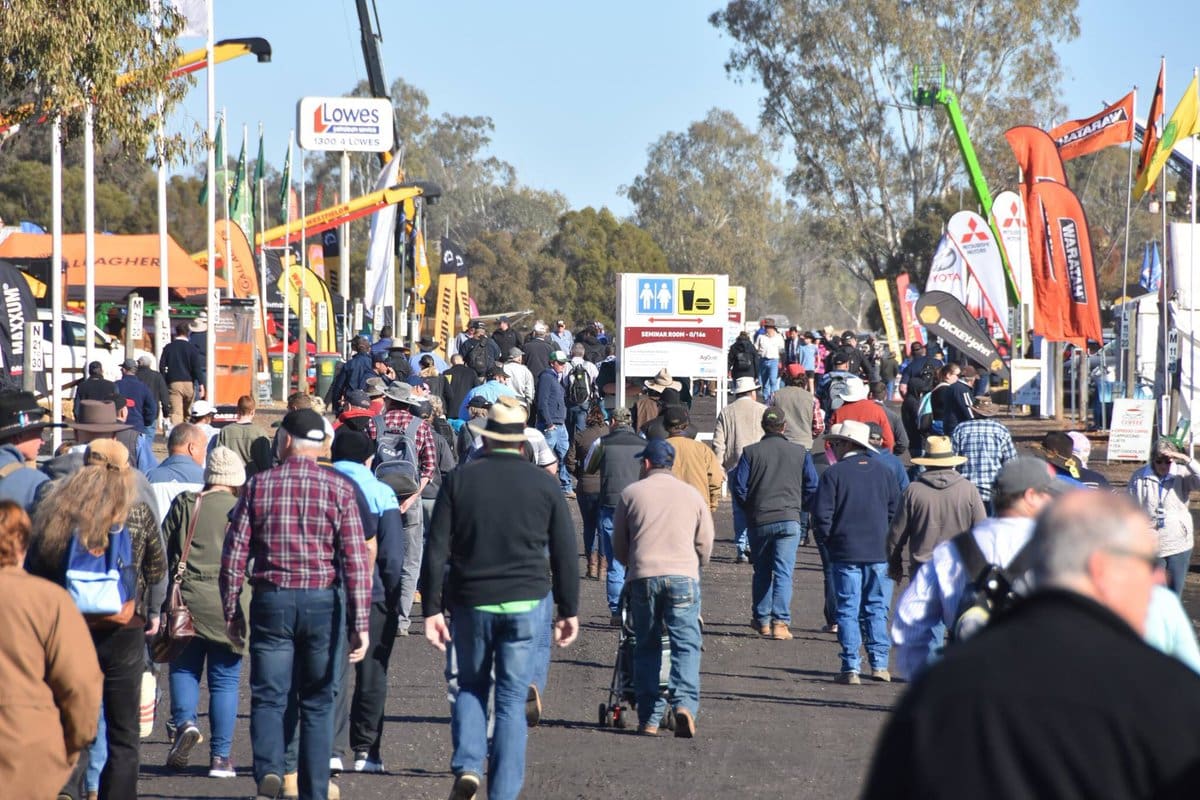 NUMEROUS rural events and conferences have been cancelled or postponed amid efforts to limit the spread of COVID-19.
Here's the latest list of agricultural conferences and events that have been affected by the ongoing coronavirus outbreak:
Grain sector:
FarmFest field days at Toowoomba in southern Queensland, originally set down for June 2-4, have been rescheduled to Tuesday to Thursday, October 13-15, 2020.
Primex Field Days at Casino in north east NSW have been rescheduled to September 10-12. In the meantime, organisers will run a digital event over May and June to allow farmers to take advantage of the Federal Government's instant-asset write-offs before the end of the financial year.
Australia's largest primary industry field days, AgQuip, normally held in August at Gunnedah in north west NSW, has been rescheduled to run from Tuesday to Thursday, November 10-12, 2020.
The Australian National Field Days (ANFD) at Orange in central west NSW have been cancelled. Normally held in October, this is the first time in the event's 68-year history that it has had to be called off.
The Tocal Field Days due to have been held on May 1-2 near Paterson in the NSW Hunter Valley were cancelled. It is the second time the field days have not been held since they began in 1985, with the 2015 event called off due to serious flood damage to the main access road. The next field days will be on April 30, May 1 and 2 in 2021.
The Henty Machinery Field Days, which were to have been held in southern NSW on September 22-24, have been cancelled for this year.
This year's Riverina Field Days in Griffith NSW have been postponed from May 15-16 to the new dates of Friday and Saturday, September 4-5, 2020. Next year's field days will return to the usual timeslot, to be held on May 14-15, 2021.
The 2020 Elmore Field Days in Victoria, which were to have been held in October, have been cancelled.
The Mildura Field Days in north west Victoria, originally scheduled for Friday and Saturday, May 15-16, 2020, have been cancelled.
Victoria's Gippsland agricultural field days, Farm World, set down for March 26-29 at Lardner Park near Warragul was cancelled.
Organisers of Tasmania's Agfest 2020 at Launceston, originally set down for May 6-9, 2020, have "moved from the paddock to the cloud", going virtual with this year's event where products and services can be viewed online.
South Australia's largest annual field days, the South East Field Days that were due to be held on March 20-21 at Lucindale, were cancelled.
SA's Eyre Peninsula Field Days at Cleve have been rescheduled from August 11-13 to now run on September 29 – October 1.
All three of Western Australia's iconic field days have been cancelled for 2020: the Mingenew Midwest Expo that was scheduled for August 12-13; the Dowerin Field Days that were scheduled for August 26-27; and the Newdegate Field Days that were set down for September 2-3.
The New Zealand National Field Days at Mystery Creek near Hamilton on the North Island, scheduled for June 10-13, have been postponed until further notice.
The Grain Industry Association of Western Australia (GIWA) Oat Council and the International Oat Committee have postponed the 11th International Oat Conference 2020 in Perth, WA, by one year, with the event to now be held on October 11-14, 2021.
Grain Producers Australia's annual general meeting will this year be held as a virtual meeting on Thursday, August 6.
The
Australian Export Grains Innovation Centre (AEGIC)
, which hosts technical grain-quality seminars in key markets, has replaced events scheduled to take place in Asia with activities including webinars, virtual classrooms and meetings, and targeted communication pieces. Visit
aegic.org.au
or email
[email protected]
Sticking with its original dates is the Australian Grains Industry Conference which will run as a virtual event on a digital platform on Thursday, July 30, under the theme of Resilience and Reinvention. The associated AGIC Asia Conference will also be held as a virtual "live" event the preceding day, Wednesday, July 29.
The biennial Poultry Information Exchange and Australasian Milling Conference 2020 scheduled for the Gold Coast May 17-19 has been rescheduled to April 11-13, 2021. PIX/AMC 2021 will be held at its regular location, the Gold Coast Convention and Exhibition Centre.
The Global Pulse Confederation (GPC) 2020 convention scheduled to take place April 15-18, 2020, in Dubai in the United Arab Emirates was cancelled.
The 29th IGC (International Grains Council) Grains Conference 2020 went ahead on June 10, 2020, as a virtual conference.
The Nuffield International Contemporary Scholars Conference (CSC), which began at the Tangalooma Resort on Moreton Island off Brisbane on March 14, was abandoned part-way through on Wednesday, March 18, 2.5 days earlier than planned. The Thursday farm tours, and the final day of the conference scheduled for the Friday were cancelled.
The Australian Farm Institute's Conservation Agriculture in 2030 Conference set down for June 22–23 in Sydney was reconfigured, with Part 1 being conducted as an online webinar on June 22 and Part 2 to be held face-to-face later in the year on a date to be announced.
The Climate and Carbon in Agriculture 2020 Conference that was scheduled to be held on March 31 – April 1 at the Adelaide Convention Centre in South Australia was postponed.
The Australian Institute of Packaging has postponed its upcoming 2020 annual conference until later this year. The conference was due to be held on April 1-2 in Melbourne.
Specialist rural property agency Colliers cancelled its 2020 Colliers Agribusiness Research and Forecast Report launch event, planned for multiple states on April 7-8.
The Tractor and Machinery Association (TMA) postponed this year's Towards 2030 Conference which was due to be held on July 21 in Melbourne.
Livestock sector:
The 2020 Sydney Royal Easter Show initially set down for April 3-14 was cancelled. This is the first time the show has been cancelled because of a public health emergency since the Spanish Flu pandemic in 1919.
Organisers of the 2020 Royal Melbourne Show set down for September 19-29 September has been cancelled.
The 2020 Perth Royal Show will go ahead as planned on September 26 to October 3.
The Northern Territory Cattlemen's Association postponed its annual conference which was scheduled to be held in Alice Springs on March 26 and 27. Registrations from the 2020 event will be carried over to next year's conference in 2021.
The Intercollegiate Meat Judging Association has decided to postpone its Northern Conference, which was scheduled to be held in Rockhampton.
The 2020 Casino Beef Week was planned for Casino in May but will now be postponed until later in the year.
MLA and LiveCorp have postponed the 2020 LEP EXPO which was to be held in Jakarta on 7-8 April.
The Livestock and Rural Transporters Association of Queensland has delayed its annual conference, which was to be held in Roma on March 19-20.
Grain Central: Get our free daily cropping news straight to your inbox – Click here