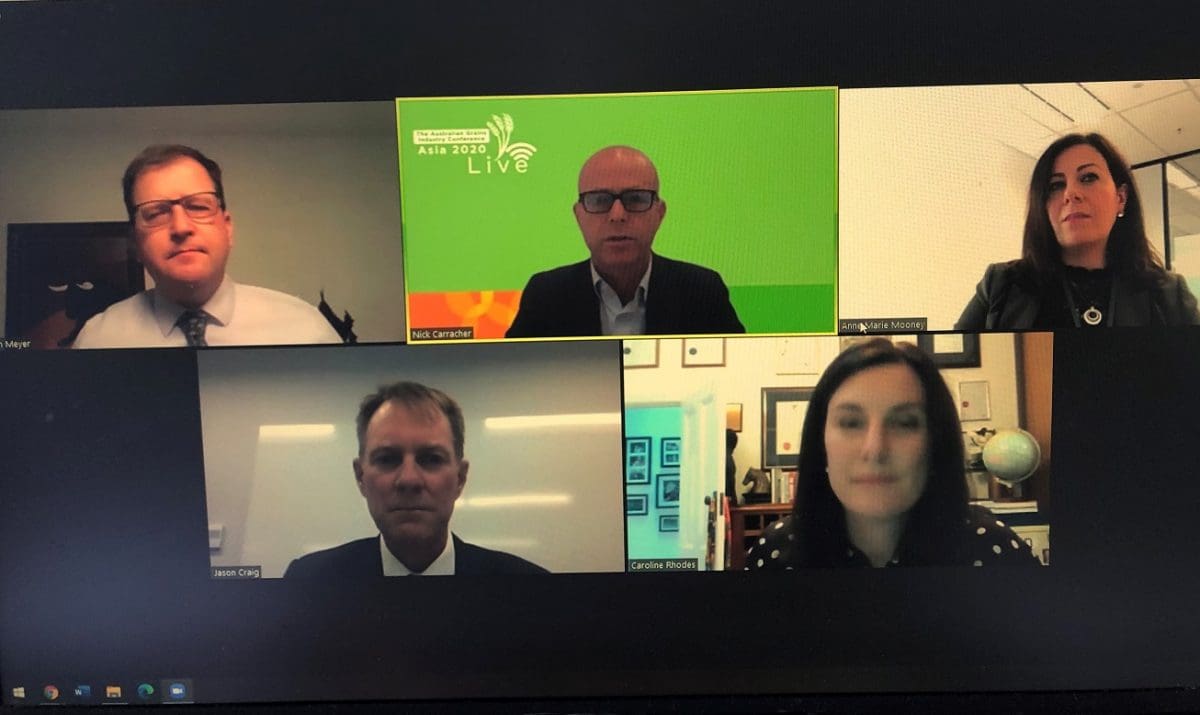 WILL the COVID-19 pandemic and domestic turmoil in the United States disrupt that nation's agriculture and create new opportunities for Australian grain exporters on the world market?
The answer is 'No' according to Missouri University Food and Agricultural Policy Research Institute associate director, Seth Meyer, who addressed the virtual Australian Grains Industry Conference (AGIC) 2020 this week.
Dr Meyer said despite the disruption occurring in the US, agriculture was largely unaffected and the US would remain a strong competitor in the grain export arena.
"I'd say that one of the places we have seen COVID demand effects is that folks here aren't driving and that means there is a lot more corn around that is not being converted into ethanol. If anything, it probably provides more grain for us to export," he said.
"We aren't having problems with shipping, delivering – any of those things."
Among other panellists at AGIC who responded to the question of COVID's impact on agriculture, Lachstock Consulting chief executive officer, Nick Carracher, said it was important not to overstate the effect.
"The biggest impact from a demand perspective is that you can easily get sucked into the anecdotal impacts of COVID. But when you actually look at the demand data it is not as dire as you might think," he said.
"Overall, it is important to look at the actual data to see what is actually happening as opposed to what you think should happen."
CBH Group chief marketing and trading officer, Jason Craig, said COVID disruption was not presenting significant risk to grain supply chain and logistics.
"We are seeing good demand from China. I think the big question will be South East Asia which is a big market for us and for our recovery from COVID-19," he said.
Grain stocks disclosure
On the issue of grain stocks reporting in Australia, which has been the subject of a protracted debate since deregulation of the single desk for wheat in 2008, Mr Craig said CBH, along with Viterra, had been disclosing stocks over the past 12 months because of the tight grain situation during the drought.
"Western Australia is predominantly an export state, and whilst our view is that when we supply the stocks side of it we are not seeing the demand side. Therefore, we are only showing one side of the balance sheet. In our opinion, we don't think this is beneficial for WA growers," he said.
Mr Carracher said the issue of grain stocks reporting was a complex one "because where does transparency start and stop?".
"Yes, you can go to the bulk handlers, you can go to three-quarters of the storage network and get their transparent data. Will farmers tell you what they have on farm? The level we go down to dictates how useful those figures are," he said.
"At Lachstock, as a company, we make a livelihood out of making sure we are aware of our supply and demand. That is what we do. From that perspective, there are other vehicles to try find that transparency of data."
Inghams Group feed business director, Anne-Marie Mooney, said stocks disclosure was important for her business.
"It takes a lot of the myth and assumptions out of where stocks sit and how much there is from a supply perspective. It allows us to be able to make more informed decisions," she said.
"Dare I bring up the ugly issue of importing grain. We would always prefer to source supply domestically. However, we have a business to protect and we have to be in a position to drought-proof our business. Having access to (grain stocks) information would certainly help us make those more important decisions."
In the US, Dr Meyer said the quarterly stocks reports issued by the United States Department of Agriculture were, on the whole, beneficial for US growers, despite some misgivings.
"If the price goes down the producers say they don't like them, but if the price goes up my phone never rings. It provides the quarterly opportunity to have a level playing field," he said.
"I always tell the farmers that Cargill are your competition and they will know more than you do, so those quarterly stocks, while it doesn't seem like it all the time, are in the interests of producers to have that level playing field."
Grain Central: Get our free daily cropping news straight to your inbox – Click here