AGRICULTURE's crop-led recovery from drought remains on track but falling prices and global economic uncertainty from COVID-19 are forecast to temper earnings, according to ABARES' September Agriculture Commodities report released today.
The report finds that the gross value of production is forecast to stay unchanged at $61 billion despite a significant rebound in crop production.
Australian wheat production is expected to increase by 91 per cent in 2020–21 to 29 million tonnes (Mt).
If realised, this will be the biggest wheat crop Australia has produced since the record high of 2016–17.
Prospects for New South Wales are particularly good, following three consecutive years of falling production due to adverse seasonal conditions.
Over 60pc of the forecast increase in winter crop production will come from NSW.
Cotton production is also forecast to increase strongly in 2020–21, although this crop will not be exported until 2021–22.
Depleted domestic grain stocks are expected to be rebuilt. This means at least 4Mt of the 2020–21 harvest will not be exported in 2020–21.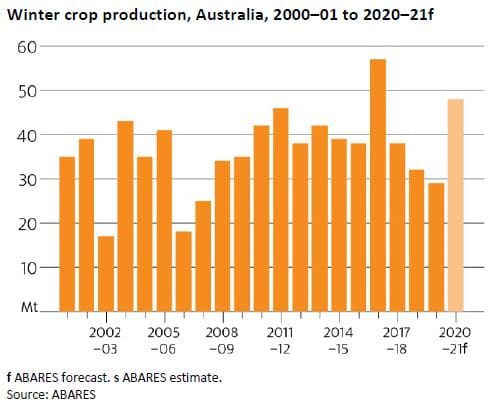 Recovery from drought
ABARES executive director Dr Steve Hatfield-Dodds said agriculture was set up for a recovery after three years of drought-affected production and was in a solid position to see out falling prices and a pandemic-induced economic downturn.
"The value of crop production is forecast to increase by 17 per cent to over $32 billion on the back of much improved seasonal conditions, particularly in New South Wales," Dr Hatfield-Dodds said.
"But while crop production volumes are forecast to grow strongly, they will be offset by a hit to earnings brought about by strong global supply and COVID-19 induced lower prices.
"The rebuilding of herds and flocks will also begin to hit overall production with the value of livestock production forecast to fall by 14 per cent to $28.9 billion.
"These developments will hit the sector's exports significantly, with falling commodity prices, reduced livestock product exports and grain stock rebuilding expected to shave 10 per cent off the value of agricultural exports, which are forecast to fall to $43.5 billion in 2020–21."
Minimal COVID impact
Dr Hatfield-Dodds said agriculture appeared to be far less disrupted than other sectors of the economy, although there were some watchpoints.
"People still need to eat even if the economic downturn means they have to cut spending in other areas," he said.
"COVID-19 pandemic-related travel restrictions and manufacturing facility closures are not expected to result in meaningful reductions in Australia's total agricultural production.
"Agricultural trade has also been less affected than other goods because shipping, the main mode of transport for agricultural trade, has been less disrupted than other forms of transport such as airfreight.
"The appreciating Australian dollar is a watchpoint as is the supply of casual and contract labour for the horticulture sector, particularly for the surge in the number of required workers for the summer harvest."
Dr Hatfield-Dodds said forecasters were cognisant that the outlook could change dramatically due to the extreme uncertainly associated with the pandemic.
"If a wave of new infections were to hit Australia and our major international markets in early 2021, this would result in consumer spending continuing to fall, rising unemployment, and greater disruptions to domestic and international supply chains," he said.
Source: ABARES
View the September quarter 2020 ABARES Agriculture Commodities report.