ANALYSIS released this week by Agribusiness Australia of farm productivity since 1989  shows cropping has posted a 72 percent increase to be the top performer by sector, while a combined sheep-beef enterprise has been the worst performer with a decrease of 9pc.

The metrics have been calculated on a climate-adjusted total factor productivity basis, and draw on ABARES data of broadacre farms collected via annual survey.
In the midfield are mixed-farming enterprises with 30pc growth, ahead of sheep, up 5pc, and beef, which posted a 5pc drop.
The insights have been released in AA's February 2023 Editorial by AA chair Mark Allison, who is also Elders managing director and chief executive officer, and show how Australian agricultural TFP has been impacted by climate factors.
Modelling undertaken by ABARES combines variable and fixed farm inputs, commodity price movements, changes to farm stocks and climatic conditions including rainfall and temperature, and farm output data.
"This productivity analysis over the last three decades for cropping farms demonstrates that
the unadjusted TFP has a much higher degree of volatility than the climate adjusted measure," Mr Allison said in the article.
ABARES provide both an annual measure of unadjusted TFP along with a climate-adjusted TFP index in order to demonstrate how changed climatic factors can have an impact upon year to year volatility in productivity estimates depending on the enterprise mix.
"The trend in productivity for either livestock enterprise has struggled to keep pace with cropping, particularly over the most recent decade."
For cropping farms, the TFP analysis highlights this enterprise is more exposed to climate impacts on productivity than the livestock sector.
"During times of drought a sheep and/or beef producer can adjust their livestock holdings to take into
account…lower water and feed availability, thereby reducing their input cost base in line with any
decline in their production outputs.
"This means that there is far less volatility between the unadjusted TFP and the climate adjusted TFP when it comes to livestock producers.
"A comparison of climate-adjusted TFP estimates for pure beef and pure sheep operations shows for livestock enterprise, they have struggled to keep pace with cropping.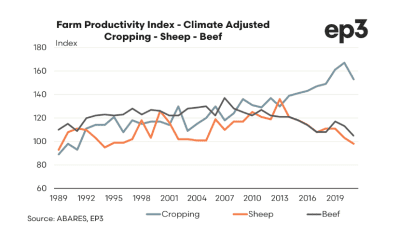 The analysis also looked at the compound annual rate of growth from 1998-2021.
"Unsurprisingly, cropping tops the list with a CAGR of 1.7pc compared to sheep enterprises at 0.2pc growth and beef operations with a 0.1pc decline in CAGR on average each year.
"Combined sheep-beef enterprises have achieved a 0.3pc decline in CAGR, meanwhile mixed  cropping/livestock have managed a growth rate of 0.8pc per annum on average."
Mixed enterprises and cropping were the only two farm types to outperform the CAGR for all farm industries, which achieved a CAGR of 0.7pc.
Source: Agribusiness Australia