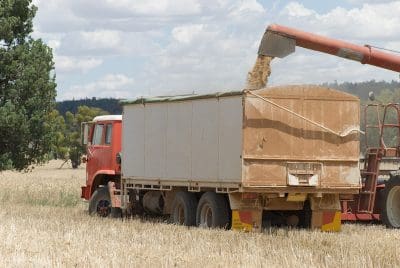 An estimated 46 million tonnes of wheat, barley, canola and chickpeas – possibly an all-time record winter crop – is due to be harvested across Australia in the next two months.
The massive winter crop harvest now underway will be a serious test of Australia's transport logistics, particularly with the later than usual start to Queensland's harvest.
Headers usually roll from Central Queensland south as winter crops ripen, but wetter and cooler conditions through October have delayed the start of the Queensland harvest, compressing this year's national harvest window into a much shorter time-frame.
Headers are only now starting to move into into paddocks in Southern Queensland, about two to three weeks later than usual, at the same time harvests are kicking off in northern NSW.
Big tonnages are also adding to the volumes coming forward this year.
Header drivers operating near Condamine on Queensland's western downs were reporting five tonne per hectare yields coming off wheat crops this week.
Little wonder many in the grain trade are keeping a very close – if not somewhat nervous – eye on this harvest, waiting to see if the wheels will be available to shift a mountain of grain both on time and where it needs to go to meet contract commitments.
"Everyone is under the pump," grain transporter Adrian Paton told Grain Central this week.
His company, Patons Bulk Haulage based in Oakey, has 11 of its own trucks and 10 sub-contracted trucks operating this harvest.
A number of southern transporters are currently operating in southern Queensland to help carry the load, but most will now be tied up on barley harvests and the commencing wheat harvest in northern NSW.
Whether there will be enough trucks to handle the grain coming off headers now will depend largely on where growers have sold their grain.
"And this it the bit we don't know," Mr Paton said.
"The cockies are playing it close to their chest, in terms of what they are going to do with their wheat.
"I have had a couple ask me about going straight to Brisbane, but you really haven't got time.
"Not when you have got headers knocking off 100t an hour, you are never going to keep wheat away from headers and take it to the ports.
"They are really going to have to go to local depots for the wheat, especially if it yields as well as everyone is assuming it is going to yield."
Brett Ramsay's Meandarra Bulk Haulage has six trucks operating this harvest.
With big of tonnes of wheat pouring from headers, he agreed that transporting grain through to the Port of Brisbane was a slow process in the rushed environment of having to move this year's crop.
"To get it to Brisbane is B-double work which restricts us to 40 tonne a shift, and there is so many tonnes coming off the paddock," he explained.
"They want that prime hard to go down to Brisbane and get it put into containers and get going overseas, but that slows the whole process down when you are only shifting 40t at a time."
Will there be enough trucks to handle the crop?
Mr Ramsay believes it could be a struggle.
"Usually the work is strung out, we start in CQ and work our way down, but due to the weather, everything is boxed up now.
"We start in Walgett this Thursday, by the following Thursday we are down in the Wentworth area.
'We are usually in full swing here (in Southern Queensland) right now, but this year we are only just touching it.
"So it is going to make our job harder because we are all going at the same time, I don't think there are going to be enough trucks to do it."
"Realistically we have just got to start and keep going and everyone is just going to have to play the waiting game and be patient.
"We're underway and what (trucks) are on the ground are on the ground."
Increased storage capacity now on-farm, via silos or ground pads, and good reported capacity in local bulk handling depots, should help to absorb a bigger percentage of this year's crop and partially counter some of the pressure on transporters now face in having to move huge volumes of grain quickly.
Freight rate rise
Freight rates are also likely to rise this year in response to the higher demand for grain transport.
But it is a rise many transporters would argue is long overdue after a run of lean years involving smaller crops which has forced transporters forced to compete on price and cut rates to win business.
"The last three to four years have been pretty ordinary," Mr Paton said.
"This is probably our best harvest for the transport game for three to four years and it will be good for everybody.
"It will put money into the local towns. You get a heap of trucks in town for two to three weeks, people buying fuel and food, it puts a lot of money back into the local rural economies.
"Emerald, Dalby St George Goondiwindi, Moree, Walgett Coonamble, Gilgandra, Narrabri – this will be really good for a lot of rural towns."
Adding to the positive outlook for transporters is the large cotton plant underway, which should ensure they have solid work beyond this summer's crop and through most of next year.
AgForce working with Dept on priority access to port
AgForce Grain president Wayne Newton said the broadacre farm representative group had been in ongoing discussions with the Department of Transport and Main Roads in Queensland for several months to prepare for what is shaping as a massive logistical task to shift this year's winter crop.
"It is something we have been mindful of for a long time," he told Grain Central.
"We got the impression very early in the year there was going to be a record chickpea planting given the pricing at the time.
"It is probably just a bit unfortunate the harvest ended up so late, which, combined with the size the crop, puts a lot of pressure on."
On the positive side, he said GrainCorp had low carry-over stocks in their storages which should ensure good space is available in their depots.
The key issue now was getting priority access to port, particularly for chickpeas.
"The Dept of Transport is still going through permitting issues to allow some of the bigger multi-combination vehicles such as A-Doubles to the Port of Brisbane.
"There is a number of criteria that operators have to meet to be able to get A Double access to the port.
"I think the last few weeks there has been a bit of pressure certainly there to get as many of those vehicles on the job as they can for the harvest.
"They are working through the issue.
"We have given them pretty significant warning this year that was the way it was going to be."