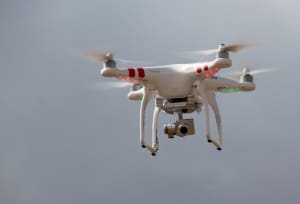 Drones could soon be performing a range of useful tasks in Australian agriculture, from monitoring water, stock, pasture or crops to spreading beneficial bugs in crops or lighting fires for back burning.
However, one key obstacle currently stands in the way of greater uptake of drone technology.
While the capabilities of the technology itself and the software platforms required to capture and analyse data from them is still a work in progress, the key barrier to more widespread use right now are the rules that regulate the use of drones.
Legislation has not kept up with both technological advancements and recent drastic reductions in cost, argues drone expert Josh Keegan, from Keegan Consulting Group.
Mr Keegan provided several examples of how legislation is now restricting widespread adoption of drones during a FutureBeef BeefConnect webinar last Thursday (A video of the webinar can be viewed below this article).
The use of drones is potentially affected by a number of laws in Australia
But one that is particularly relevant is the Civil Aviation and Safety Authority's Remote Piloted Aerial System Legislation.
Just one month ago the legislation was amended to create an excluded category of "remotely piloted aircraft" (RPA).
This category allows private landowners to carry out some commercial-like drone operations on their land.
In particular it allows for Small Remotely Piloted Aircraft (2-25kg) to be operated without requiring an Remotely Piloted Aircraft operators certificate (ReOC) or a remote pilot licence (RePL).
It also allows for Medium Remotely Piloted Aircraft (25-150kg) to be used, provided the user holds a remote pilot license (RePL).
This is provided the Remotely Piloted Aircraft are operated only within the landholder/leaseholder's land, the operator follows the standard operating conditions (more below), and none of the parties involved receive remuneration for that work.
 Other pertinent details include:
Before you fly a small drone you must go to the CASA website and provide five business days notice before flying;
You need to operate within the Standard Operating Conditions, which include:

The remotely piloted aircraft must remain within Visual Line of Site (VLOS) at all times ie you must never fly the vehicle anywhere you can no longer see it;
It must be flown no higher than 120 metres, or 400 feet, above ground level (AGL);
It must fly at least 30m from other people due to privacy restrictions (if a person captured on an image or footage via a drone could be reasonably identified those images or footage cannot be released, under privacy laws);
It must remain 5km away from controlled aerodromes;
It must not fly over populous areas;
It must not fly over area affecting public safety or where emergency management is underway, such as bushfire zones where aerial drones can create unsafe conditions for emergency aircraft.
Even for recreational use, the above rules apply.
(For more details, Mr Keegan recommends you visit CASA's educational website which takes you through step by step on how you should be flying drones).
Question: Will farmers be allowed to use drones "Beyond the Line of Sight"?
Without this allowance, many of the ways in which drones could help agriculture – checking distant fencelines, waters, crops and paddocks for example – would obviously not be possible.
The short answer: They can, but it requires them to apply for an exemption from CASA which can be a complex and in-depth process, and will likely require a detailed risk assessment, prepared in accordance with ISO AS/NZS 31000:2009 risk management principles and guidelines.
The more detailed answer: 
Mr Keegan investigated this question on Beef Central's behalf and received the following comprehensive and detailed response from Aviation Projects Managing Director Keith Tonkin:
"As part of the amendments to CASR Part 101 that came into effect on 29 September 2016, CASA created an excluded category of remotely piloted aircraft (RPA), allowing private landowners to carry out some commercial-like operations on their own land with:
a small RPA (2-25kg) without needing an RPA operator's certificate (ReOC) or a remote pilot licence (RePL); and
a medium RPA (25-150kg) without needing an ReOC. (the operator still requires an RePL).
Excluded operations must be conducted under standard RPA operating conditions. One of these conditions is a requirement for the RPA to be operated within the visual line of sight of the person operating the RPA.
For the purposes of this requirement, visual line of sight is defined as an operation in which the Remote Pilot can maintain direct visual contact with the aircraft, aided only by spectacles or contact lenses (not binoculars or telescopes etc) to manage its flight and meet separation and collision avoidance responsibilities.
An RPA being operated by a private landowner beyond visual line of sight (BVLOS) would not qualify as an excluded operation and must fully comply with the applicable provisions of CASR Part 101 (including the requirement to have an RePL and ReOC as applicable).
CASR Part 101.029 allows RPA operators to apply to CASA for an approval.
As there are few civilian RPA operations being conducted BVLOS in Australia, there is little organisational experience and no formal guidance regarding the form and content of an application under CASR 101.029 to conduct these operations.
Generally the application to conduct BVLOS operations should be supported by a safety case which describes in detail the way in which the operator intends to establish and maintain an acceptable level of aviation safety whilst conducting the proposed operation. Ideally, the safety case would include a detailed risk assessment, prepared in accordance with ISO AS/NZS 31000:2009 Risk management – principles and guidelines.
Aviation Projects has a long and successful history of preparing safety cases that have resulted in the authorisation of operations in non-standard situations, such as BVLOS RPA operations.
What would it take to convince CASA to relax the current restrictive regulations?
Mr Keegan says a number of different factors may convince CASA and other international regulatory bodies to possibly relax or alter legislation to make drone usage more accessible in future, in conjunction with various requirements adopted from the Aviation Industry:
Proven safety and reliability of drones including automatic collision, safe landing and airport avoidance.  This would need to be in-built into EVERY drone with testing undertaken by each manufacturer proving safety standards are upheld;
Reliability engineering concepts applied from commercial aircraft manufacturers and applied to drones proving all of the above as well as airframe and engine reliability;
Addition of drone corridors, similar to aircraft routes providing minimum safe distances etc.  NASA in conjunction with the FAA has developed this for the US and is yet to be successfully adopted;
Tracing and tracking of drones in comparison with other commercial and military aircraft through either mobile phone networks or through each drone having an on-board transponder.The transponder (or similar) would be required to be on whenever the drone is in operation providing real-time information about the drone both in and beyond visual line of sight. Inclusive would be black-box flight recorders (or similar) so data after the loss of drone can be uploaded to the regulator allowing for changes to be made to both the legislation and the industry;
CASA and other international bodies also need to determine how to classify drones, especially if and when they start to carry more than 100+kgs in payload. At this stage, there is no regulation governing payloads capacity (not gross weight).
"Currently, drones are manufactured by technology companies where safety concerns are addressed after loss or damage either to property or people, or when they interfere with commercial aircraft," Mr Keegan explained.
"I believe this needs to change and aviation companies should take more of a leading role with drone manufacturers, providing assistance or lessons learned.
"I see a lot of collaborative partnerships or takeovers in the future".
World Drone Challenge
In order to encourage tech developers to focus on advancing drone technology, an event of global interest will be held in Toowoomba and Brisbane next year.
The World Drone Challenge will offer major prizes in the hope of inspiring tech developers to come up with solutions to overcome the greatest challenges currently facing UAVs and Drones: that is endurance and capacity.
Mr Keegan is assisted in organising the challenge by a consultative committee members and Friends of the Challenge.
A prize pool in excess of $100,000 plus world class research grants is on offer, and sponsors are now being sought.
For more information on how drone technology is currently being used across the world, the pros and cons of fixed wing versus rotary drones, legislative issues, and the World Drone Challenge, watch the video below, or click here to visit the World Drone Challenge Facebook page.