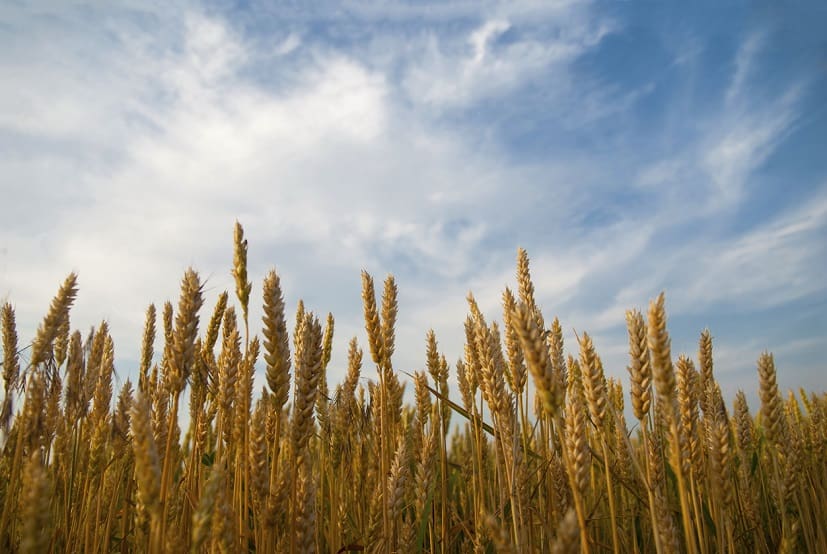 THE world wheat indicator price is forecast to average 6 per cent lower in 2019–20 at US$218 per tonne while world wheat production is forecast to reach a record 766 million tonnes (Mt), according to ABARES Agricultural Commodities report released today.
Increased wheat production is forecast in Argentina, Australia, Canada, northern Europe, the Black Sea region and the United States.
ABARES predicts Australian wheat production in 2019–20 will increase by 10pc to 19Mt from the drought-affected levels in 2018–19.
Australian wheat exports in 2018–19 were 46pc below the 10-year average, at around 9.8Mt, but are expected to increase in 2019-20 as a result of increased production and lower domestic demand following an easing in drought conditions in some regions.
Domestic feed grain prices have been high due to poor seasonal conditions in Australia's eastern states which has seen increased demand for livestock feed and wheat usually exported to global markets being shipped from Western Australia and South Australia to Australia's eastern states.
These shipments are likely to continue in 2019–20 as drought conditions persist in northern New South Wales and southern Queensland, where the majority of intensive livestock industries are located. But ABARES says shipments are likely to be less than 2018–19 as conditions have improved in central Queensland, southern NSW and Victoria.
Australian wheat imports
For the first time since the 2006–07 drought, Australia has issued bulk grain import permits, reflecting a significant fall in supplies of high-protein milling wheat following consecutive years of low production in eastern Australia.
Most of this wheat is expected to be re-exported as value-added products such as starch, gluten and syrups.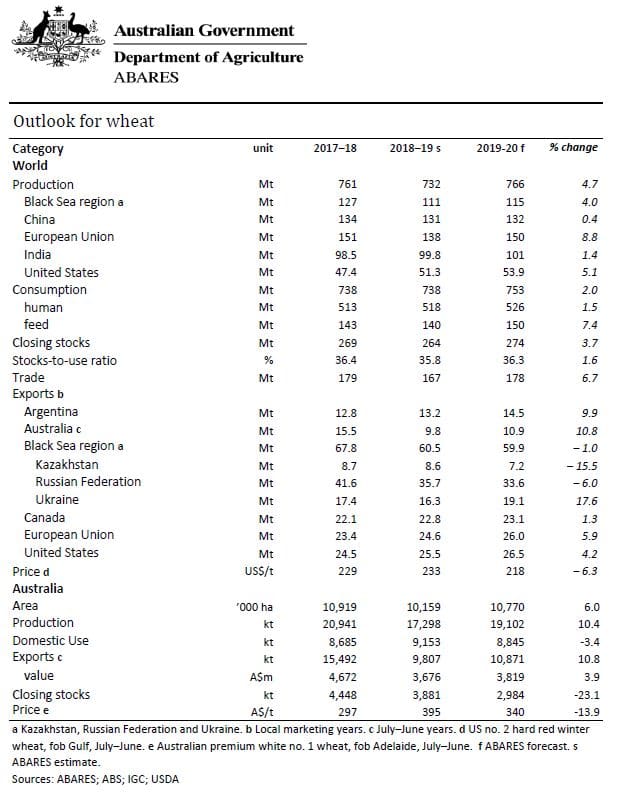 Wheat export competition
Black Sea wheat has displaced Australian wheat in price-conscious Asian markets, but ABARES says Australia is likely to regain market share when production and exports return to more average levels.
Reports of a 10pc increase in the availability of high-protein grain from the Russian Federation will add to the short-term pressure on Australia's exports.
Argentina is forecast to produce a second consecutive record wheat crop in 2019–20 of around 21Mt and a depreciation of the Argentine peso will add to the competitiveness of Argentina's exports, but this may be undermined by an increase in wheat export taxes.
An increase in Australian production is expected to lead to a fall in domestic prices. This combined with a forecast depreciation of the Australian dollar will boost Australia's competitiveness.
Coarse grains price fall
ABARES forecasts average world coarse grain prices will be lower in 2019–20 due to a large carry-over of corn stocks and an expected increase in barley production in Australia, Canada and the European Union.
Despite a significant fall in United States corn production, the world supply of coarse grain is expected to remain high.
Substitution between corn and wheat is also expected to put downward pressure on corn prices.
World coarse grain production is forecast to rise, as increases in barley production more than offset falls in corn production.
Following dry conditions in 2018–19, a forecast return to average seasonal conditions in Canada and the European Union is expected to increase barley area and improve yields.
World corn production is forecast to fall due to declines in China and the US.
World coarse grain consumption is forecast to rise marginally in 2019–20, constrained by falling demand for corn in China and the EU.
Australian coarse grain production is forecast to rise in 2019–20 and be around 5pc above the 10-year average to 2018–19.
This relatively high level of forecast production is driven by an increase in the area planted to barley nationally and good yield prospects in NSW, Victoria and SA.
Grain sorghum production is forecast to fall to 992,000 tonnes in 2019–20, 41[c lower than the 10-year average to 2018–19.
Hot and dry winter weather in major grain sorghum–growing regions of NSW and Queensland reduced soil moisture to below average levels.
Despite strong domestic demand for feed grain, Australian coarse grain exports are forecast to rise to 7Mt in 2019–20.
A forecast increase in grain production is expected to reduce the feed grain deficit in the eastern states and allow an increase in exports.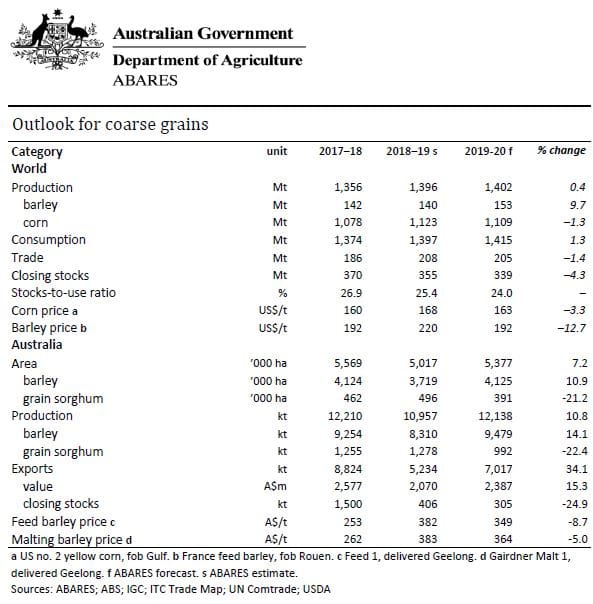 Swine fever to constrain oilseed prices
World oilseed prices are forecast to remain low in 2019–20 because feed consumption in the Chinese pig industry will be constrained following the outbreak of African swine fever in China.
Chinese soybean imports generally account for over half of the global oilseed trade largely due to feed demand in domestic pig and poultry industries.
There is considerable uncertainty surrounding Chinese tariffs on US soybeans, and ABARES has assumed these will continue throughout 2019–20.
However, the price premium on South American soybeans relative to US soybeans is expected to be much lower than it was in 2018–19, primarily because Chinese demand has fallen significantly following the domestic outbreak of African swine fever.
World canola prices in 2019–20 are expected to fall due to substitution effects arising from trade restrictions on soybean imports in China and a subsequent fall in soybean prices.
This has led to substitution away from canola to soybeans in major importing markets such as the EU.
World canola production is forecast to fall due to lower production in Canada and the EU.
Australian production in 2019-20 is forecast to increase by 6pc from low production volumes in 2018–19. Despite the increase, this production forecast is the second lowest since 2010–11.
Canola exports are forecast to increase marginally. Some shipments are likely to be diverted from the European Union to China due to Chinese trade restrictions on Canadian canola.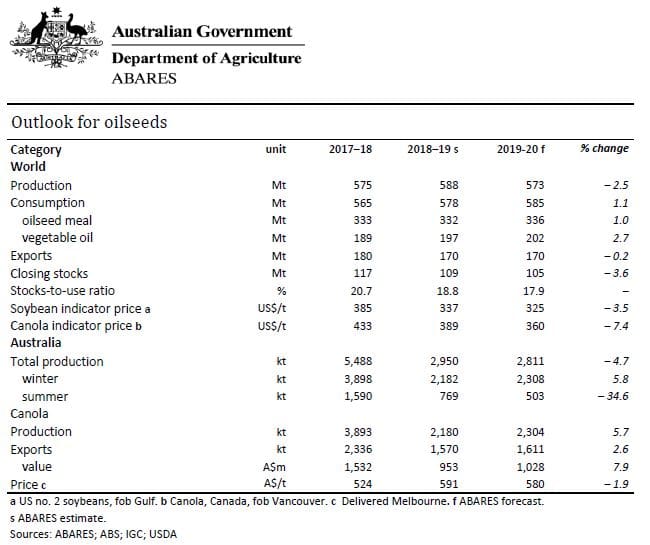 World cotton production to exceed consumption
In 2019–20 world cotton production is expected to rise due to increases in planted area in the US, India and Pakistan.
This follows falling production in 2018–19, mainly due to declines in China, India, Pakistan and the US.
World cotton consumption is expected to fall short of production in 2019–20.
China's cotton reserves are expected to reduce to support domestic consumption, but world (excluding China) stocks are expected to grow as a result of increased production and reduced import demand from China for US cotton.
Australian cotton production is forecast to fall further in 2019–20 after a significant decline in 2018–19.
Irrigated planting prospects are unfavourable in several of the major cotton-growing regions due to low dam storage and soil moisture levels.
Unless significant rainfall arrives before the planting window, Australian cotton production may barely reach 1.1 million bales—the lowest level in over a decade.
Source: ABARES
Grain Central: Get our free daily cropping news straight to your inbox – Click here