MOUSE numbers remain low across all cropping areas of Australia, largely because of the continuing dry conditions in many regions.
Numbers will continue to decline through winter until spring when breeding starts.
Analysts say there is a low risk of damage to crops leading into spring (Figure 1).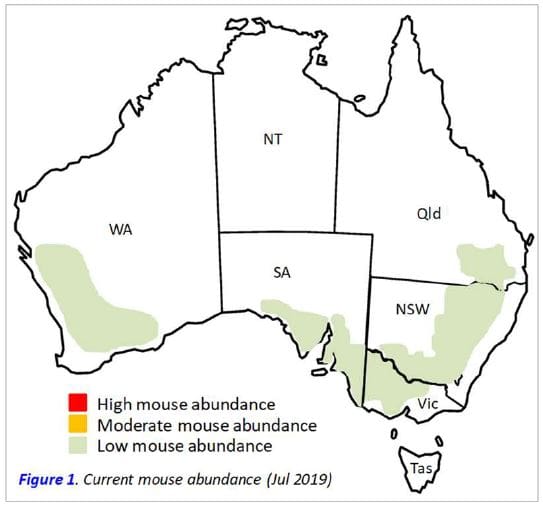 Monitoring of mouse populations across Australia – July 2019:
Queensland: Mouse activity is very low. Mouse numbers and activity was very low throughout the Darling Downs.
New South Wales: Mouse numbers are low across all regions. There was no activity on any chew cards.
Western Australia: Mouse activity is low around Geraldton and Ravensthorpe areas. Mouse activity has declined around Geraldton to low levels.
South Australia: Mouse numbers are low in North Adelaide Plains, Mallee, Eyre and Yorke Peninsulas (Figure 2). Trap success at Mallala (north of Adelaide) was 1pc in July (which is very low for this time of year). There was some activity on some sites, but low overall.

Victoria: Mouse abundance is very low in all locations. Mouse numbers are very low across Mallee and Wimmera regions (Figure 3). Trap success was 1pc at Walpeup in March (very low). There was some activity on some sites, but low overall.

Despite the low numbers, growers should actively monitor mouse activity by using mouse chew cards or active burrow counts. There is always a chance of isolated patches of higher mouse activity.
Source: MouseAlert (hosted by FeralScan): https://www.feralscan.org.au/mousealert/
Twitter: @MouseAlert
Report and map mouse activity using MouseAlert (www.mousealert.org.au)
GRDC Mouse Control website: https://grdc.com.au/resources-and-publications/resources/mouse-control
Grain Central: Get our free cropping news straight to your inbox. Simply fill in and submit the 'sign up' box at the bottom right-hand corner of this page.