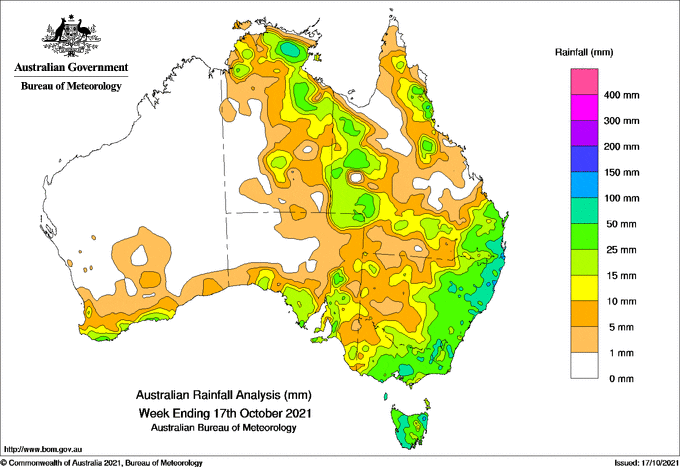 WIDESPREAD rain over southern and eastern Australia over the past week has interrupted early harvest in the northern regions, but overall been a big benefit to finishing winter crops and kick starting summer crop plantings.
Grain Producers Australia board member and Victorian farmer, Andrew Weidemann, said the rain had come at the right time for winter crop producers in the southern growing regions.
"The rainfall amounts are probably worth double this time of year because of the impact it has on grain fill. The cool temperatures are going to help in terms of quality as well," he said.
"We just have to get through without any frosts. And there is some disease potential with pulses with the cool, showery days which can lead to Ascochyta and grey mould.
"Overall, things are shaping up well. It is not much good for hay making, but good for everything else."
Mr Weidemann, who farms near Rupanyup in the Wimmera, said winter crop harvest was likely to start around November 20 or later.
"We didn't have an early break and haven't had early growth in the crops, so even though things are moving along quickly now, they need to," he said.
In central New South Wales, IMAC agronomist at Forbes, Cameron Corke, said rainfall over the past week had ranged from 10 to 20 millimetres and there had been no reports of any significant hail damage.
"The canola is just starting to turn. It has been quite cold, so it is a mild finish which is helping. I like these sorts of finishes, I think they are great. You know your grain size is going to be good," he said.
"There has been some disease in the cereals. Some fungicides have gone out. But there hasn't been a lot of insect pressure in the canola. There has been a little bit in the pulses, but no big numbers."
In southern Queensland, where another band of storms is moving through today and more are possible over the next couple of days, AgForce grains president and Darling Downs farmer, Brendan Taylor, said rainfall totals over the past week had been very patchy.
Barley harvest is well underway in the region, wheat has started to come off in the last few days and chickpeas are a week to 10 days away before they are ready to go.
Mr Taylor said in places that had received 15 to 20mm last week harvest had been interrupted for a few days, with headers going again by as early as Friday in some areas. But, where there were bigger falls of around 100 millimetres, conditions were still too wet for harvest to be going again.
Mr Taylor said the upside of the rain was it had been beneficial for growers moving into summer crop planting.
"But there are still places that desperately need more rain to even think about planting."
Grain Central: Get our free cropping news straight to your inbox – Click here