THE European Commission (EC) has voted to renew the licence for the non-selective herbicide, glyphosate, for another five years in an 11th-hour decision that breaks a long-running deadlock.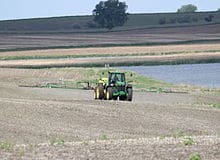 The decision by the EC on Monday (European time) to extend the chemical's licence comes only days before the previous licence was due to expire on December 15.
In Monday's decision to approve the five-year extension, 18 member states voted in favour of extending the licence, nine voted against and one abstained.
Under EC rules that require such a vote to be carried by more than a simple majority, the motion passed by the slimmest of margins with Germany tipping the balance, switching its vote in favour of the extension after previously being opposed.
The outcome follows a protracted series of meetings in which European countries were unable to reach an agreement on the herbicide's future.
The indecision goes back to June 2016 when the EC proposed renewing the licence for 15 years, but fell short of securing enough votes for the proposal to pass.
Rather than let glyphosate's authorisation lapse at the time, the Commission extended the licence for a further 18 months, leading to the more recent round of meetings to resolve the issue before that deadline was due to expire on December 15.
Adding to the complexity, in late October this year the European Union passed a non-binding resolution calling for glyphosate to be phased out by 2022.
In a meeting of the EC shortly afterwards, member states couldn't reach agreement on a five, seven or 10-year renewal period for the licence, and no vote was taken.
Another EC meeting on November 9 also put off a decision until this week's meeting resolved the issue.