IN 2021, Australian farmers and agriculture businesses lost over $1.5 million to scammers targeting the agriculture industry, an ACCC report released this morning reveals.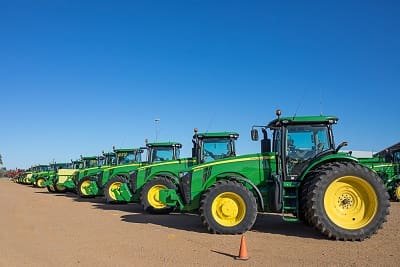 The most reported category of loss in agriculture was classified scams, with over $686,000 in reported losses, closely followed by online shopping scams with over $676,000 reported lost.
The most common agriculture scam reported was fake online sales for heavy machinery/tractors.
This was a trend that became prominent during the beginning of the COVID-19 pandemic in 2020, according to the ACCC's Targeting Scams report.
There were also significant losses to agriculture businesses from false billing scams.
Scammers issued counterfeit invoices under real business names to farmers who purchased agricultural inputs, such as fertiliser.
In one case, a small business owner lost over $200,000 by transferring money to a scammer's bank account listed on a false invoice.
Scammers also sought to obtain personal information, such as driver licences, passports, Medicare details and addresses from agriculture businesses and farmers.
Tractor scams Scamwatch received 313 reports about scams involving the sale of tractors and other agricultural machinery such as backhoes, bobcats and excavators.
The total losses from agricultural machinery scams in 2021 was $1.4 million.
These scams targeted people looking to purchase both new and second-hand machinery.
The new tractor scams involved setting up fake tractor websites offering a range of agricultural machinery.
How scams work
To make these websites look more legitimate, scammers will:
use the name of another legitimate business
use the ABN of another business
include a physical business address which are vacant blocks, or belong to another business.
Scammers would also give the purchaser a 15-day trial period for the machinery before going through with the sale. The scammers would say the money is to be deposited to an escrow service while the trial period is running. However, the escrow business is part of the scam and is not legitimate.
The agriculture machinery scams also appear on legitimate platforms such as Gumtree and Facebook Marketplace.
These ads often request that all communication be made over email to get people off the platform where the scam could be detected.
Livestock scams
In 2021, Scamwatch received 41 reports about livestock scams, with total reported losses over $31,000.
The amount lost from each scam varied between $200 and $10,000.
These scams involved people looking to purchase livestock such as cattle, sheep, donkeys, horses, etc. via online marketplace platforms such as Gumtree and Facebook.
These scammers would post ads on these marketplaces and communicate with the person via the messaging platforms.
Once the victim makes contact with the scammer, the scammer would ask for a deposit to secure the purchase and to pay for transport of the livestock, with the rest to be paid when the livestock is delivered.
Once the deposit has been paid, communication stops with the scammer either 'blocking' the victim or deleting their social media account.
One victim stated to the ACCC: 'I enquired to purchase two miniature highland calves. I had multiple discussions over messenger and transferred $1000 deposit from my account to their nominated account. Amount was $1200 per calf plus $400 delivery. Calves were to be delivered Saturday but never were. They closed their Facebook account when I tried to send message.'
$2 billion in total losses in 2021
Overall Australians lost a record amount of more than $2 billion to scams in 2021, despite government, law enforcement, and the private sector disrupting more scam activity than ever before.
The report compiles data from Scamwatch, ReportCyber, major banks and money remitters, and other government agencies, and is based on analysis of more than 560,000 reports.
Reported losses to all organisations totalled almost $1.8 billion, but as one-third of victims do not report scams the ACCC estimates actual losses were well over $2 billion.
Investment scams were the highest loss category ($701 million) in 2021, followed by payment redirection scams ($227 million), and romance scams ($142 million).
Based on reports to Scamwatch in 2021, women reported the most scams but men lost more money than women, and men's losses to investment scams were double women's losses. In culturally and linguistically diverse communities, women had slightly higher losses than men.
People aged 65 and over reported the highest losses, and reported losses steadily increased with age.
To read the ACCC's latest Targeting Scams report click here .
People who detect a scam, whether or not they have lost money to it, can report scams and learn more about how to get help on the Scamwatch website at scamwatch.gov.au
They can also follow @scamwatch_gov(link is external) on Twitter and subscribe to Scamwatch radar alerts to keep up to date with advice for avoiding the latest scams affecting the community