AS Australia's agricultural sector continues to enjoy a favourable season and strong prices, producers should carefully reconsider their medium to long term business strategies, according to ANZ's latest Agri Commodity Report.
ANZ's head of agribusiness, Mark Bennett, said the industry had emerged from COVID in a strong position, largely due to a good season and agri cycle which resulted in increased production and prices for soft commodities.
"The current favourable conditions also make this an opportune time for farmers across all major agri sectors to carefully evaluate their medium to long terms business strategies," he said.
"For industries appearing close to a peak in their cycle, in terms of price, production and favourable interest rates, the decision to consolidate or grow might be influenced by not just individual circumstances, but also by the estimate of how long the positive conditions might last.
"Investors outside of agri might consider three, five or 10 years as long horizons, and in this sense there is some comfort to be gained from short/medium term economic forecasts."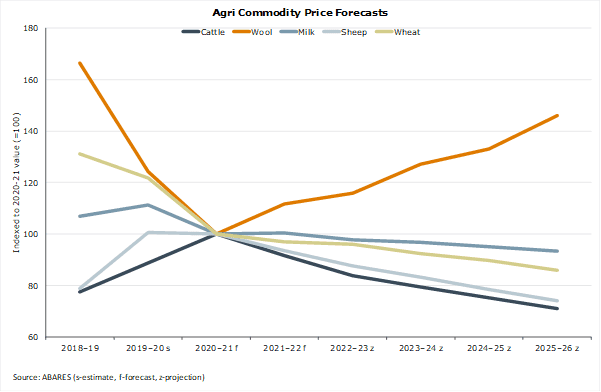 As noted by the latest ABARES outlook, most agri commodities are likely to see a gradual decline in prices over the coming years as they return to 'normal' levels, and in the years to 2025/26, prices are forecast to soften by between five and 30 per cent.
Assuming a return to average seasonal conditions, the decline in wheat yields and acreage is forecast to see Australian wheat production levels fall by around one third over the next five years.
Farmers will continue to need to balance their own strategies of building wealth through a combination of capital gains and profits driven by operating margins, an issue especially top of mind given the current strength of the rural property market.
The most successful agribusinesses will be those that take on opportunities appropriate for their business model while carrying a healthy degree of caution, realism, and effective contingency planning.
Source: ANZ
Read the full report here or listen to the podcast here.