HARVEST is underway on the Eyre Peninsula (EP) in South Australia with Viterra receiving its first load into Poochera on Tuesday.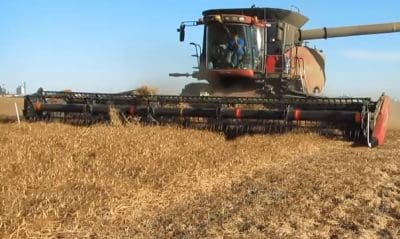 The first EP delivery for 2017/18 was a load of peas from Koonibba grower Andrew Mahar.
Viterra's western region operations manager, James Murray, said the crops on western Eyre Peninsula were ahead of other areas.
"The weekend rain has helped push crops out a little longer, but we expect receivals to get underway now on western EP subject to the weather," Mr Mahar said.
"Importantly, our sites are ready to go when growers are able to start.
"We're well prepared to handle a range of quality characteristics and have the ability to be flexible with grades and segregations as harvest progresses.
"We aim to help growers capture as much value from their grain as possible while meeting buyers' needs at the same time, and encourage growers to provide feedback at any stage during harvest.
"This year we have a new declaration process for growers at receival which helps to meet increasingly tighter requirements from export markets, critically important in an export region like the Eyre Peninsula."
Mr Mahar said moving the record 2016/17 crop out of the Eyre Peninsula was still going strong with over three million tonnes exported between October 2016 and September 2017.
"Viterra has shipped 3.09 million tonnes of grain from the Eyre Peninsula since October last year, which is the second-largest total on record," he said.
"This has been remarkable effort by our employees and transport partners, achieved with exceptionally low vessel wait times.
"New season shipping is expected to start about mid-November, with nine different exporters committed to exporting from the Eyre Peninsula in 2017/18."
Source: Viterra